10 Craziest Quotes From Duterte's PDP-Laban Speech
Plus, reasons why you shouldn't vote for him. According to him.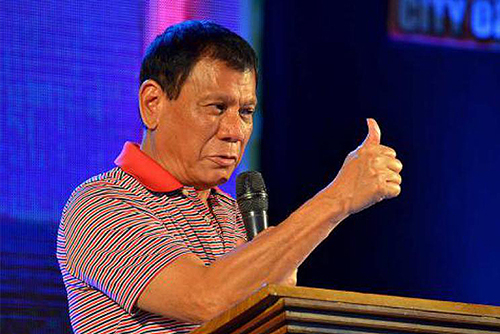 (SPOT.ph) Partido Demokratiko Pilipino-Lakas ng Bayan PDP-Laban declared on November 30 Davao City Mayor Rodrigo Duterte as its standard-bearer in the 2016 presidential elections. The feisty Mayor shocked the nation when he filed his Certificate of Candidacy (COC) on November 27.
Duterte has set himself apart from his fellow presidential aspirants during his proclamation as standard bearer, mostly with some...very interesting statements. By now everyone knows that he cursed at the Pope and said not even a sign from God could make him run for president. Here are 10 of the craziest quotes from his speech...including reasons why you shouldn't vote for him, according to him.
"Sabi ko, 'Sinong darating?' Sabi si Pope. Gusto kong tawagan, 'Pope, p— ina ka, umuwi ka na. 'Wag ka nang bumisita dito."
"I hate to respond on questions, issues coming from lady candidates."
"I have a wife who is sick. Then I have a second wife, who is from Bulacan... I have two girlfriends. One is working as a cashier and the other works for a cosmetics store at a mall. The one working at the cosmetics store is younger. The other one is older but more beautiful."
ADVERTISEMENT - CONTINUE READING BELOW
"Yes, I'm a womanizer. I have two girlfriends. Kung gusto ninyo akong maging presidente dapat malaman ninyo ang pagkatao ko...That's my happiness, if you do not want that I have four or five women then you vote for somebody else."
"I really finished them [off]. This was a good killing." (On allegedly killing a group of kidnappers and then burning their bodies.)
"Don't be surprised if you find your children come home unable to walk because I'm going to beat them with a hammer so that they will have trouble walking."
"Ang mangyayari niyan ay baka unahan ko na lang, ako na magpapatay sa Vice President...tell authorities that I really believe that he is out to kill me. Self-defense." (On what he would do if he won but someone other than his running mate were elected as vice president.)
"'Pag naging presidente ako, magtago na kayo.'Yong 1,000 na 'yan it would reach 50,000. I will kill all you [expletive] making the life of the Filipino miserable. Papatayin ko talaga kayo...I do not want to kill people so do not elect me as president."
"If you continue f****** with us, you will see me standing there in Spratlys and you have to kill me." (On the Philippines' territorial dispute with China over the West Philippine Sea.)
"I have to cut this short, it's 5 o'clock. Timing pa sa traffic. Alam mo, I advise you, mag-ihi muna kayo."
ADVERTISEMENT - CONTINUE READING BELOW
And here are more reasons why the good mayor says you shouldn't vote for him:
If you're okay with corruption and the rise of crime, and everything else you're complaining about. And by okay, we mean considering it as inevitable.
"Kung happy na kayo sa continuing corruption, sa pag-usbong ng krimen, huwag ninyo akong iboto."
"Kung happy na kayo sa mataas na presyo ng pagkain at kuryente, e 'wag ninyo akong iboto."
"Kung happy na kayo sa kulubot na traffic, lack of infrastructure, huwag ninyo akong iboto."
"Kung happy na kayo na wala tayong industriya at trabaho dito sa ating bayan, huwag ninyo akong iboto."
If you cringe at Game of Thrones. The Mayor may not have been consistent in his decision to run for president or not, but he's been unchanging in his thirst for blood.
"If I happen to file my Certificate of Candidacy for one reason or another dahil napilitan ako...Upang paligayahin ang mga taong gusto akong maging Presidente, then do not vote for me kasi madugo yan, talagang madugo. How would I deal with 15,000 drug lords?"
If you simply don't like him. Period.
"If you do not like me, do not vote for me."
Photo from SunStar.com.ph
Load More Stories