50 Dubious Achievements of 2015
"Laglag Bala," MRT problems, politicians, the Mamasapano massacre...the list goes on.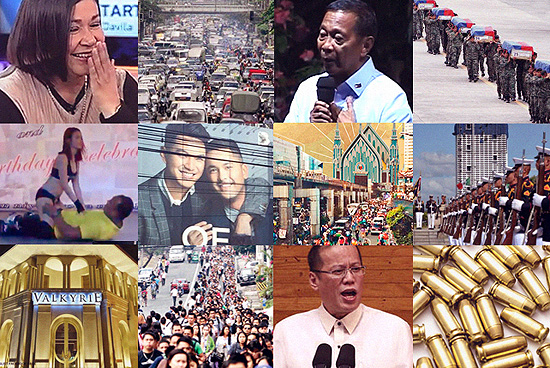 (SPOT.ph) It's no secret that 2015 was a tough year for the Philippines. There were several times when all we could say was "WTF!" But we still hold on to the hope that things will be better. Because they can and should be. As long as we remember to take note of the things that we mustn't forget.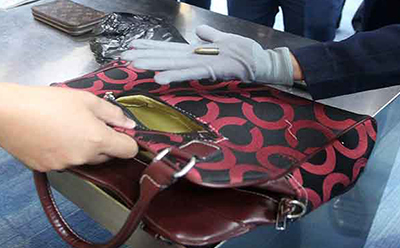 Christmas carols at the airport...thanks to "Laglag Bala"
"Laglag Bala" is arguably one of the buzziest news items of 2015. The controversial bullet-planting scheme at the Ninoy Aquino International Airport (NAIA), in which Philippine airport personnel allegedly plant bullets in passengers' luggage to extort money from them, has not only caused wariness and distrust among Filipinos, it has also earned worldwide infamy. Our public servants—especially those who are involved with operations at NAIA—have said mind-boggling things about the "situation."
In November, NAIA management put up "last look" booths with the intent of decreasing the number of "Laglag Bala" incidents as well as the anxiety they caused. On the brighter side of things, the management has come up with an idea on how to de-stress people, one that can actually work: Travelers will be greeted by choirs singing Christmas carols this December!
ADVERTISEMENT - CONTINUE READING BELOW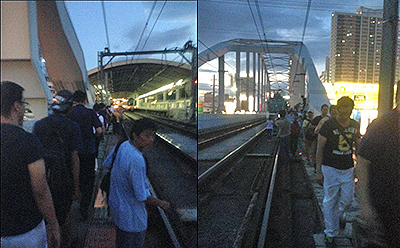 CONTINUE READING BELOW
Recommended Videos
Extra exercise...from MRT breakdowns that caused passengers to risk their lives in buwis-buhay walks
Metro Rail Transit (MRT) "system failures" have gotten more common, but no less annoying each time. There are those extreme cases like the one in March, when passengers were left clueless as to why they were stuck for 40 minutes before they decided to open the doors to avoid suffocating from the heat and tight space, giving them no choice but to walk along the railway to the Santolan station. Another buwis-buhay incident happened in June. Passengers were forced to walk in the middle of Guadalupe Bridge when the train suffered another technical glitch. It just goes to show that Filipinos really have the survival skills of Chuck Noland (that's Tom Hanks in Castaway if you needed to look it up).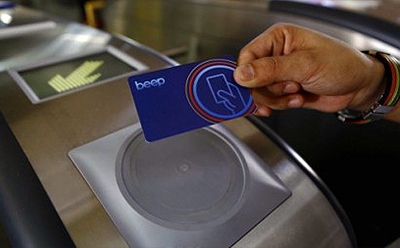 ADVERTISEMENT - CONTINUE READING BELOW
An upgrade...for the ticketing system
An upgrade is always welcome, especially in the train system in a developing country like the Philippines. As to why it was the ticketing system that was prioritized, we could only guess that it would cost less than buying new trains. The Department of Transportation and Communication (DOTC) earlier said that the new ticketing system is expected to solve the problem of passengers facing long queues at train stations, especially during rush hour. At least we don't need to keep changing cards from train to train. Also, we get to keep our beep cards for four years. So...less germs?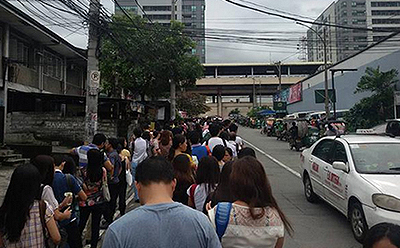 People sharpened multi-tasking skills...while waiting in crazy queues for the MRT
Think of the possibilities! Getting updated on your friend's cousin's sister's analysis of yesterday's episode of OTWOL, all while waiting to go to work. Even with the Beep cards, the long, long queue became so common that standing in line for less than 30 minutes was surprising. We're still waiting for those new trains...
ADVERTISEMENT - CONTINUE READING BELOW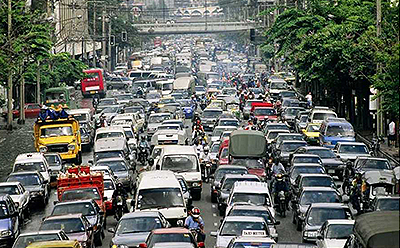 Metro Manila made it onto another international list...as the city with the "worst traffic" on Earth
In January, the Philippines placed fourth among Asian countries and ninth in the world with the worst traffic conditions according to a report by Numbeo. In September, however, our country ranked third in Asia and fifth in the world in Numbeo's mid-year report. At least we're not number one, right? Wrong. By October, Metro Manila was reported to have the worst traffic on Earth on a city level by Waze. Way to go! We want to find out who among the political aspirants for 2016 can really implement a long overdue solution. Hang in there.
MMDA says Manila traffic will improve...after 15 years
In other news, some things are here to stay...at least for 15 more years. MMDA Chairman Francis Tolentino said in August that Manila's traffic problems are expected to linger until 2030 because of several infrastructure projects and the amount of vehicles around the Metro. Until that time, Metro Manila transporters will have to keep waiting. Hopefully, walang forever!
ADVERTISEMENT - CONTINUE READING BELOW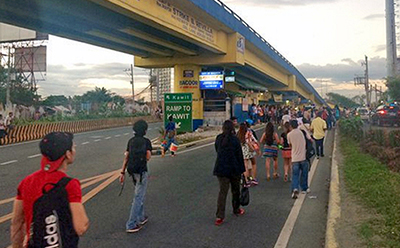 International pledges in spite of the #APECtado
Road closures in Metro Manila for the Asia Pacific Economic Cooperation (APEC) Summit caused extreme traffic and forced thousands of commuters to walk to their destinations. Everyone who were #APECtado took to social media their frustrations over #APECtraffic. #APECfail. However, some believe that it was worth it. The Summit actually gave the Philippines major gains: the U.S. said it would give two more ships to the Philippines, Japan confirmed a deal to transfer military equipment, and Australia said it would provide $4 million for peace process in Mindanao, to name a few.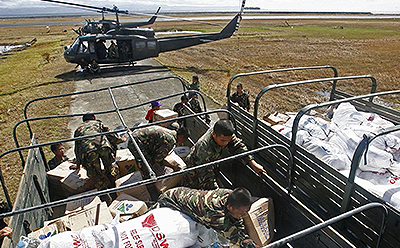 ADVERTISEMENT - CONTINUE READING BELOW
P923 million in "savings" from calamity funds
You know what's sayang? This: The Commission on Audit (COA) found P923 million unused calamity funds accumulated since 2008. According to COA, the amount "was not utilized as envisioned and became idle, thus depriving the intended beneficiaries of the benefits." A big chunk of this came from donations intended for the victims of typhoon Yolanda—which was two years ago. The audit body said that donations for 2013 calamities remain untouched. They even gained interest! Um, yay?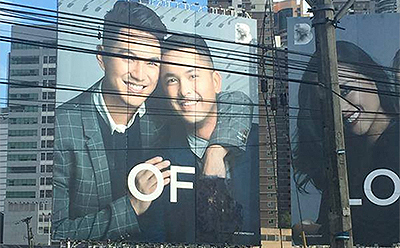 #LoveWins despite "defaced" Bench ad
Love was all around in February—even on EDSA, with Bench's "Love All Kinds of Love" campaign. One of the billboards featured Vince Uy and boyfriend Nino Gaddi. The couple's hands were painted black, hiding their hand-holding, and all kinds of theories sprang up on social media, saying the ad was "defaced." The Ad Standards Council (ASC) said they did not censor the ad. Bench later sent a letter to StyleBible.ph saying the printed billboard was the approved version. Still, the ad inspired several artists to #painttheirhandsback in support of the LGBT community.
ADVERTISEMENT - CONTINUE READING BELOW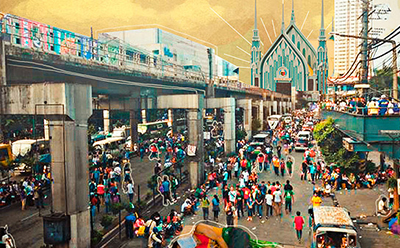 Freedom of expression brought the city to a standstill...because of the notorious INC rally
It was a payday Friday night and the start of long weekend, but it felt like an endless traffic jam. The Iglesia ni Cristo (INC) found it a good day to, you know, gather its members and protest—along the streets of EDSA. It was carmageddon, but the rallyists went back to their homes after three days and they did apologize for the chaos they caused.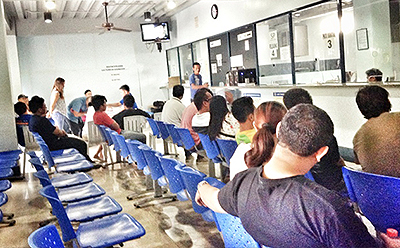 ADVERTISEMENT - CONTINUE READING BELOW
The quick efficiency of the system for getting your driver's license...or your receipt for it
If you applied for a driver's license at any Land Transportation Office (LTO) earlier this year, you were most likely issued a temporary license—and by temporary license, we mean a receipt that proves you have a license. Applicants were asked to come back to claim their license cards after three, four, six months? It depends. The shortage in card supply started in 2013 after the COA disallowed payment to the previous supplier, Amalgamated Motors Philippines Inc., for lack of a proper contract. Just this October, LTO spokesman Jason Salvador said the issuance of driver's license cards to motorists might be delayed yet again. Don't jinx it, sir!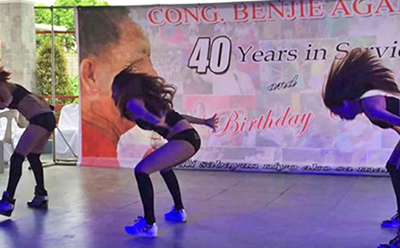 More work for The Playgirls...after their performance at an LP event
A video that surfaced online showing three girls performing at a gathering of Liberal Party (LP) members cost Metropolitan Manila Development Authority (MMDA) Chair Francis Tolentino his place in the senatorial slate of LP. The sexually suggestive performance caught on video enraged the nation, including a women's rights group. Currently, Tolentino continues his bid for a senate seat as an independent candidate while business is, uhm, booming for the Playgirls.
ADVERTISEMENT - CONTINUE READING BELOW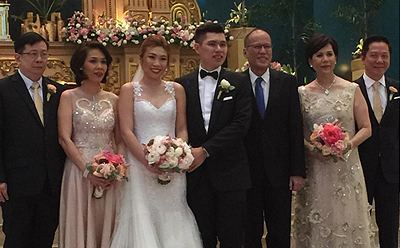 P-Noy is still "focused on rehabilitation projects for Tacloban"...but attends a wedding during the Yolanda anniversary
The President was a no-show during the first anniversary of typhoon Yolanda in Tacloban City, which Lingayen-Dagupan Archbishop Emeritus Oscar V. Cruz called "childish." On its second anniversary last November, P-Noy attended...a wedding. Malacañang said the President wasn't invited while Leyte Rep. Martin Romualdez said they invited everyone. In their defense, spokesperson Herminio Coloma Jr. said P-Noy is still focused on Tacloban's rehabilitation and housing projects.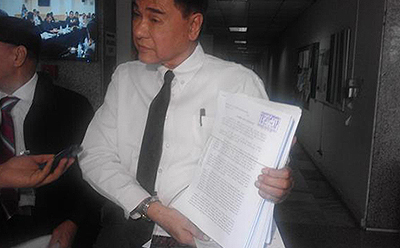 ADVERTISEMENT - CONTINUE READING BELOW
Seniors still get free cake in Makati...but Acting Makati Mayor Kid Peña is sued for overpricing
After the cake issue which started in August 2014 with the Binays, former Makati Vice Mayor Bobby Brillante filed another case with the Ombudsman against acting Makati Mayor Kid Peña in September, pertaining to (dun-dun-dun) alleged overpriced cakes amounting to P3 million. Even with Goldilocks as the new supplier of the cakes for Makati's senior-citizen birthday celebrants, Brillante said the cakes were not only overpriced, but were also short of size. Maybe cakes in Makati just really taste that good.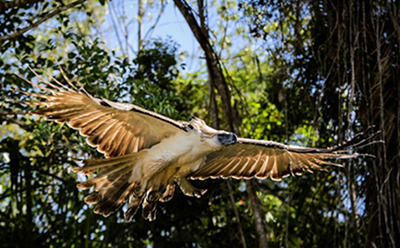 Philippine eagle released into the wild...and then gets shot dead
Freedom didn't have a happy ending for the Philippine eagle named Pamana, who was found dead two months after being freed due to a gunshot near its right breast. There is nowhere else in the world, except for four islands in the country, where Philippine eagles can be found. Only an estimated 400 of them are left, fighting for survival. So do your part, and you know, just don't shoot Philippine eagles...or any living being.
ADVERTISEMENT - CONTINUE READING BELOW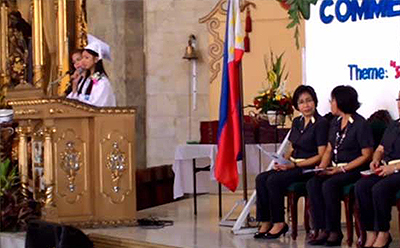 School pulls a Kanye on salutatorian
For reasons still unclear, Sto. Niño Parochial School administration members did not let salutatorian Kristel Mallari finish her graduation speech in March. The interruption was caught on video, which circulated online and now has over 2.8 million views on YouTube. It led to a lawsuit, and the battle for a certificate of good moral character that Mallari needed to fulfill her college requirements at the University of Santo Tomas (UST). Mallari was later accepted into UST's College of Accountancy after winning the case.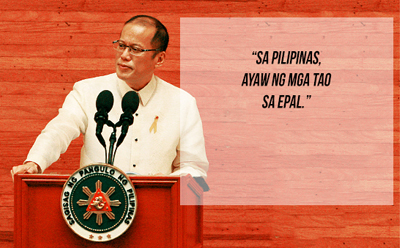 ADVERTISEMENT - CONTINUE READING BELOW
Some good news (and lots of hugot about the previous administration) in P-Noy's last SONA
In his last State of the Nation Address (SONA), other than enumerating his awesomeness, our dear President did what he does best: blame everyone else—with lots of coughing, of course! He did mention some good news including improved tax collection, economy and higher credit rating, fewer jobless Filipinos and out-of-school children (although this is debatable). Can we say, "E 'di wow!" just one last time? No?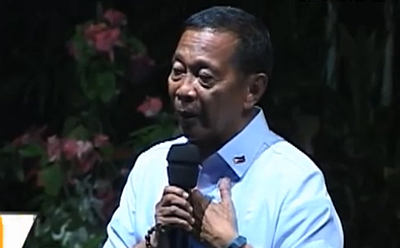 Vice President Binay answers questions from UPLB students...clumsily
Vice President Jejomar Binay's visit to the University of the Philippines Los Baños (UPLB) in September was a disaster. Of course, he talked about his accomplishments as vice president and Makati City mayor in his speech—but as usual, focused more on being the mayor. He also had biting words for the Senate Blue Ribbon Subcommittee and the current administration. When it was time for the Q&A, the audience jeered at the VP's brilliant answers. We've learned that complaining doesn't really solve anything. "Bakit umaangal kayo? Ano bang function [ng VP]? Ang trabaho ko sa administrasyon ay tungkol sa pabahay eh 'di 'yun ang trinabaho ko," Binay said.
ADVERTISEMENT - CONTINUE READING BELOW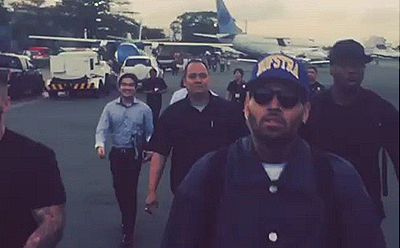 Chris Brown performs in Manila...and then gets detained for two days
"Manila It was fun, I love you all man!" were Chris Brown's parting words before he left Manila after being detained for two days after his concert. The R&B artist was not allowed to leave the Philippines for failing to pay back INC-owned Maligaya Development Corporation for backing out of a U.S. $1 million contract, for which Brown had been paid in full. After appealing on Instagram—even asking for Obama's help—Breezy had no choice but to secure a certificate to be cleared and be allowed to leave the country.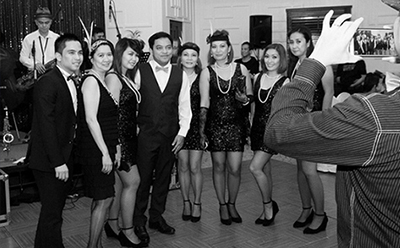 ADVERTISEMENT - CONTINUE READING BELOW
LRTA celebrates 35th anniversary with a costume party
When the people behind a leaky servicing train throw a lavish party, eyebrows will be raised. In July, The Philippine Star published a photo taken at the 35th founding anniversary party of the Light Rail Transit Authority (LRTA), held at the Manila Grand Opera Hotel, which administrator Honorito Chaneco described as a "small hotel." There was even a memorandum that stated that employees "not wearing the appropriate 1920's get-up (sic) will not be allowed entry to the hotel." So don't judge them. There was a dress code.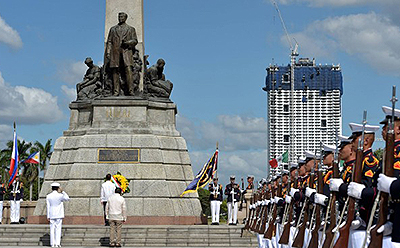 Torre de Manila photobombs Mexican president during APEC
The spotlight was on Torre de Manila again when the Mexican President Enrique Peña Nieto paid the Rizal Monument a visit during the APEC Summit. The building has more than lived up to its name of being the "Pambansang Photobomber." Maybe the photographer just didn't take the photo "at the right angle."
ADVERTISEMENT - CONTINUE READING BELOW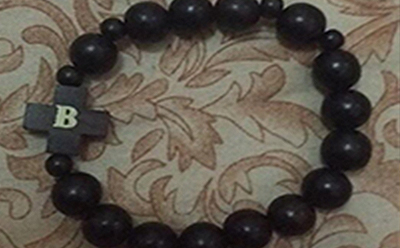 Free rosaries stamped with a "B"
A photo of a black rosary with a letter "B" stamped on it circulated on social media in July. The trinkets were reportedly handed out during the Papal Visit and back when Vice President Jejomar Binay went to Ormoc City in Leyte to extend "personal" help to the families of the victims of the MB Kim Nirvana tragedy. The Catholic Bishops' Conference of the Philippines (CBCP) President Lingayen-Dagupan Archbishop Socrates Villegas commented on the "giveaway" saying, "Do not use the sacred in order to pursue your secular motives because your abuse and misuse will boomerang on you." Let's just assume the B means "Blessed."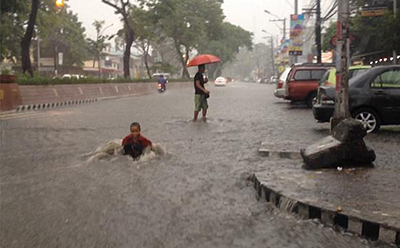 ADVERTISEMENT - CONTINUE READING BELOW
The Metro gets instant swimming pools
You know you're from Manila when you have Antlophobia: the fear of flood. One hour of rain can cause the streets to fill up with water, which probably means hours of standstill traffic or the need to evacuate. Photo above was taken in April, when there wasn't even a typhoon. Let's all sing, "I can make it through the raaaain."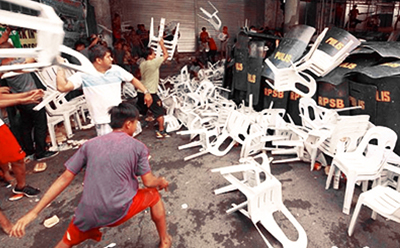 Plastic chairs "to the rescue"
A disturbing video was aired by several news agencies in June showing policemen, who were tasked with serving the suspension order to now-dismissed Makati City Mayor Junjun Binay, defending themselves from plastic chairs thrown by the suspended Mayor's supporters. The footage documented the supporters throwing the chairs and even violently beating police shields with them. The officers held their position and didn't retaliate, but Binay seemed to have a different version of the story in a very rare interview on ANC. He defended "his people" and said the chaos was started by a policeman in civilian clothes. Yes, Mr. Binay, the policemen look really viciously chaotic in this photo.
ADVERTISEMENT - CONTINUE READING BELOW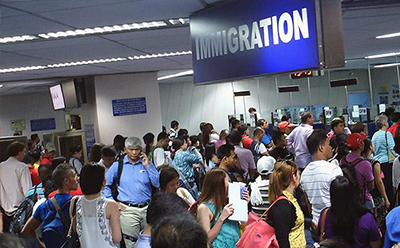 Immigration questioning helps prevent human trafficking...and causes passengers to miss flights
In Manila, traveling by air is kind of similar to commuting: It's stressful (if you're not in business class), prone to delays, will leave you impatiently waiting for your bags, and there's the "Laglag Bala" to worry about. Among the causes for a passenger to miss a flight, the long immigration queue seems like an unfathomable one. Not in Manila, apparently. But their lengthy probing doesn't seem so bad as earlier in December, immigration officers intercepted the flights of 11 Filipinos about to become victims of trafficking. There were also "rescued" victims in June.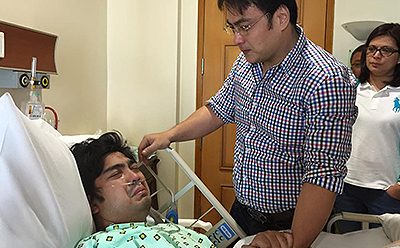 ADVERTISEMENT - CONTINUE READING BELOW
Sen. Bong Revilla gets a brief reprieve from detention due to son Jolo Revilla's "accidental" gunshot
The country witnessed an emotional, telenovela-like reunion of father and son this year; while on social media, a mother continued to ask for prayers. Detained Sen. Bong Revilla visited his son, Cavite Vice Governor Jolo Revilla, who was in the hospital for an "accidental" gunshot. The scene was captured clearly, because the press was allowed to cover the heart-warming event in March. It seems like his mother's (Lani Mercado) constant "public" wishes were heard, and Jolo recovered shortly after. Did you know that in August, the Vice Governor was awarded—for the second time—as one of the country's outstanding local legislators by the Superbrand Marketing International? Now you do.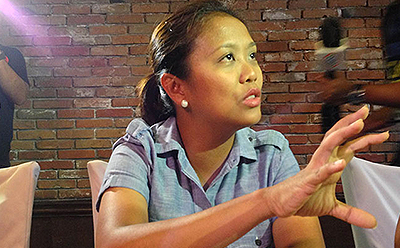 Nancy Binay compares a family of politicians to a family of doctors
In June, Sen. Nancy Binay once again expressed her lack of support for Senate Bill 2649 or the Anti-Political Dynasty Bill, filed by Sen. Miriam Defensor Santiago in January 2011, for reasons we trust are already obvious to our readers. In her defense, the Senator said that they are all democratically voted to power and they wouldn't be in public office if the people did not choose them. The icing on the cake: She said that if a family of doctors can exist, then a family of public servants isn't the anomaly the Anti-Dynasty Bill makes it seem. We had no idea you were an analogy whiz, Senator!
ADVERTISEMENT - CONTINUE READING BELOW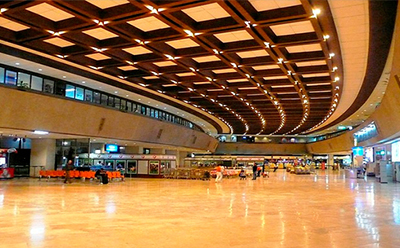 A whiter, brighter NAIA...with rain inside
In June, passengers had to open umbrellas to avoid getting drenched in the rainfall they experienced inside the NAIA Terminal 1. A P1.3 billion rehabilitation project may have produced a whiter facility, but the contractor, DM Consunji Inc. (DMCI), seemed to have overlooked the ceiling work. It didn't end there. Come August, an Australian tourist fell into a square-meter wide and 0.6-meter deep hole in NAIA Terminal 2 after part of the floor in the arrival area gave way as he was walking to the transit gate. Don't worry, he got away unscathed. The hole, like traffic, wasn't fatal.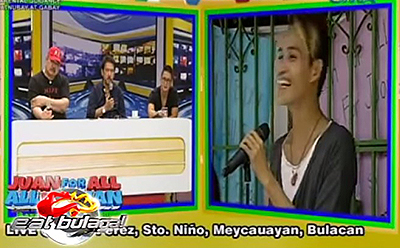 ADVERTISEMENT - CONTINUE READING BELOW
Eat Bulaga's "go back to the closet" advice
Before people were addicted to AlDub and the "Kalyeserye," noontime show Eat Bulaga had a segment called "Problem Solving." In one episode in May, the hosts gave advice to a "beki dabarkads" named Diamond, who was having a hard time protecting himself and his family from teasing and judgment from people about his living situation (he has a wife and kids). Jose Manalo told Diamond, "Ikaw ang gagawa ng unang solution. Magagawa mo bang hindi na ganyan ang itsura mo? Beki ka pa rin." This was followed by a comment from fellow host, Sen. Tito Sotto, who said, "Sa madaling salita, ibalik sa closet." This attracted the nation's attention after a lesbian mother wrote an open letter addressed to Eat Bulaga on her Facebook page.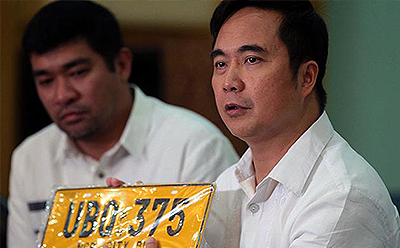 We all get new license plates...after paying an additional fee
The LTO doesn't seem to run out of reasons to...test our patience. In a joint hearing of the Blue Ribbon and Public Services committees in May, senators were not pleased when they discovered the new license plates approved by the LTO and DOTC. When you buy a new plate, you pay P450 and an additional P50. Sen. Ralph Recto asked them to justify this measure. The LTO struggled to explain why they entered a P3.8 billion contract without properly indicating the appropriation for it in their budget. "Ano'ng pakinabang ngayon na gumagastos ang tao? Nabawasan ba ang traffic?" asked Recto. Touché, Senator.
ADVERTISEMENT - CONTINUE READING BELOW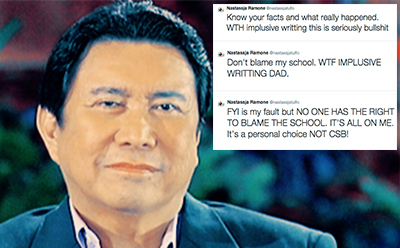 Ramon Tulfo's Inquirer piece tells people where to get drugs around CSB
Ramon Tulfo pointed out in his Philippine Daily Inquirer piece in February that, "Prohibited drugs are sold by some CSB (College of St. Benilde) students on and off campus." He said that the "tip" came from his daughter, and also told everyone where we can procure illegal drugs. There were factual errors on his column, though, like how the "coffee shops" he identified were actually bars and that the "SBA building" is actually the "SDA or the School of Design and Arts building." Many LOL'd but his daughter was clearly not pleased and went, "WTF IMPULSIVE [WRITING] DAD." She got two things right, though: Don't blame the school and "It's a personal choice."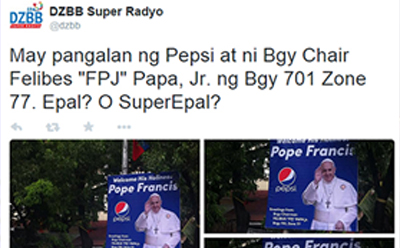 ADVERTISEMENT - CONTINUE READING BELOW
"Epal" moves during the Papal visit
We wondered how Pope Francis would feel if he discovered that his supporters were doing the exact opposite of what he's trying to preach—like this tarpaulin streamer that dzBB Super Radyo tweeted back in January. It doesn't have the face of Barangay Chairman Felibes "FPJ" Papa Jr., but it does have a Pepsi logo right next to His Holiness' image, with love from someone in the Barangay or City Hall. In a separate incident, a concerned Spotter sent us a screenshot of a text message from a politician who somehow thought the Papal visit was a good time to invade people's phones. Although anybody could have sent that text, we have the perfect replies for them.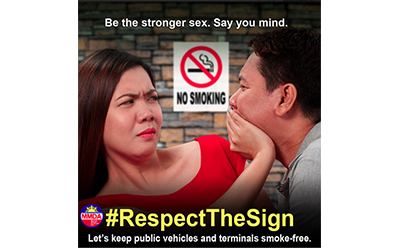 The anti-smoking MMDA ad
There was an MMDA ad that looked like the photo above back in April for their #RespectTheSign campaign which is focused on encouraging smokers to quit. The ad showed a woman being told to "be the stronger sex" by saying she minds. A flood of unfavorable comments forced the MMDA to take it down a day after it was released. Good job, social media!
ADVERTISEMENT - CONTINUE READING BELOW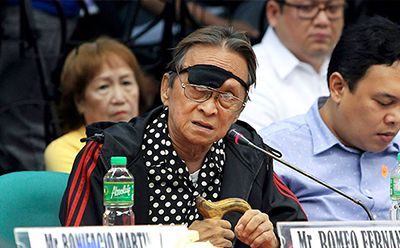 PhilHealth works...but could leave patients blind
During a Senate Blue Ribbon Committee hearing in July, two elderly men, both with cataracts, shared their experiences at the hands of doctors who performed unnecessary surgeries on their eyes, leaving them blind. They underwent surgery at two eye centers accredited by the Philippine Health Insurance Corp. (PhilHealth). There's a special place for body horror as a genre in film, but we don't really want to see them come to life. Exercise caution, everyone. Health really is wealth.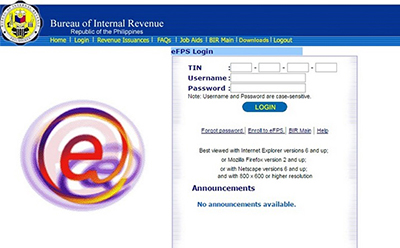 ADVERTISEMENT - CONTINUE READING BELOW
BIR's paperless transaction to make paying taxes a breeze...theoretically
The Bureau of Internal Revenue (BIR) came up with the cleverest idea to make income-tax filing more hassle-free—and announced it one month before the deadline. In the middle of March, the agency announced a "paperless" transaction, which drew a lot of criticism. For one thing, the Operating System (OS) required to run the eBIR forms was not compatible with half of the country's computers, and BIR Commissioner Kim Henares advised people to go to Internet cafes instead, because your private information is totally safe there. They also offered to save eBIR forms onto people's flashdisks (hello, virus!). In August, though, they came up with a (hopefully) cost-saving strategy of sharing data with the Bureau of Customs (BOC). Dare we hope for more efficiency and transparency?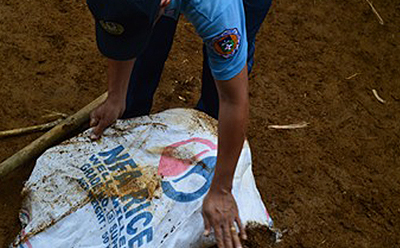 DSWD 8 admits burying 284 sacks of rotting rice in Leyte town
Another tear-jerking move by the DSWD: Its chapter in Eastern Visayas (DSWD 8) admitted to burying 284 sacks of spoiled rice, which were intended for relief operations for victims of 2014 typhoon Ruby. DSWD 8 Information Officer Vina Aquino said the sacks, which arrived in the third week of December 2014, were rotting in their warehouse possibly due to being dampened by the rain. "Ano kasi, matrabaho kasi ang pag-sort out ng bigas kaya natagalan ang pag-dispose. Aprubado naman 'yon ng national office at disposal committee, kasama do'n 'yong taga-COA (Commission on Audit). Kaya noong mag-dispose, isinama na rin 'yong 284 kasi nga nangangamoy na sa bodega. Kaunti lang naman ang percentage na 'yon kesa sa 4,000 [sacks] 'di ba?" she said. Although the barangay chairman initially denied this information, the truth always has a way of...smelling.
ADVERTISEMENT - CONTINUE READING BELOW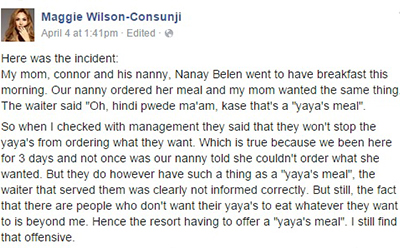 The existence of "yaya meals"
Were you as horrified as us when you found out that "yaya meals" existed? No, not only in Balesin, although Maggie Wilson-Consuji made that known to everyone. Let's focus on the fact that there are resorts that cater to the request of other guests who want to spend less on their helps' food and lodging—which is just sad. Considering that we are lacking in laws that would protect the help from other forms of discrimination. But congratulations to you, for seeing what's wrong with this. All Nanay Belens can order a lobster frittata if they want to.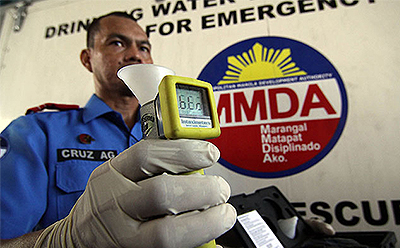 ADVERTISEMENT - CONTINUE READING BELOW
LTO's 150 "stored" breath analyzer kits
You probably heard in the first quarter of the year about drivers possibly being fined by LTO enforcers when they tested positive for being intoxicated using breath analyzer kits. The LTO performed a dry run in March to start the implementation of Anti-Drunk and Drugged Driving Act of 2013. So where are the 150 kits now? They're kept in storage. Apparently, there weren't enough breath analyzers to fully implement the measure, and only four of their traffic constables were trained to use the kits. This isn't an excuse to drink and drive, guys. Don't lose your life over whiskey.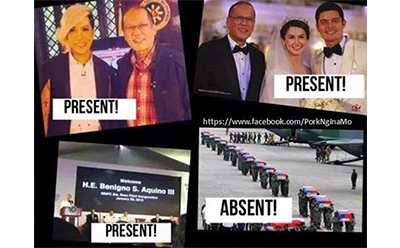 P-Noy attends a car event during ceremonies for fallen SAF 44
P-Noy drew flak when he wasn't present at the arrival of the fallen Philippine National Police-Special Action Force (PNP-SAF) heroes. #NasaanAngPangulo? He attended a car factory inauguration. But he didn't choose to do that, guys! Communications Sec. Herminio Coloma Jr. clarified that P-Noy merely followed his schedule. Meaning someone else in the Palace decided that the car event was more important. It's never P-Noy's fault, guys. We should all know that by now.
ADVERTISEMENT - CONTINUE READING BELOW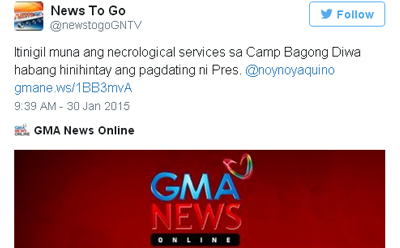 P-Noy arrives late for necrological services of fallen SAF 44
That went from #NasaanAngPangulo to #LateAngPangulo real fast. People of the Internet criticized P-Noy's alleged lack of punctuality when he was late for the necrological services of the fallen SAF 44. The ceremony had to be paused due to the pending arrival of the President. To be fair, P-Noy was scheduled to arrive at the venue at 10 a.m. based on the official itinerary. The program started at 9 a.m. and the President arrived a few minutes later.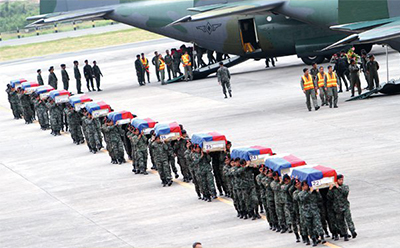 ADVERTISEMENT - CONTINUE READING BELOW
The Mamasapano massacre
The clash between the Special Action Force (SAF) and rebels in Maguindanao caused a kink in P-Noy's plans for the Bangsamoro Basic Law (BBL), but the people behind it (whoever they are) sayMarwan was worth it. To summarize, there has been a lot of obvious miscommunication andlack of coordination from the people involved. Sadly, this has caused the lives of 44 brave men.
The first result of the Board of Inquiry's probe was released to the public as the Mamasapano Report, which stated that P-Noy gave the go signal and allowed the execution of Oplan Exodus. The U.S. was involved, and autopsy reports indicate that four SAF Commandos were shot at close range while they were still alive. Some other notable findings say that the mission planning of Oplan Exodus was defective due to: poor analysis of the area of operation, unrealistic assumptions, poor intelligence estimate, absence of abort criteria, and absence of prior coordination with the Armed Forces of the Philippines (AFP) and Ad Hoc Joint Action Group (AHJAG), among others.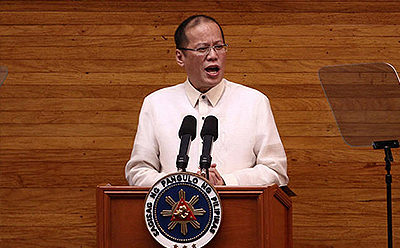 ADVERTISEMENT - CONTINUE READING BELOW
The Mamasapano massacre re-investigation
P-Noy said that he heard "alternative versions" of what happened in the Mamasapano clash, which caused a re-investigation. Later in September, he presented the latest findings on the encounter. "What does the alternative narrative say? It was posited that one of Marwan's companions killed him—the same one who cut off his finger and gave it to the SAF. But it is clear from the presentation today: the SAF were there; we can no longer doubt that it was the SAF who took Marwan's finger. This also means: All the other accounts about the alternative narrative are baseless, and consequently have no relevance," said P-Noy.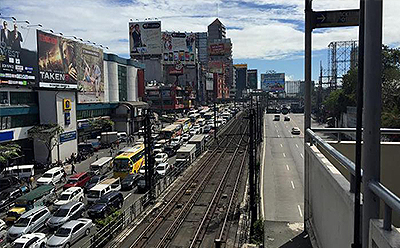 EDSA's 37th celebration causes epic traffic jam
People were stuck in an epic traffic jam during the celebration of the 29th anniversary of EDSA People Power in February due to road closures. Malacañang apologized for not getting the word out earlier. "Sa susunod na pagkakataon maglalabas ng mas maaga at mas kumpletong abiso hinggil sa mga alternate routes na maaring daanan upang wag dumanas ulit ng malaking abala at sakripisyo sa matinding trapik," Communications Sec. Herminio Coloma Jr. said in a Palace briefing—which they actually did for APEC Summit, and we all know how that worked out.
ADVERTISEMENT - CONTINUE READING BELOW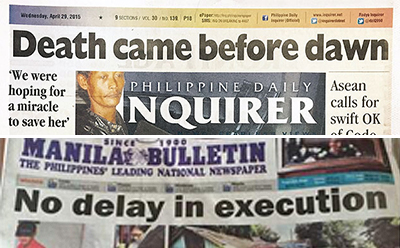 Several Philippine newspapers cover Mary Jane Veloso's scheduled execution...and publish the wrong headlines
A number of Philippine newspapers published unfortunate headlines in April due to the last-minute reprieve for Filipina maid Mary Jane Veloso who was facing execution in Indonesia. The news apparently came too late for newspapers rushing to retrieve their morning editions. Some of the front-page headlines read: "Death came before dawn," "Farewell, Mary Jane," and "PNOY IS TO BLAME." The editors later admitted that their journalists were aware of the situation, it's just that their stories are finalized by midnight. Their online counterparts, however, reflected revised stories.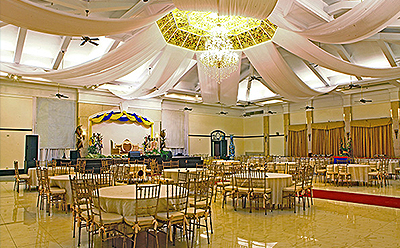 ADVERTISEMENT - CONTINUE READING BELOW
DSWD sends homeless families to Batangas resort during Pope's visit
During the Papal visit in January, 10 buses full of street dwellers from the cities of Pasay, Manila, and Parañaque reportedly arrived at the Chateau Royale Resort in Nasugbu, Batangas, apparently sent by the DSWD for a "family camp." The families checked out of the resort on January 19, Pope Francis' last day in the country. Sec. Dinky Soliman admitted that the families were sent away for Pope Francis' five-day visit, as the said dwellers "could be seen as not having a positive influence in the crowd." An all-expense paid week-long vacation, care of the government? Nice.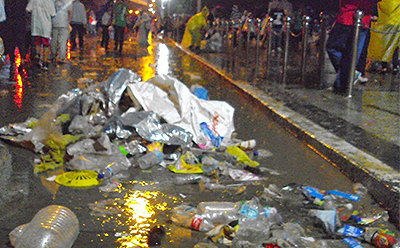 Thousands flock to Manila to see the Pope...and then leave 23 truckloads of trash
The MMDA reportedly collected over 23 truckloads or 138 metric tons of garbage from areas and routes taken by the Papal convoy last January. The garbage collected consisted mostly of plastic bottles, Styrofoam containers, barbecue sticks, and candy wrappers, according to MMDA Metro Parkway Clearing Group head Francis Martinez. What is it that they say about cleanliness and godliness?
ADVERTISEMENT - CONTINUE READING BELOW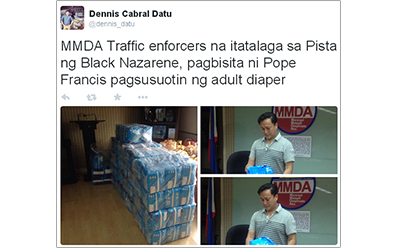 MMDA enforcers wear diapers for the Black Nazarene Feast and Papal Visit
There's nothing wrong with adult diapers, but did we really need to have a mental picture of the MMDA officers—persons of authority—wearing them during the feast of the Black Nazarene and the Papal visit? The MMDA enforcers on duty during the said events were required to wear adult diapers to relieve themselves, uhm, conveniently. This is the solution to Mayor Duterte's traffic woes, after all.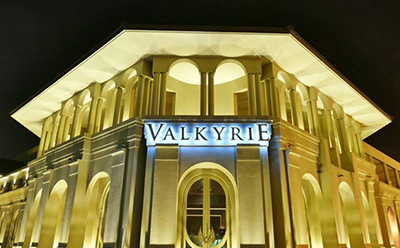 ADVERTISEMENT - CONTINUE READING BELOW
Valkyrie's "No Cross-dressing Policy"
Fashion designer Veejay Floresca shared on Facebook an incident where he was denied entry in Valkyrie due to the club's "No Cross-dressing Policy." Those three words are cringe-worthy enough. It's not surprising that the "policy" made quite a stir, especially in the LGBT community. The management eventually apologized and reiterated that the bouncers were only enforcing "safety policies and guidelines."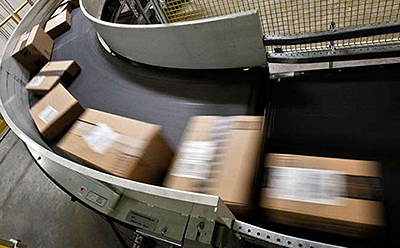 The BOC's random inspection of balikbayan boxes
Overseas Filipino Workers (OFW) and the entire nation were frustrated over the Bureau of Customs' (BOC) plans to conduct random inspections on balikbayan boxes, reportedly to catch illegal smuggling activities. Apparently, there was not a single balikbayan box that was found to contain arms and drugs, as Customs Commissioner Alberto Lina publicly declared was the basis for the measure. It seems that this proposed strict monitoring of balikbayan boxes didn't have any basis at all, as proven in a Senate hearing.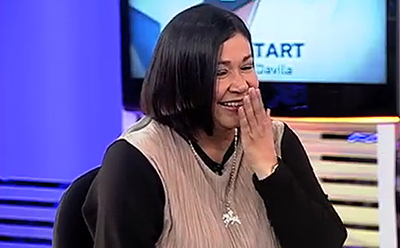 ADVERTISEMENT - CONTINUE READING BELOW
That trending #AlDav interview
Actress and Parañaque Councilor Alma Moreno, who is running for senator under the United Nationalist Alliance (UNA) party, drew flak from the Internet for her cringe-worthy (and entertaining) answers in an interview with Karen Davila on Headstart. Her awareness score, which she said was high in surveys, surely rose after this—especially after #PrayForAlma posts circulated on the Internet. Given her showbiz background, she sure knows how to...entertain.
Art by Warren Espejo, with photos from PEP.ph, screenshots from Facebook fan pages, various TV show videos, news clips, and images used by fans in YouTube slideshow videos.
---
Help us make Spot.ph better!
Take the short survey
Load More Stories