Heneral Luna may join the Golden Globes race + more things you might have missed today
Kill Bill 3, NBI to release Laglag Bala findings this week, and more.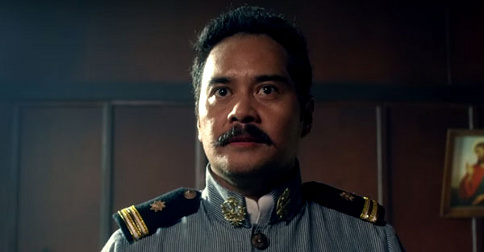 (SPOT.ph) Busy day, Spotters? We quickly recap 10 things you might have missed while you were off the radar.
1. Heneral Luna may join the Golden Globes race
Director Jerrold Tarog's critically acclaimed Heneral Luna may be headed to a prestigious award show...other than the Oscars. The film was submitted for consideration to the Golden Globes, where it will compete against 70 other films for the Best Foreign Language Film category. Of these films, five will be chosen as nominees for the award show slated for January 10, 2016.
2. PH bet wins Miss Earth 2015
On Sunday, Philippines' bet Angelia Gabrena Ong was crowned Miss Earth 2015, marking the first time in 15 years that a country bagged the title twice in a row. She impressed the judges during the Question and Answer portion, thanks to her progressive views on same-sex marriage ("If you feel that that is love, then so be it"). The 25-year-old graduated from De La Salle-College of Saint Benilde with a degree in Marketing Management.
3. Dita Von Teese says the Kardashian corset craze is like "the blind leading the blind"
Burlesque star Dita Von Teese expressed her disapproval of the Kardashians' way of wearing corsets. "I think it's funny because I'm watching [the trend] and it's like the blind leading the blind," she said when asked about the corset-like Waist Trainer the Kardashians are promoting. According to Von Teese, the ladies should research more about the art of wearing "real corsets," saying, "There are lots of experts on it, but I don't know that you should be jumping on the bandwagon to sing the praises of corsets." She didn't fail to mention that this trend was a fast fix and it's not going to modify your figure if you're "not engaged in the serious regimen of it."
ADVERTISEMENT - CONTINUE READING BELOW
4. Quentin Tarantino says Kill Bill 3 is still a definite possibility
Quentin Tarantino has hinted that there is definitely a possibility of a Kill Bill 3–something he revealed during the promotional rounds for his latest film, The Hateful Eight. He said Kill Bill is arguably his most visionary work so far. According to Tarantino, he will enjoy working with Uma Thurman again. "I put that character–not Uma, I put Uma through a lot too–but I put that character of Beatrix Kiddo through a lot. And so I wanted her to have this much time for peace," he said. The director specifically mentioned Thurman's eagerness for a third installment, and revealed that he has already sketched the plot, with Copperhead (Vivica Fox) returning to take revenge on The Bride (Thurman).
CONTINUE READING BELOW
Recommended Videos
5. Facebook launches suicide prevention tools in Australia
Facebook has recently launched new suicide prevention tools in Australia, months after it first rolled out the features in the U.S. If someone thinks another person is considering suicide based on their Facebook posts, they can report the material to Facebook, who has teams working around the clock to review the reports. Depending on the seriousness, the teams can encourage the user to reach out to a friend, provide advice, or speak to a mental health expert through a private pop-up message. In both countries, the feature is partnered with several local mental health initiatives.
6. NBI to release findings on "Laglag Bala" probe on December 9
News on the "Laglag Bala" scheme has been scarce lately, but on December 9, the National Bureau of Investigation (NBI) will release the results of its investigation into the alleged bullet-planting happening at the Ninoy Aquino International Airport (NAIA). The bureau was supposed to have the results ready last November 18, but they asked for more time to gather evidence from documents, videos, audio recordings, as well as statements from people involved.
ADVERTISEMENT - CONTINUE READING BELOW
7. COMELEC chief says May 2016 polls may be postponed
On December 6, Commission on Elections (COMELEC) Chairman Andres Bautista said the May 9, 2016 presidential elections may be postponed if the Supreme Court (SC) fails to lift the temporary restraining order (TRO) against the poll body's "No Bio, No Boto" policy. He said the COMELEC wants to finalize the voters list by December 15, which is unlikely due to the TRO. He explained that this could also affect the preparations for the upcoming elections since it is connected to other poll-related matters.
8. Duterte set to take his oath before the COMELEC
According to a report from The Philippine Star, Mayor Rodrigo Duterte will be taking his oath tomorrow morning at the notary of the Commission on Elections (COMELEC) national office in Intramuros for his certificate of candidacy (COC). Broadcaster Ruben Castor previously filed a petition before the COMELEC to declare Duterte's COC as null and void, asserting that he should not substitute for PDP-Laban presidential bet Martin Diño, as the latter's COC had an error. (Diño reportedly filed a COC as mayor for Pasay City instead of president.) The COMELEC is set to tackle Duterte's disqualification case on December 16.
9. 10 Fresh Tunes to Listen to This December
Let's all end 2015 with good music! You don't need to wait for January to update your playlists as we've rounded up fresh tracks for you to enjoy this month. Listen to Adele's wistful ballad, Bieber's song co-written by Ed Sheeran, Coldplay's strangely likable dance tune, and more!
ADVERTISEMENT - CONTINUE READING BELOW
10. The 7 Struggles of Trying to Eat Healthy
If you've struggled trying to maintain your diet this year, you're not alone! StyleBible.ph knows exactly how you feel.
---
Help us make Spot.ph better!
Take the short survey
Load More Stories