Star Wars shatters records with U.S. $517-M worldwide + more things you might have missed today
A black Hermione Granger, canned oxygen sells out in China, and more.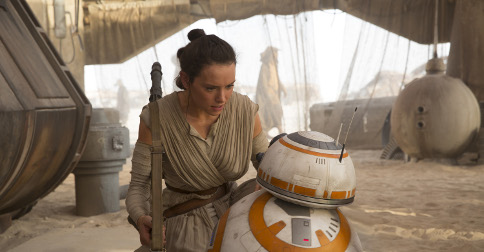 (SPOT.ph) Busy day, Spotters? We quickly recap 10 things you might have missed while you were off the radar.
1. Star Wars shatters records with U.S. $517-M in the box-office
The Force is strong with Star Wars, as its latest installment broke box-office records after it earned a whopping U.S. $517 million worldwide during its weekend debut. The film has yet to be released in China, the world's second-largest movie market. It comes a close second to this year's Jurassic World, which earned a grand worldwide total of U.S. $525 million, including China. The Force Awakens has also broken records in individual countries, including the U.S., Canada, Britain, and Russia.
2. Steve Harvey apologizes for Miss Universe blunder
It was an awkward moment witnessed by...well, everyone. Family Feud host and comedian Steve Harvey caused confusion on Monday after he announced the wrong winner for the Miss Universe title. He quickly tweeted an apology, only he misspelled "Philippines" as "Philippians" and "Colombia" as "Columbia." He deleted the post and tweeted another set of apologies, saying, "I'd like to apologize wholeheartedly to Miss Colombia and Miss Philippines for my huge mistake. I feel terrible. Secondly, I'd like to apologize to the viewers that I disappointed as well. Again it was an honest mistake." He was later spotted backstage apologizing to Pia Wurtzbach.
3. Harry Potter and the Cursed Child casts black Hermione
The upcoming stage play, Harry Potter and the Cursed Child, has announced the cast that will portray the much-older versions of the series' beloved characters. Noma Dumezweni was cast as Hermione Granger, who will be married to Jamie Parker's Ron Weasley. Dumezweni won the 2006 Olivier Award for "Best Performer in a Supporting Role," and has appeared in productions like The History Boys, and Rosencrantz and Guildenstern Are Dead. The director, John Tiffany, told the Mail it was simply about getting the best available actors for the role. Some fans defended the casting choice and said that Hermione's ethnicity was never fully disclosed in the books. Author J.K. Rowling has yet to weigh in on the issue.
ADVERTISEMENT - CONTINUE READING BELOW
4. Canned oxygen sells out in China
Highly populated cities in China like Beijing and Shanghai have recently issued a red alert for smog, with residents being told to stay indoors and factories halting production. A Canadian company called Vitality Air, which initially sold "canned fresh air" as a joke, has sold out their products in China after just four days. A crate of 4,000 bottles (retailing at U.S. $23 for 150 breaths of fresh air) are currently on the way to the country.
Today, I had the honor and privilege of watching my son and his friends showcase their talent at the LHS Talent Show! There is never a dull moment with these boys!!! For those of you that haven't seen "Mean Girls"...you don't need to. These Sweet Boys are much better! You boys did a great job and I'm so proud of you!!!

Posted by Lee Barber on Friday, December 4, 2015
5. Watch these high school dudes completely nail the "Jingle Bell Rock" dance from Mean Girls
CONTINUE READING BELOW
Recommended Videos
It's not Throwback Thursday yet, but you'll love this spot-on routine of the "Jingle Bell Rock" dance from Mean Girls. A group of boys from Arkansas' Lavaca High School made headlines for their peformance that had great attention to detail—from the boombox flying off the stage to the impromptu a capella and the whole audience joining in. It was so hilarious that even Regina George would find it funny!
6. Hate attacks on Muslims in U.S. rise after recent acts of terrorism
According to a tally by California State University San Bernardino college professor Brian Levin, hate crimes targeting Muslims have tripled this year, with a bulk of incidents occurring in recent weeks. Levin also found that since the attacks on Paris in November, there have been 38 attacks against Muslims in the U.S. The report by NBC News cited several instances of anti-Islamic attacks, including harassment of girls wearing hijabs and mosques being defaced and targeted by arsonists.
ADVERTISEMENT - CONTINUE READING BELOW
7. Aquino asks AFP to assist him in their "last mission"
On the 80th anniversary of the Armed Forces of the Philippines (AFP) on December 21, P-Noy said his last mission as Commander-in-Chief is to ensure that there will be a peaceful and successful 2016 presidential elections. With only six months left before he steps down, the President promised to double his efforts during his remaining time in office because his "boss," the Filipino people, are expecting a lot from him.
8. Duterte wants to ban firecrackers nationwide
Can you imagine New Year's Eve in Manila without firecrackers? That's how the first day of January 2017 will be if Davao City Mayor Rodrigo Duterte becomes president. Duterte said in his Sunday TV program that he would ban firecrackers nationwide to ensure safe Christmas and New Year's Eve celebrations for all Pinoys. He started the said ban in Davao in 2001. Understanding that this will heavily affect the livelihood of the fireworks industry, the Mayor said they can still operate, but the selling will be done overseas. "Better to export them instead of selling them here," Duterte said.
9. 10 Things Pinoys Do During Simbang Gabi
We're halfway through Simbang Gabi and we're loving the smell of puto bumbong and bibingka in the air. Of course, prayer is the main purpose of giving up eight hours of sleep for more than a week. But there are still Simbang Gabi common practices that make it uniquely Pinoy. Here are 10 of them.
ADVERTISEMENT - CONTINUE READING BELOW
10. 10 Food Trends You Should Have Tried This Year
Trends come and go, even in food. One time, it was all about macarons. Another time, milk tea was all the rage. Before the year ends, don't forget to try these 10 food trends we spotted all over the Metro!
---
Help us make Spot.ph better!
Take the short survey
Load More Stories