Maine Mendoza's Christmas gift for Alden Richards is pretty sweet + more things you might have missed today
Binay and Poe top latest SWS survey, Johnny Depp declared the most overpaid star of 2015, and more.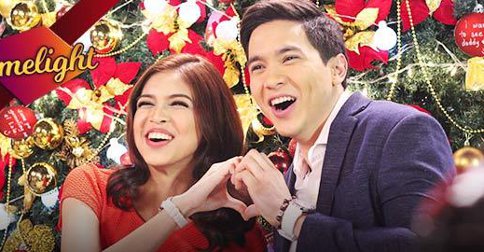 (SPOT.ph) Busy day, Spotters? We quickly recap 10 things you might have missed while you were off the radar.
1. Maine Mendoza gets creative in her Christmas gift for Alden Richards
The Dubsmash Queen sure has a kickass sense of humor. Before their MMFF movie, My Bebe Love's premiere night on December 21, Maine Mendoza reportedly gave her gift to Alden Richards. It was a plastic pitcher—with a pair of Ray-Ban sunglasses inside. "Naka-pack siya sa pitsel, para ma-disappoint muna siya," Maine teased. According to Maine, she learned that Alden earlier lost his Ray-Ban sunglasses during their Cebu show, so she looked for the very same ones as a replacement.
2. Forbes names Johnny Depp 2015's "Most Overpaid Star"
Forbes has declared Johnny Depp to be the year's "Most Overpaid Star" due to the poor box-office returns of his films. According to the magazine, Mortdecai only earned U.S. $45 million on a U.S. $60 million budget, while Disney lost almost U.S. $150 million for The Lone Ranger. Other stars on the list include Denzel Washington, Will Ferrell, Liam Neeson, Will Smith, and surprisingly, Channing Tatum.
3. James Cameron says the target for Avatar 2 is Christmas 2017
Director James Cameron has been quietly working on his Avatar sequels for the past six years. In an interview on December 21, Cameron finally spoke about the target release of the next three films. "Christmas of '17 is the target," Cameron said. "At least, that's what we've announced. But I don't consider that to be as important as the fact that when we get all three films done, we drop them a year apart. I call it a meta-narrative that runs across the three movies. Each film stands alone, but it also tells one much larger story." After the 2017 release, the second and third films are set to hit theaters in 2018 and 2019. All three will be shot simultaneously.
ADVERTISEMENT - CONTINUE READING BELOW
4. Feel the Force of Christmas cheer with this incredible Star Wars light display
With Star Wars back on everyone's radar, Tom BetGeorge created a bigger light show (from his show last year), with 200,000 channels powering 70,000 lights, set to the movie's soundtrack. BetGeorge has very supportive neighbors who don't seem to mind the flashing lights and loud music every weekend. So much so that his next-door neighbors actually let him expand this enormous light show onto their lawns. He spends about U.S. $80 every night to run the spectacle, and even if it's free for viewers, they can also send donations to the McHenry House, a local homeless shelter. After watching the video, you would want to have BetGeorge in your village, too.
CONTINUE READING BELOW
Recommended Videos
5. You need to see this LOL-worthy clip of 2015's best news bloopers
If you're having a bad day, you need to stop what you're doing and watch this clip. NewsBeFunny, a YouTube channel that compiles the best news bloopers every month, has released a 2015 roundup of the funniest ones. They shared a first edition last week, and have just uploaded a Part 2 compilation.
6. The Philippines is the first Asian country to approve dengue vaccine
The Philippines is the first Asian country to approve the sale of the world's first-ever dengue vaccine. Dengvaxia, manufactured by French pharmaceutical company Sanofi, recently secured its first regulatory approval in Mexico and is currently being reviewed by around 20 countries in Asia and Latin America. Clinical tests on 40,000 people from 15 countries have found that Dengvaxia can immunize two-thirds of people aged nine years and older. It was also found to reduce the risk of hospitalization by 80%.
ADVERTISEMENT - CONTINUE READING BELOW
7. Leni and Sara Duterte say their friendship is beyond politics
Liberal Party (LP) vice presidential candidate Leni Robredo said during her visit in Davao on December 22 that she hopes her friendship with Davao City Mayor Rodrigo Duterte's daughter, Sara Duterte, would not be ruined by politics. Both ate lunch at an eatery near the Davao Medical School Foundation (DMSF). According to Robredo, their meeting was purely personal and that they did not even talk about the squabble between Robredo's running mate, Mar Roxas, and Mayor Duterte.
8. Binay, Poe top latest SWS survey
Vice President Jejomar Binay and Sen. Grace Poe both topped the December 12 to 14 Social Weather Stations pre-election survey. Both presidential candidates emerged with 26%, followed by Mar Roxas at 22%, Rodrigo Duterte at 20%, and Sen. Miriam Defensor Santiago at 4%. Meanwhile, a recent poll by Pulse Asia had Binay at the top spot with 33%, followed by Duterte at 23%, and Poe at 21%. According to Pulse Asia, the latter two were statistically tied.
9. 10 Bacon-Wrapped Dishes That Feel Like Presents
We can resist those meaty, crispy strips of bacon—said no one ever. We'll eat it anytime, anywhere, because bacon is always a good idea. Here are 10 dishes that feel like Christmas in your mouth.
10. 50 Reasons to Love Metro Manila
2015 is quickly coming to a close but before we say goodbye, we look back at the 50 things that made Metro Manila awesome...yes, crazy traffic and all! From must-try food to fun entertainment, we list down the many reasons why we love Manila.
ADVERTISEMENT - CONTINUE READING BELOW
---
Help us make Spot.ph better!
Take the short survey
Load More Stories