Star Wars is fastest movie to reach U.S. $1 billion + more things you might have missed today
Steve Harvey pokes fun at his Miss Universe gaffe, Duterte eyes public hangings, and more.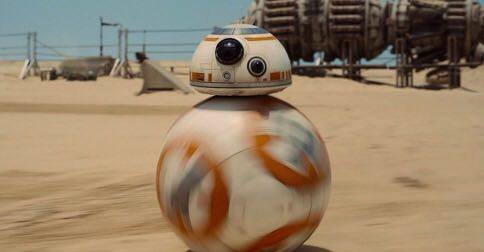 (SPOT.ph) Busy day, Spotters? We quickly recap 10 things you might have missed while you were off the radar.
1. The Force Awakens is the fastest movie to reach U.S. $1 billion mark
The latest Star Wars installment continues to break box-office records, earning U.S. $1 billion worldwide in just 12 days. It bested the previous record-setter, Jurassic World, which did it in 14 days. Star Wars has yet to open in China, the second-biggest movie market in the world. The film also holds the record for the biggest Christmas Day earnings with U.S. $49.3 million, as well as the biggest second-weekend earnings with U.S. $153.5 million.
2. Maine Mendoza on her MMFF win: "Bakit ako?"
The MMFF held it Awards Night on Sunday, December 27, with Walang Forever, Honor Thy Father, and My Bebe Love emerging victorious. The latter gave Maine Mendoza an award for Best Supporting Actress in her first movie role. Everyone seemed surprised at the result...including Mendoza, who tweeted, "Bago pa ako i-bash ng sambayanan, mauuna na ako... Bakit ako? Pero maraming salamat po!" My Bebe Love is currently leading the MMFF box-office race, raking in over P50 million since its opening.
ADVERTISEMENT - CONTINUE READING BELOW
3. Claudine Barretto shares old handwritten love letter from Rico Yan
The Internet swooned when Claudine Barretto posted a throwback photo of her with her former boyfriend, Rico Yan, alongside his handwritten letter. The late actor wrote: "To my hunny, by the time you read this, I must be in CDO already. Just want to thank you for last night. You were wonderful!!! And because of that, I'm sure I'm gonna have a hard time sleeping without you by my side tonight. :( But nevertheless, I still love you very much! Rico." It has been 13 years since Yan passed away due to hemorrhagic pancreatitis.
CONTINUE READING BELOW
Recommended Videos
4. Steve Harvey pokes fun at his Miss Universe gaffe
Although the world collectively cringed when Steve Harvey mistakenly announced the wrong Miss Universe (and didn't realize until three minutes later), it looks like the Family Feud host has moved on from the blunder. On Christmas Day, he took to his Twitter account to poke fun at the incident by posting a photo with the caption, "Merry Easter, y'all." According to earlier reports, Miss Universe is open to having him back as a host for next year.
5. Here are the most-streamed Beatles songs of all time, so far
Music fans rejoiced earlier this month when it was announced that the entire music catalog of the Beatles would now be available for streaming on Spotify and other services. According to Billboard, "Come Together" ranked as the most-streamed track from Spotify users around the world. It was followed by "Let It Be" and "Hey Jude" in second and third place, respectively. Other songs in the Top 10 also include "Here Comes The Sun," "All You Need is Love," and "I Want To Hold Your Hand."
ADVERTISEMENT - CONTINUE READING BELOW
6. Piccolo is still the cause of most firecracker-related injuries, says DOH
According to the Department of Health (DOH), the Piccolo is still the number one cause of reported firecracker injuries from December 21 to 27. This year saw fewer cases (81 injuries) compared to previous years by 46%. DOH spokesperson Dr. Lyndon Lee Suy said that although the Piccolo is not considered a powerful explosive, its damage could require the amputation of fingers. He strongly urges parents to guide their children on the use of firecrackers, especially during this season, as most of the victims are young children who are able to purchase illegal firecrackers from unauthorized sellers.
7. Duterte eyes public hangings if elected President
It looks like Davao Mayor City Mayor Rodrigo Duterte never runs out of drastic proposals should he become the next president of the Philippines. In his Sunday television program, Gikan sa Masa, Para sa Masa, the Mayor said on December 27 that he plans to restore the death penalty by hanging in public. Aside from this, he also seeks to create special criminal courts that will try drug cases only. He also wants to abolish the Pangilinan Law, or the Juvenile Justice and Welfare Act of 2006—the law that protects the rights of minors in conflict with the law, by removing the penalty of detention and imprisonment. According to Duterte, this did not solve anything and only made way for "the new generation of criminals."
8. Grace Poe runs to SC to reverse disqualification from the 2016 national elections
ADVERTISEMENT - CONTINUE READING BELOW
On the first working day after Christmas, Sen. Grace Poe's camp rushed to the Supreme Court (SC) to appeal the Commission on Elections' (COMELEC) rulings disqualifying her from the 2016 presidential elections. George Garcia, Poe's lawyer, filed on December 28 two separate petitions for the issuance of a temporary restraining order (TRO) and a status quo ante order against the COMELEC's rulings. According to Poe's camp, the Filipino electorate is being deprived of making their own choices due to these rulings.
9. 10 Most Promising Oscar and Award-Season Films of 2015
The U.S. is in the middle of its awards season and the contenders are campaigning to make sure they get those nominations. After the MMFF season, you can expect these films to hit our local screens. Here are 10 Oscar contenders that haven't been released yet locally, and why you should see them.
10. 10 Must-Watch Sitcoms to Marathon This Holiday Season
It's the holiday season, which means it's the perfect time to catch up on all the TV you've missed during the year. Kill time between family reunions and cozy up with these 10 fail-proof sitcoms.
---
Help us make Spot.ph better!
Take the short survey
Load More Stories