The Revenant, The Martian win big at Golden Globes + more things you might have missed today
Miriam seeks probe into presidential bets' ad spending, another Rolling Stone controversy, and more.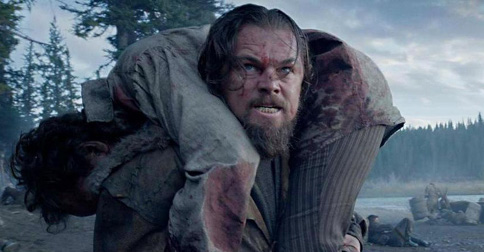 (SPOT.ph) Busy day, Spotters? We quickly recap 10 things you might have missed while you were off the radar.
1. The Revenant, The Martian win big at Golden Globes
It was a good night for Leonardo DiCaprio, as the actor took home the award for Best Actor in Drama for his role in The Revenant (which also won Best Motion Picture in Drama and Best Director). Room actress Brie Larson won Best Actress. On the comedy side, Ridley Scott's The Martian won Best Motion Picture, while its star, Matt Damon, won for Best Actor. Jennifer Lawrence was also a winner for her role in Joy. Winners for TV categories include Mr. Robot for Best Drama, and Mozart in the Jungle for Best Television Series in a Musical or Comedy.
2. AlDub stars in new kilig commercial
The AlDub fever still isn't over. Alden Richards and Maine Mendoza are now in a new ad for Bingo cookie sandwiches, where they were shown repeatedly crossing paths but never meeting. The video earned almost a million views after just one day online. The hashtag, #MaiDenKiligSaSweet, also trended online.
3. Journalists aren't happy about Rolling Stone's story on El Chapo
Sean Penn made headlines over the weekend after reports said he interviewed notorious drug kingpin Joaquin "El Chapo" Guzman for a story on Rolling Stone magazine, despite the latter being on the run from authorities. To add to the controversy, the publication reportedly made a deal with El Chapo to seek his approval before publication. Journalists took to Twitter to express their disapproval, with one writing, "The future of journalism is a celebrity working for free and the subject pre-approving the article they've written." Rolling Stone has yet to release a statement on the issue.
ADVERTISEMENT - CONTINUE READING BELOW
4. Kanye West reveals when his new album is coming out

Are you excited to see Yeezus in Manila in April? Get ready, because Kanye West revealed the release date of his new album via his sporadically used Twitter account. Mark your calendars—his new album Swish will be out on February 11. His recently released singles include "Facts" and "Real Friends," which are part of his new album.
5. This Humans of New York subject was invited to Obama's State of the Union address
Syrian scientist and now-refugee Refaai Hamo was one of the subjects of the popular Facebook page, Humans of New York, where he talked about fleeing from Syria after a bomb killed most of his family members. He and his three remaining daughters moved to Turkey where he was eventually diagnosed with stomach cancer, and in two years, he received refugee status to the U.S. His story caught the eye of President Obama, where he wrote on the Facebook page, "You and your family are an inspiration. I know the great people of Michigan will embrace you with the compassion and the support you deserve." He was then invited to the President's State of the Union address this Tuesday.
CONTINUE READING BELOW
Recommended Videos
6. 151-day election period and gun ban officially starts
The Commission on Elections on January 10 marked the start of the 151-day election period for the 2016 national elections with a ceremony and the implementation of a nationwide gun ban. Government officials launched the Secure and Fair 2016 Elections or "SAFE 2016" campaign with a peace walk from Rizal Park to the Commission on Elections (COMELEC) office.
ADVERTISEMENT - CONTINUE READING BELOW
7. COMELEC commissioner challenges Escudero to a showdown in the Supreme Court

COMELEC commissioner Rowena Guanzon on January 11 posted a statement on her Twitter account challenging Sen. Chiz Escudero, a lawyer, to defend Poe in her pleadings before the Supreme Court. This was after Escudero said that the commissioner was a "threat to democracy" for being defiant against a directive from COMELEC Chair Andres Bautista. Bautista earlier asked Guanzon to explain why she filed an allegedly unauthorized comment before the SC, seeking to disqualify Sen. Grace Poe from the presidential race. Guanzon claims she had the authority to file the comment.
8. Santiago seeks Senate probe into presidential bets' ad spending
Sen. Miriam Defensor-Santiago will set a Senate hearing on presidential candidates' reported spending on political ads even before the official campaign period, which starts on February 9. Santiago said in a statement that the electorate must be wary of these candidates, and ask how they will recover the excessive amounts they have spent for their campaigns. In 2015, four presidential candidates have already spent a total of P2.3 billion for television ads, according to recent reports. The amount per candidate spent cannot be earned by a president even in a whole six-year term, and therefore how they will compensate for the amount is questionable, Santiago pointed out.
9. 10 Classic Pinoy Films That Deserve a Remake
Remakes are usually tricky but when done the right way, they could breathe new life into an old favorite, especially for newer audiences. From Danny Zialcita's T-Bird at Ako to Lino Brocka's Ang Tatay Kong Nanay, here are 10 movies we think deserve a good remake.
ADVERTISEMENT - CONTINUE READING BELOW
10. 10 Gym Bag Essentials for the Fitness Fan
Your gym bag doesn't have to weigh like it has kettle bells in it. You'd want it to carry only the essentials. Here's a cheat sheet on how to lighten your load, with items that will help you get the best out of your sweat sesh and still look fresh afterwards.
Share this story with your friends!
---
Help us make Spot.ph better!
Take the short survey
Load More Stories