Dave Franco, Miles Teller join list of hopefuls to play young Han Solo + more things you might have missed today
More updates on the MMFF hearing, sales soar for David Bowie's new album, and more.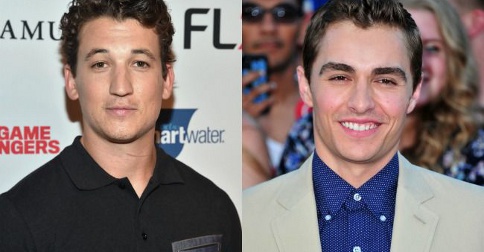 (SPOT.ph) Busy day, Spotters? We quickly recap 10 things you might have missed while you were off the radar.
1. Dave Franco, Miles Teller join list of hopefuls to play young Han Solo
In case you haven't already heard, Disney and Lucasfilm are currently developing an upcoming Star Wars spin0ff about young Han Solo. According to Variety's sources, the studios have a shortlist of about 12 actors including Miles Teller, Dave Franco, Logan Lerman, Ansel Elgort, and Scott Eastwood. There may also be a chance that the new Han Solo will make a small cameo in an earlier Star Wars spinoff, Rogue One, out next year. Meanwhile, the untitled movie is set for a 2018 release date. The final casting announcement is expected in the next few weeks.
2. MMFF Executive Committee member denies "dictating" disqualification of Honor Thy Father
Yesterday's Congressional hearing on the alleged irregularities at this year's MMFF revealed a lot, including the allegations that MMFF Executive Committee members Marichu Maceda and Dominic Du told the MMFF jury that Honor Thy Father was disqualified prior to the jury's approval. In a report by PEP.ph, Maceda denied the allegations, saying that they "were going to recommend to the jury about the [movie's] disqualification" and that they didn't want it to be decided upon solely by the Executive Committee (ExeCom). "It is not true that we dictated on them," she insisted.
— Kate Aurthur (@KateAurthur) January 11, 2016
3. You need to see Leonardo DiCaprio's face when Lady Gaga walked past him at the Golden Globes
There were plenty of viral moments from yesterday's Golden Globe awards (hello, Channing Tatum's hair), but one of the most talked-about moments was between Leonardo DiCaprio and Lady Gaga. The former was caught making a scared face as Lady Gaga brushed past him to the stage to accept her award. After the show, DiCaprio was surprised that the hilarious moment trended online, but explained, "I just didn't know what was passing me—that's all!"
ADVERTISEMENT - CONTINUE READING BELOW
4. Sales soar for David Bowie's new Blackstar album
It's safe to say the death David Bowie on January 10 came as a shock to the whole world. The rock icon left with a parting gift, his new album Blackstar. As if to return the favor, OfficialCharts.com reported that the album is holding the number one spot for the week with 43,000 combined sales, making Blackstar Bowie's 10th chart-topping album in the United Kingdom. As of January 11, it has also secured the top spot on the U.S. iTunes chart, according to Billboard.
5. New iOS 9.3 feature will make night-time reading a lot easier on the eyes
CONTINUE READING BELOW
Recommended Videos
Here's some good news for you night owls. The new iOS 9.3 update will reportedly include a feature called "Night Shift," which changes the colors emitted by your device based on the time of day. Basically, when it begins to get dark outside, the app gradually makes colors warmer to reduce eye strain. Studies have shown that using devices with lit screens before bed can interfere with sleep.
Those videos of fireworks you saw after New Year are nothing compared to this video of 100 drones performing an amazing light show above an orchestra playing Beethoven's "Symphony No. 9!" For one, it doesn't harm the environment. Also, it broke the Guinness World Record for Most Unmanned Aerial Vehicles (UAVs) airborne simultaneously. But what's really amazing is that it looks like a magical performance of fireflies. Just, wow.
ADVERTISEMENT - CONTINUE READING BELOW
7. Malacañang announces schedule of Japanese emperor and empress' state visit in the Philippines
Communications Sec. Herminio Coloma Jr. announced the schedule of Japanese Emperor Akihito and his wife Empress Michiko's state visit in the Philippines. The royals will stay in the country from January 26 to 30, with visits to Manila and some memorial sites of Filipino and Japanese veterans in Laguna. "Their Majesties' State Visit is a major highlight and fitting start to the 60th anniversary of the establishment of diplomatic relations of the Philippines and Japan in 2015," Coloma said in a statement.
8. Mar Roxas to face Enrile grilling when Mamasapano probe reopens
Senate Minority Leader Juan Ponce Enrile said he has questions for presidential aspirant Mar Roxas, as well as other resource persons in the reinvestigation of the Mamasapano probe. Roxas was the interior secretary at the time of the incident, and Enrile said he wants to ask about "performance of duty while you're in office." Enrile shrugged off allegations that the reopening is a political stunt for the 2016 national elections. He turned down proposals to inhibit Sen. Grace Poe, who is leading the investigation. He also assured fair treatment for Roxas during the hearing scheduled on January 25.
9. 10 Addictive Facebook Games You Can Still Play
Back in the day, Facebook wasn't just about tagged photos and liking. Before the cover photos and "life events" we know now, there were Facebook games that, well, pretty much took all of our time. If you're in the mood for a little nostalgia, we found 10 games that you can still play on the social networking site. Just go easy on the game requests!
ADVERTISEMENT - CONTINUE READING BELOW
10. 10 Art Exhibits to See This January
The talented visionaries on our shores will make it easier for you to see more art in 2016. Here are 10 art exhibits you should check out this month to boost your new year with imagination and creativity.
Share this story with your friends!
---
Help us make Spot.ph better!
Take the short survey
Load More Stories