This gift between an LDR couple is the sweetest + more things you might have missed today
A charger powered by water, SC rules EDCA as constitutional, and more.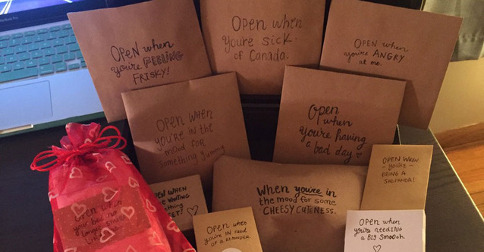 (SPOT.ph) Busy day, Spotters? We quickly recap 10 things you might have missed while you were off the radar.
1. This sweet gift between an LDR couple will make you swoon
This couple from the U.S. is raising the bar for long-distance relationships everywhere. When Nikki Miller paid her boyfriend, Tyson Noel, a visit, she left him a mysterious package in his apartment. It turned out that the package contained smaller, individually wrapped packages labeled for every occasion. For instance, one read "Open for when you're feeling alone" and another read "Open when you're angry at me." Noel excitedly shared the photos on his Twitter account, which of course, the Internet loved.
2. Pauleen Luna saddened over ABS-CBN's reporting of her wedding details
Pauleen Luna made headlines last week when she took to her Facebook page to criticize ABS-CBN's report on her wedding. The now-deleted post said that the report had details of her wedding (such as the date and venue) that she had promised to reveal exclusively on Eat Bulaga. In an Instagram comment, she clarified that she didn't "hate" the network, saying, "We requested na 'wag na lang muna sabihin dahil nakapangako kami sa Eat Bulaga, kung saan talaga namin gusto i-announce [...] Imbitado naman sila. I hope I made myself clear."
3. George Miller says no to doing more Mad Max films
Despite the critical and commercial success of the latest installment of the Mad Max franchise, director George Miller told the New York Post's Page Six that he won't be back to make more. (Yes, even with a possible Best Picture nomination on the horizon.) "I've shot in Australia in a field of wild flowers and flat red earth when it rained heavily forever," he said. "We had to wait 18 months and every return to the U.S. was 27 hours. Those Mad Max-es take forever."
ADVERTISEMENT - CONTINUE READING BELOW
4. Emilia Clarke promises the "biggest moments on TV ever" in Game Of Thrones Season 6
Of the few Game of Thrones characters who haven't been killed yet, Emila Clarke who plays Daenerys Targaryen (her shortest possible name), said that whatever fans have seen in the series is nothing compared to what's coming in the next season. How do you top eating a horse's heart, giving birth to a dragon, and flying with it? "I really can't say much apart from you'll see the biggest moments on television that have ever existed," she told E!.
5. This device can charge your phone with water
CONTINUE READING BELOW
Recommended Videos
Swedish startup company MyFC has unveiled a new piece of technology that uses saltwater and oxygen to charge your phone's battery. The device, dubbed JAQ, consists of a credit card-shaped "power card" that can fully charge a phone for one round. You'd need to purchase more cards in order to charge more devices. JAQ isn't available for purchase just yet, but the company anticipates that the product will be ready to ship later this year.
When you post epic content on instagram.com/433 8 million followers, this is how your pushnotification will look like.. ☕󾇗

Posted by Demy de Zeeuw on Sunday, January 10, 2016
6. Here's what happens when you have eight million followers on Instagram
Have you ever wondered what it's like to be really, really famous on the Internet? Think of having eight million followers and your push notification setting on. Demy De Zeeuw, the person behind the football-focused Instagram account @433, gives us Instagram mortals a taste of online stardom. After he posts a photo, his phone just basically looks like it's being attacked by notifications and is about to explode. We're telling you, it's insane.
ADVERTISEMENT - CONTINUE READING BELOW
7. UP student says he is being cyber-bullied after filing a petition against Duterte
UP-Diliman Student Council Chairman John Paulo delas Nieves said on January 12 that he has been receiving threats on his Facebook account after filing a petition seeking to cancel the presidential bid of Davao City Mayor Rodrigo Duterte based on the alleged invalidity of the latter's substitution for PDP-Laban's original standard bearer, Martin Diño. "'Yong family picture ko, magpo-post sila, 'Sana manakawan ka,' 'Sana magahasa ang girlfriend mo,' 'Sana mamatay pamilya mo,'" he said. He said that his experience, in a way, is reflective of the influence Duterte has on his supporters.
8. SC rules EDCA is constitutional
In a 10-to-four vote, the Supreme Court (SC) upheld the legality of the Enhanced Defense Cooperation Agreement between the Philippines and the U.S. According to the high court, the Enhanced Defense Cooperation Agreement (EDCA) is an Executive Agreement, not a treaty. It said that when it comes to external affairs, the President "must be given a larger measure of authority and wider discretion, subject only to the least amount of checks and restrictions under the Constitution." In effect, it disagreed that EDCA must be submitted to the Senate for ratification.
9. 10 Quirky Mugs You'll Want to Keep on Your Desk
Mugs have a notorious rep in the world of presents. They usually stay in the "to re-gift" realm of alarm clocks, picture frames, and face towels. That shouldn't always be so—not with these 10 cool mugs you will actually want to have, and use!
ADVERTISEMENT - CONTINUE READING BELOW
10. The Big Sleep
SPOT.ph blogger Lourd de Veyra pays tribute to the legendary German Moreno, and looks back at his colorful journey in showbiz, from That's Entertainment to the mark he left in the industry.
Share this story with your friends!
---
Help us make Spot.ph better!
Take the short survey
Load More Stories