Color It Pinoy: Local Coloring Books You Need on Your Bookshelf
Bring the coloring book craze close to home with these awesome artists.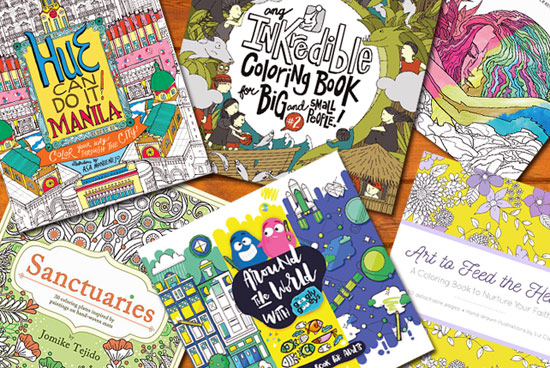 (SPOT.ph) When the adult coloring book craze started, it was hard to find them in the Philippines. A lucky few who had friends and family abroad had some coloring books shipped over so they, too, could relieve stress with the creative, calming activity. Today, that's no longer the case. Adult coloring books are on full display in the bookstores, flying off the shelves. But the wonderful news is that local artists have come out with their own illustrations which you can color, each with their own signature style and a huge serving of local flavor. Here are eight you can choose from or even collect!
Also read:
10 Coloring Materials for Your Adult Coloring Book Obsession
10 Awesome Adult Coloring Books for Every Personality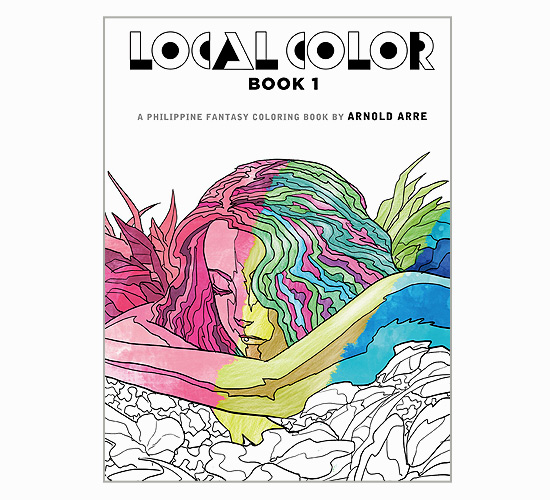 Local Color by Arnold Arre (P295)
Award-winning graphic novelist Arnold Arre of The Mythology Class and Ang Mundo ni Andong Agimat fame has put together a Filipino fantasy-themed comic book called Local Color. Fans of his art will now get the chance to color his intricate and unique illustrations and even frame them afterwards (sheets are perforated for this very reason!). Arnold says he's really interested to see how people will color his illustrations. His favorite piece is the lady in the water. "It wasn't planned," he says, "but it came out really well. This is one of those times when I didn't plan what to draw. I just let my imagination run wild and I'm very satisfied with the result."
ADVERTISEMENT - CONTINUE READING BELOW
Available at Powerbooks, National Book Store, and Chamber Shell Publishing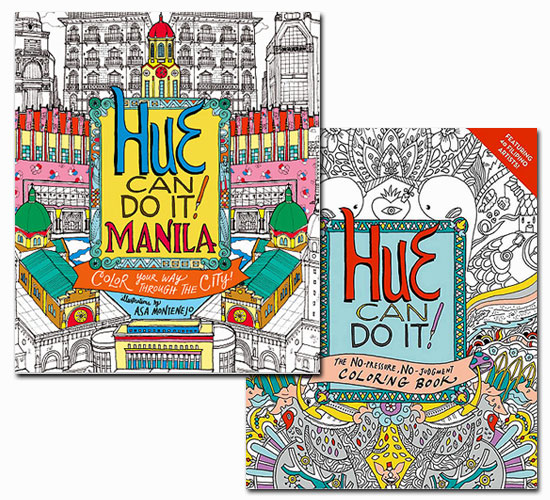 CONTINUE READING BELOW
Recommended Videos
The Hue Can Do It! Series (P295)
When local coloring books were still ideas about to be ignited in artists' heads, 40 local artists were tapped to do the first Hue Can Do It! coloring book. They weren't given a theme, they were just asked to let their imaginations run free. The results can be found in three great coloring books.
Hue Can Do It! Manila is different from the first two, however, because it is illustrated by artist Asa Montenejo who studied architecture and released a children's book on Philippine architecture. "I think I will always be inspired by beautiful buildings, spaces, and details, because I know the amount of work and collaboration that goes into designing and building them," says Asa. Besides experimenting with color, she also suggests, "For something new: Try using little shapes to color in instead of the usual broad strokes. Use dots, or tiny segments, even crosses."
ADVERTISEMENT - CONTINUE READING BELOW
Available at leading bookstores and magazine stands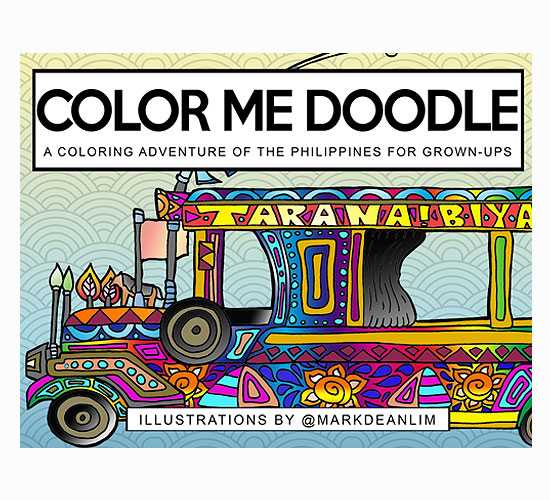 Color Me Doodle by Mark Dean Lim (P395)
Bursting with Philippine symbols, icons, travel destinations, and festivals, Color Me Doodle is the perfect canvas for bright, happy colors that will instantly make you feel Pinoy pride. "I have always wanted to explore our country, the Philippines, and its culture," says artist Mark Dean Lim. "I wanted to have a coloring book that every Filipino can identify and relate with." When it comes to coloring these nationalistic pages, he suggests, "Don't be afraid to make mistakes—it'll stress you out even more! Remember, one of the reasons why we color (for a pastime or a hobby) is because we don't want to be stressed, and to let our creativity flow."
Available at Powerbooks, National Book Store, and Scribe Writing Essentials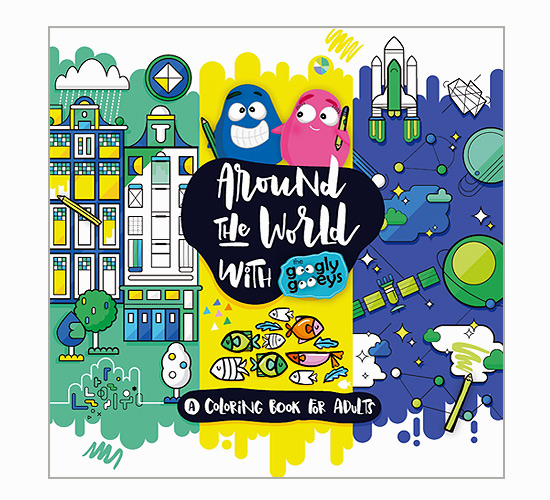 ADVERTISEMENT - CONTINUE READING BELOW
Around The World With The Googly Gooeys: A Coloring Book For Adults By Anthony and Tippy Go (P275)
Tipsy and Ponggo, the adorable and fun Googly Gooeys, take you on a trip around the world through doodles, activity sheets, and geometric coloring pages. Made famous by their design and humor blog, the Googly Gooeys have appeared in newspapers, magazines, and other blogs all around the world. "Inspiration is everywhere," share Googly Gooeys creators Anthony and Tippy Go about what fuels their creativity—and based on their blog, they've got lots of it! "For us, it's always a fusion of a memory or something that's dear to us such as events in our childhood, travels, the story of our lives coupled with a new art style or medium that we're able to pick up along the way.
Available at National Book Store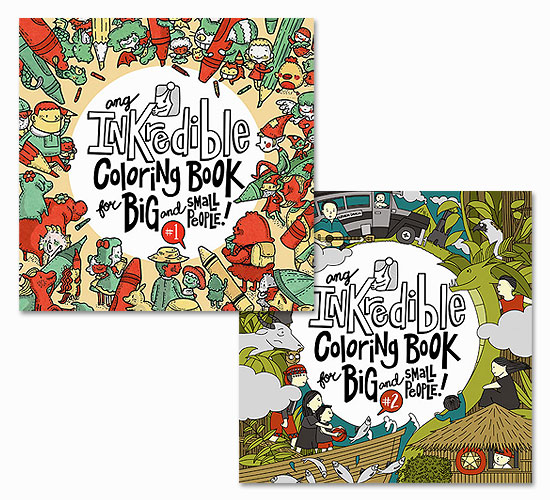 Ang INKredible Coloring Book For Big and Small People (P275)
ADVERTISEMENT - CONTINUE READING BELOW
INK or Ilustrador ng Kabataan, the country's lone organization of children's book illustrators, is the perfect group to come up with a local coloring book. With illustrations by 60 children's book artists, Ang INKredible Coloring Book For Big and Small People is filled with fun drawings, some being slightly irreverent, too! "Telling stories is what INK is best at," says INK. "Given this, the group decided to illustrate Filipino scenes, showing different aspects of Philippine life—real and imagined, past and present." The first book was such a hit, INK came up with a second book. The creators of the coloring books say they were in a way, inspired by Larry Alcala's Slice of Life.
Available at National Book Store and Anvil Publishing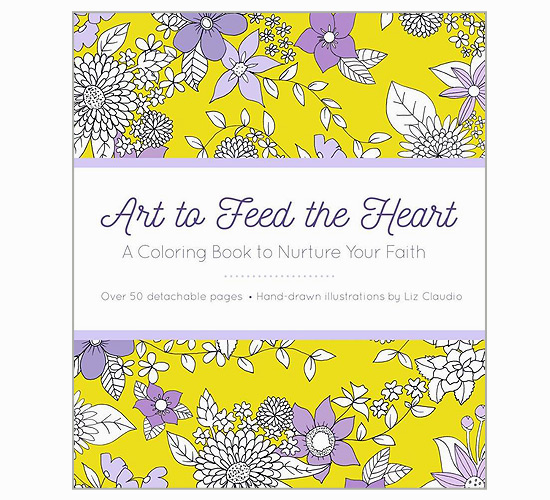 Art to Feed the Heart by Liz Claudio (P350)
This coloring book won't just de-stress you—it will uplift your spirit. According to artist Liz Claudio, "It features encouraging and uplifting Bible verses that you can reflect on while you color. Meditating on something positive while you color is proven to be beneficial." Liz shares that she is also coloring her art for the first time now that the coloring book is in print. One of her favorite designs is the "We live by faith" page. It is special to her because "You'll notice there are a lot of different paths in the illustration," she says. "It's very symbolic of my own journey, how there are times that I don't know which path to choose, which way to go, or if the path I'm on is the right one. Or the different jobs I've had, have I been walking down the wrong paths or are they all part of a bigger plan? And yet when I read that verse, I calm down. Sometimes things may not seem to make sense, but if I move forward in faith, I can trust that all things will work together, even if I can't see the end right now."
ADVERTISEMENT - CONTINUE READING BELOW
Available at OMF Literature and Passages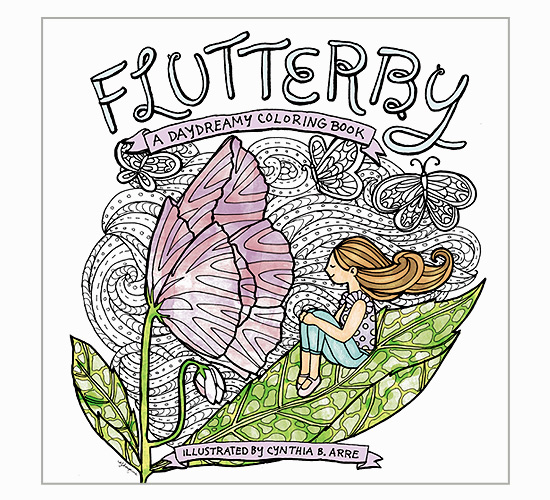 Flutterby by Cynthia Bauzon Arre (P150)
Artist Cynthia Bauzon Arre says she began her doodles for this little coloring book with no particular theme in mind. And when she took a look at the illustrations she had finished, she says, "Everything seemed to be set in a fantasy world where only pleasant things exist. Hence the title Flutterby which I thought perfectly captured the feeling of a fleeting daydream that flutters inside the mind." Her illustrations and distinct style are perfect for those who love anything sweet, girly, and dreamy. The advice she has for coloring book enthusiasts is just as fanciful. "Try coloring away from convention," she suggests. "For instance, the sky doesn't have to be blue all the time. It can be orange, pink, or purple while the leaves on the trees can be yellow, orange, or magenta. The results may surprise you."
ADVERTISEMENT - CONTINUE READING BELOW
Available at Powerbooks, National Book Store, and Chamber Shell Publishing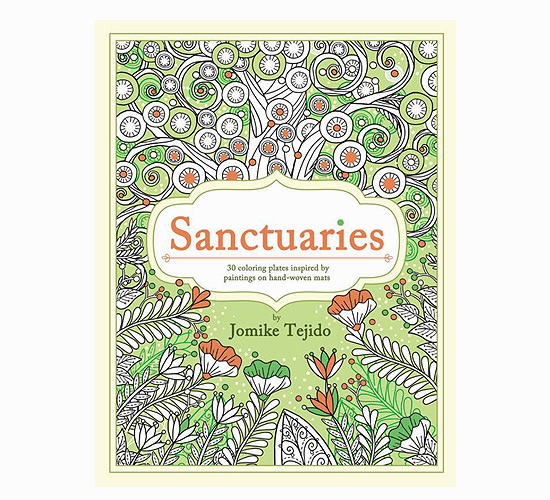 Sanctuaries by Jomike Tejido (P199.75)
Children's book author, illustrator, and creator of Foldabots, Jomike Tejido has been painting artwork on banig or handwoven mats since 2007. "I started my work of painting on handwoven mats to showcase a unique Filipino product transformed into an unconventional ground for the fine arts," he says. When he paints, he can achieve a sense of calm "similar to that of a dark room for a samurai or a shrine for a monk." Painting is his sanctuary and he hopes his drawings, which have been inspired by his paintings, will provide a similar sanctuary for others. You will also notice the distinctly Filipino themes in this coloring book. "It is based on Filipino and nature themes such as bukid, bahay kubo, whale sharks, and trees," says Jomike, his favorite piece being the big tree with circular fruits. Bonus: Check out photos of his banig paintings on the inside cover of the coloring book!
ADVERTISEMENT - CONTINUE READING BELOW
Available at National Book Store and Passages
Also read:
10 Coloring Materials for Your Adult Coloring Book Obsession
10 Awesome Adult Coloring Books for Every Personality

Share this story with your friends!
---
Help us make Spot.ph better!
Take the short survey
Load More Stories