Kris Aquino explains hiatus, says showbiz "took a toll" on her + more things you might have missed today
Miriam Santiago calls for lifestyle check on fellow candidates, Carpool Karaoke may get its own show, and more.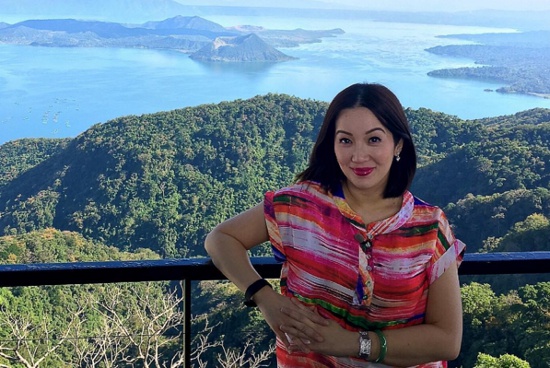 Photo via Kris Aquino's Instagram account
(SPOT.ph) Busy day, Spotters? We quickly recap 10 things you might have missed while you were off the radar.
1. Kris Aquino explains hiatus, says showbiz "took a toll" on her
In an interview with PEP.ph and YES! magazine editor-in-chief Jo-Ann Maglipon, Kris Aquino revealed that she decided to take a showbiz hiatus because it took a toll on her health. "I know that what I've been doing these 20 years—I entered showbiz when I was 16—[it] cumulatively takes its toll," she said. She added that the negative comments she receives also affected her, saying, "You cannot imagine the stress of being bashed every day, of people making comments every day about how you look, what you said, what your brother did...I have to take it every day. Nobody knows how that feels." She said that she was grateful to ABS-CBN, but made it clear that she wanted to stay healthy for her kids.
2. Luis Manzano remains mum on rumored breakup with Angel Locsin
In a recent interview with PEP.ph, Luis Manzano said that he will continue to remain silent about anything to do with his rumored ex-girlfriend, Angel Locsin. "Tahimik na lang ako, tahimik na lang ako sa lahat ng bagay," he said. He also added that he chose to stay silent to avoid being misinterpreted by fans. "Kahit napakaganda ng intension mo sa sagot mo, makakahanap at makakahanap ng mali ang taong naghahanap ng mali," he explained. Word of their rumored split first broke in January.
ADVERTISEMENT - CONTINUE READING BELOW
3. Carpool Karaoke may be getting its own TV show
If you're a music fan, chances are you've heard of James Corden's Carpool Karaoke segment. The host of The Late Late Show is looking to turn the immensely popular segment into a TV show! But before you get too excited, he won't be hosting. Instead, the show will have a new host and Corden will serve as executive producer with occasional guest appearances. Previous musical guests on the segment include Adele, One Direction, Justin Bieber, Stevie Wonder, and more.
4. Gun enthusiast accidentally gets shot by four-year-old son
Jamie Gilt and her son were driving in their pickup truck in Florida when the toddler accidentally shot his mother. The child found the .45 caliber handgun on the floor of the vehicle and shot his mother with it, with the bullet going through the seat cushion. A police officer checked why the truck had stopped and discovered Gilt badly wounded. Gilt may be facing charges, as Florida statute considers it a misdemeanor to store or leave a loaded gun where a child can gain access to the firearm. Gilt, who is pro-gun, previously bragged about her son on Facebook, saying, "Even my four-year-old gets jacked up to target shoot the .22." Her two Facebook pages have now been taken down.
CONTINUE READING BELOW
Recommended Videos
5. Penguin travels thousands of miles every year to visit the human that saved its life
In 2011, a man named Joao Pereira de Souza found a tiny penguin covered in oil and close to death. De Souza then nursed the bird, which he named Dindim, back to health. For the next four years, the penguin faithfully traveled 5,000 miles from his breeding ground in Argentina to spend eight months with de Souza in Brazil. "He arrives in June and leaves to go home in February and every year he becomes more affectionate as he appears even happier to see me."
ADVERTISEMENT - CONTINUE READING BELOW
6. Woman smuggles drugs inside breast implants
At the Frankfurt airport in Germany, a Colombian woman was caught with one kilogram of cocaine inside her breasts. During a search, airport officials spotted fresh operation scars under the woman's breasts and she was complaining of acute pain. It turns out that the cocaine was inserted into her body during an operation. She was brought to a hospital where doctors took out a couple of 500-gram masses of cocaine encased in plastic from each of her breasts. The drugs are priced at U.S. $200,000 in the market and were meant for transport to Spain. The Colombian woman will face jail time for drug trafficking.
7. Miriam calls for lifestyle check on fellow candidates
After the Philippine Center for Investigative Journalism reported that four presidentiables have collectively spent an estimated P3.2 billion in ads in just one year, presidential candidate Miriam Defensor-Santiago questioned where the four got their funds. "They spent at least five times the net worth they have declared for ads. One candidate even spent 17 times his net worth. Where did they get the money? If the public is to speculate, they would think that these candidates have either stolen from public funds or peddled their influence," Santiago said. She pointed out that the people deserve to know who funded the campaigns. "So that when a campaign contributor enjoys the benefits to the detriment of the public under the official's watch, the people would know who to hold accountable," Santiago added.
ADVERTISEMENT - CONTINUE READING BELOW
8. Makati jail recovers after inmates' noise barrage
A confiscated cell phone led to a noise barrage, damage of government property, and cut power supply in a Makati City jail on Wednesday, March 9. The cell phone belonged to one of the inmate "leaders" who invited others to join in a noise barrage. The racket began at 7 p.m. on March 8, quieted down by midnight, and started up again around 1 a.m. the next day. More than 30 people were injured and a temporary ban was imposed on visitors on Wednesday to make way for repairs.
9. SPOT.ph's Guide to 2016 Summer Workshops for Kids
For plenty of kids, the summer break usually means an excuse to stay up late at night or an out-of-town trip with the family. We round up a list of workshops that will make the summer a productive one for your own kids, nieces, and nephews.
10. 10 Local Restaurants That Have Caught the World's Attention
We've always believed in Filipino cuisine and our culinary talents, and we're really glad that the rest of the world has taken notice. Here are 10 local restaurants that have recently received international exposure.
Share this story with your friends!
---
Help us make Spot.ph better!
Take the short survey
Load More Stories