10 Cool Video Games We Loved When We Were Kids
Step aside, Angry Birds.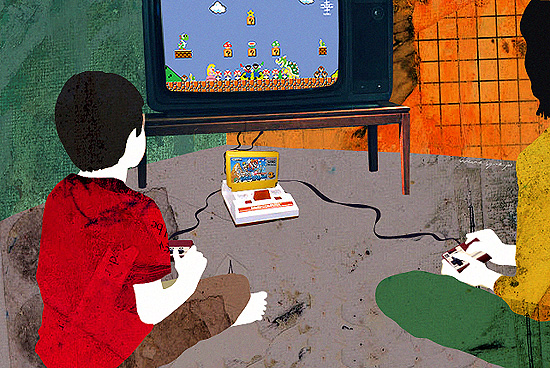 (SPOT.ph) We look back at the video games which remind us of a simpler time in our lives—back when all we had to worry about was doing our homework or missing our favorite cartoon while we're at school (and maybe the occasional bully). Yep, you know you're getting old when you start on that trip down memory lane. Ranging from late '80s to the early 2000s, we've got your gamer memories covered!
These old-school video games may have low-res graphics compared to next-gen consoles and PCs, but they remain HD in our hearts and memories. So sit back, relax, and let nostalgia take over.
Also read:
Top 10 Throwback Video Games From the 1980s
Top 10 Video Game Music Themes


"The Legend of Zelda" (1986)
Hearing the first few bars of that familiar Zelda intro tune motivates you to go out into the wilderness for an epic adventure. From slashing all sorts of monsters in the forests to solving puzzles in the dungeons, you do it all for the sake of saving the princess and obtaining the Triforce. And on its 30th (!) year, the Zelda franchise is stronger than ever.
Nostalgia Level: Saying, "It's dangerous to go alone! Take this," as you grab your lunchbox and head out to school.
Let's Play: It's available on the 3DS.
"Super Mario Bros. 3" (1988)
We finally see Mario in a cartoonish style in one of the best "Super Mario" games in the series. SMB 3 had some of the best levels, boss fights, and power-ups (Tanuki Suit FTW!). It also taught us a valuable lesson: If an out-of-shape mustachioed man can fly, then anything is possible.
ADVERTISEMENT - CONTINUE READING BELOW
Nostalgia Level: Getting stuck with Luigi if you were the younger sibling and silently praying your Kuya or Ate would mess up their run so you'd have a chance to play. #AlwaysPlayer2
Let's Play: It's available on the Wii U and the Nintendo 3DS.
"Sonic the Hedgehog" (1991)
Sonic was the epitome of '90s cool. He's got bright blue skin, a happening 'do, shiny red sneaks, an appetite for chilidogs, and a rad attitude (a rad-itude?). It's no wonder he became Sega's mascot in order to battle Mario's popularity. Also, there's something so satisfying about speeding through the many loops in the game.
CONTINUE READING BELOW
Recommended Videos
Nostalgia Level: Heading straight for the TV to watch the cartoon version of Sonic The Hedgehog on iChannel.
Let's Play: The game is available on the iOS and Android.
"Final Fantasy VI" (1994)
Starring the first female protagonist in the "Final Fantasy" series, Terra Branford and 14 playable characters (which was a lot at the time), "Final Fantasy VI" is a considerably underrated series since most of the attention goes to "Final Fantasy VII." Plus, it has one of the most memorable villains in the FF franchise, Kefka Palazzo who is just insane!
Nostalgia Level: Doing pull-ups at the monkey bars so that one day you might be as strong as FFVI's Sabin and also be able to suplex a train.
Let's Play: The game is on iOS and PC.
"Chrono Trigger" (1995)
One of the greatest JRPGs of all time! Conceptualized by some of the greatest creative minds in the industry: Hironobu Sakaguchi of "Final Fantasy," Yuji Horii of "Dragon Quest," and Aikra Toriyama of "Dragon Ball." It's an epic adventure across space and time as far back as 65,000,000 B.C. Also happens to be the prequel to another popular RPG, "Chrono Cross."
ADVERTISEMENT - CONTINUE READING BELOW
Nostalgia Level: Recognizing the cover art as looking like your favorite anime at the time, Dragon Ball Z.
Let's Play: It's available on the IOS and Android.
"Pokémon Red" and "Pokémon Blue" (1996)
Three cheers to the game that gave new meaning to the terms, "gym" and "trainer." It also gave the '90s a whole new slew of adorable virtual pets to love and cherish in the wake of the Tamagotchi trend. And as a testament to its popularity, Pokémon is now celebrating 20 years in the video game industry and is releasing a new installment ("Pokémon Sun" and "Pokémon Moon") sometime in 2016. Plus, who hasn't gotten into an argument as to who's the better starter Pokémon: Charmander or Squirtle? While poor Bulbasaur is neglected and left by the wayside. (Rejection: It's super effective!)
Nostalgia Level: Collecting Pokémon TCG blind packs and hoping to get one of those sparkly, shiny cards. Gotta catch 'em all!
Let's Play: "Pokémon Red" and "Pokémon Blue" are now downloadable games that can be played on the 3Ds!
"Crash Bandicoot" (1996)
If you wanted a video game character that was less goody-goody like Mario or less in-your-face-obnoxious like Sonic, then the always laidback Crash Bandicoot was definitely your furry friend. Guided by the mystical mask Aku Aku, Crash just always seems to stumble into one obstacle course after another looking like he'd rather be anywhere but in that stage. The most memorable parts of the game include his slapstick death scene animations, his ridiculous victory dance, the irreverent humor, and that Indiana Jones style boulder chase stage.
ADVERTISEMENT - CONTINUE READING BELOW
Nostalgia Level: Recounting the horror of discovering that the save file in your memory card was accidentally rewritten or deleted by your younger sibling or cousin. The absolute horror!
Let's Play: It's available as an emulator on the PC. Also, the PSP and PS3.
"Marvel vs. Capcom: Clash of Super Heroes" (1998)
Imagine: your favorite video game characters brawling with your fave comic book heroes. It's like every child's fantasy come true. And that's just what the "Marvel vs. Capcom" series offered '90s gamers who frequented the arcades.
Nostalgia Level: Asking the 'rents to buy tokens so you could play at the local mall arcade while they're out shopping. (Because you'd rather face a boss battle than look at glassware.)
Let's Play: Last seen ported on the PS3 and XBOX 360, but you could always get a ROM of it on the PC.
"The Sims" (2000)
Where else can you play virtual god and lead hapless citizens to success or doom? It's like Tamagotchi but with polygonal people instead. The fun part comes with the customization option where you can place virtually anyone in the household. (Admit it, you probably put a boy band or girl band member in your game at one point.)
Nostalgia Level: Attempting many ways to kill off your Sim character. From taking away the swimming pool ladder to burning the house down. And becoming filthy rich thanks to "klapacius" and "rosebud." Good times!
Let's Play: You can still play it on your PC or Mac for a retro vibe.
ADVERTISEMENT - CONTINUE READING BELOW
"Ragnarok Online" (2002)
Who could forget one of the most popular MMOs to burst into the local scene? Way before social media was a thing; pRO or Philippine Ragnarok Online was the virtual hangout place. After all, there's no other bonding experience quite like level grinding in dungeons and having your healer pal save your ass for the nth time. Also, "Pa-buff p0hz" will forever be ingrained in our vocabulary.
Nostalgia Level: Meeting new friends for keeps via EB (eyeball) among guildmates.
Let's Play: Unfortunately, the pRO local server closed down, but the international one is alive and kicking.
Share this story with your friends!
---
Help us make Spot.ph better!
Take the short survey
Load More Stories