A Q&A with JP Maunes, Sign Language Interpreter From the #PiliPinasDebates2016
He emerged as one of the winners of Sunday's debate. Here's what he has to say for himself.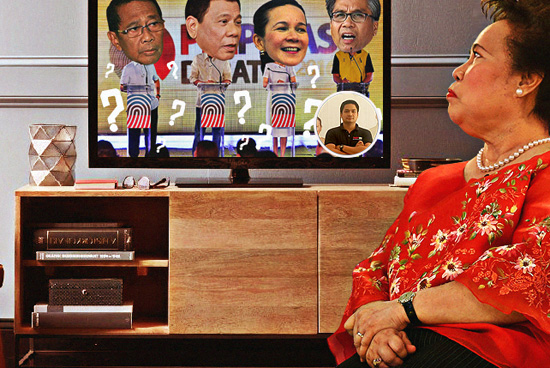 (SPOT.ph) Editor's Note: This is an interview by Esquire Philippines, originally posted on March 21 at Facebook.com/EsquirePh.
Also read: 10 Exasperating Moments From the Second #PiliPinasDebates2016
There were a few (literally) silent heroes that emerged during last night's presidentiables debate: the sign language interpreters who appeared, ever composed, as an inset on the bottom of our screens. "I was half-expecting the sign language guy to just flip the candidates the bird and walk out," said one online commenter, doubtless echoing what many of us were thinking at the tensest moments of the proceedings. We caught up with JP Ecarma Maunes, one of the self-baptized "terps," today and asked him how he was doing.
The first question we all want to ask is: Are you okay? How stressful was last night's job?
JP: Back pain overload! Ha ha! We arrived early at the venue, at around 1 p.m., and stayed there until the program ended. But I am really okay. It was not really that stressful, because it was not our first time to sign on TV. There were three of us, so we took turns per segment and the other terps were coaching me just to ensure that we don't miss any important information. It was more challenging than stressful—TV interpreting is the Mt. Everest of sign language interpreting.
What kind of preparation went into training for interpreting the debate?
It took us two weeks to prepare for the debates. We have to conduct a series of consultations from the Deaf community about the appropriate signs that we can use for the names of the candidates, and we also had a series of workshops to anticipate the worst-case scenarios, the jargon, and the possible topics that might be discussed during the debates. During the debates, I was monitoring the feedback from our Deaf viewers from social media and text message to ensure that we provide the highest quality of interpreting that the Deaf community deserves.
ADVERTISEMENT - CONTINUE READING BELOW
You must have anticipated expletives coming from, er, certain candidates. Were you obliged to interpret if someone said p#%#! or F@#$ ?
A big Yes. Everything that the candidates will say live on TV, we will interpret. Actually, we prepared the signs for it. Sayang nga hindi lumabas. It could have been more epic!
What was the most awkward or tense moment for you last night?
Obviously, when everyone was spontaneously talking to each other together. I have to keep myself composed and zoom in my focus, listen to what I can only understand. I only sign what I can hear.
CONTINUE READING BELOW
Recommended Videos
Did you have to tone down any of the candidates' answers?
[That would be] a violation of our code of conduct. As terps, we have to portray the personality and characteristic of that person talking. That's why it is really important to set up an inset that is big enough for the viewer to understand our facial expressions or non-manual signal (NMS), as we call it. Without facial expression, our signs will not mean anything.
People from Manila don't have sign language interpretation of their daily news. Do you still have that in Cebu?
For now, the sign language interpretation on TV has been suspended in Cebu, but we are planning to resume by April. The city government has approved an ordinance requiring all TV stations in Cebu City to provide interpreters on their news programs. We are anticipating a huge demand for interpreters around that time.
ADVERTISEMENT - CONTINUE READING BELOW
Why is it important for have sign-language interpretation of the news?
You know, we were lobbying for the passage of the Filipino Sign Language Act and the Filipino Sign Language in Broadcast Media Act, but it was not supported by our lawmakers. We felt it was least prioritized. That's important, because recognition of Filipino Sign Language as a national language for Deaf Filipinos is the core of the human rights advocacy for the Deaf community. Without sign language interpreters the society will be in shut off for every deaf person. For example, according to UNESCAP, in an event of a disaster, it is 10 times most likely a PWD will die due to the inaccessibility of information in broadcast media and barriers in the environment.
What were your plans for today? Are you resting?
I'm taking a day off! I have postponed our training up north in Cebu to rest and spend time with my family. I enjoyed the tweets and reactions in social media expressing their support and posting their memes online.
JP Maunes is an advocate for Deaf and disability human rights, and is the founder of the organization Philippine Accessible Deaf Services. You can follow him on Twitter @itsmejpmaunes or log on to Philippine Accessible Deaf Services on Facebook.
Also read: 10 Exasperating Moments From the Second #PiliPinasDebates2016
Share this story with your friends!
---
Help us make Spot.ph better!
Take the short survey
Load More Stories