Pia Wurtzbach vows Miss Universe is her priority + more things you might have missed today
Disney comes to LEGO, Bongbong Marcos pens a poem for Duterte, and more.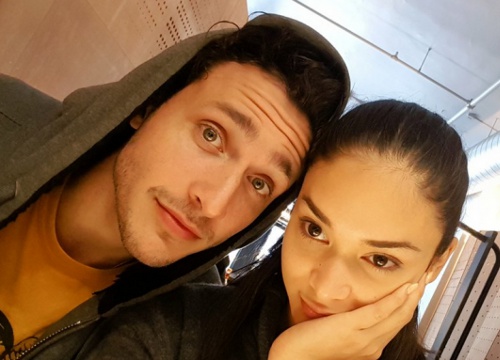 (SPOT.ph) Busy day, Spotters? We quickly recap 10 things you might have missed while you were off the radar.
1. Pia Wurtzbach vows Miss Universe is her priority
Pia Wurtzbach's newfound relationship with People magazine's "Sexiest Doctor Alive" Dr. Mike Varshovski wasn't exactly met with enthusiasm by a lot of people. (In fact, many advised her to focus on her duties instead.) In an interview with ABS-CBN, Wurtzbach assured fans that being Miss Universe is still her "priority," saying, "I'm very passionate about [my job] and it's gonna stay that way for a long time," She also added that Varshovski was "respectful" about her priorities, saying, "He knows that this is my life right now."
2. James Corden calls up Leonardo DiCaprio in the latest Carpool Karaoke segment
After driving and singing with stars like Adele, Stevie Wonder, and Justin Bieber, the next famous face to join Late Late Show host James Corden in Carpool Karaoke is Jennifer Lopez. After a few rounds of performances and a quick dance lesson, Corden pulled over to text someone from Lopez's phone. They eventually decide to text Leonardo DiCaprio, and hilarity ensues.
3. Disney characters are coming in LEGO form
Your favorite Disney characters are getting the LEGO treatment! The toy brand is set to release 18 character figures that include Mickey and Minnie Mouse, Mr. Incredible from The Incredibles, Ariel from The Little Mermaid, Stitch from Lilo & Stitch, and Buzz Lightyear from Toy Story. The figures are set for release on May 1.
ADVERTISEMENT - CONTINUE READING BELOW
4. Instagram now lets you post 60-second videos
If you're one of the many Instagram users frustrated by the 15-second video limit, then rejoice. The social networking site finally allows you to upload clips for as long as one minute. The update was announced today, March 30, and will be gradually released "in the coming months."
5. Bongbong Marcos dabbles in poetry in honor of Duterte
Vice presidential candidate Bongbong Marcos may not be Davao City Mayor Rodrigo Duterte's running mate, but the senator honored the him with a birthday poem on Monday, March 28. "May mayor kung tawagi'y Digong / And kaibigay' pangalang Bongbong / From North to South / Be happy and shout / Birthday mo, saan ang blowout?" Marcos posted the message on his Facebook account to mark Duterte's 71st birthday.
CONTINUE READING BELOW
Recommended Videos
6. Rekindled fire on Mt. Apo displaces wild animals
The fire that started on Saturday, March 26, has been rekindled by strong winds on Tuesday evening and has sent wild animals fleeing for their lives. According to Inquirer.net, more than 100 volunteers went near the fire zone to conduct clearing operations. Joey Recimilla, Kidapawan City's tourism officer, said that animals like wild boars, rats, lizards, birds, and deer have gone to Lake Venado and other places to get away from the fire. Department of Environment and Natural Resources national parks supervisor Eduardo Ragaza said that though investigation on who started the fire would come later, they think that it was caused by a group of campers.
ADVERTISEMENT - CONTINUE READING BELOW
7. Pacquiao-Bradley bout still possible to take place on April 9
Despite the letters sent by Akbayan Rep. Walden Bello and former Sen. Rene Saguisag, with the former saying that the fight will give senatorial candidate Manny Pacquiao "undue advantage," the Commission on Elections announced that they were not in the position to stop the Manny Pacquiao and Timothy Bradley fight from taking place in the United States on April 9. Commission on Elections (COMELEC) chair Andres Bautista said, "Number one, there was really no formal complaint that was filed in accordance with COMELEC rules and procedures. Number two, the fight has not really occurred yet. And number three, the COMELEC en banc believes that there is, as of this point, no justifiable controversy since the fight has not happened yet."
8. LTFRB cancels franchise of two bus companies and fines them P1 million each
A Dimple Star Transport bus (TYR-393) and a CUL Transport unit (HPV-746) were caught for operating out of line without securing a special permit from the Land Transportation Franchising and Regulatory Board in December 2015. During a hearing, the operators of both bus companies reasoned that they were not able to secure the special permit because the issuing period has ended. Nevertheless, the bus companies were told to give up the license plates of the affected units. Dimple Star was ordered to pay an additional P5,000 fine for breach of franchise and incorrect route markings. On top of the 1 million fee both bus firms were fined for colorum operations, the Land Transportation Franchising and Regulatory Board (LTFRB) also canceled their registration to operate public utility vehicles.
ADVERTISEMENT - CONTINUE READING BELOW
9.10 Cool Halter Bikinis You Can Rock This Summer
The next time you head to the beach or the pool, rock the latest trend with a sporty-chic halter bikini. We round up 10 cool pieces that you can rock this summer.
10. VIDEO: Pen and Paper Games We Played in Class
Remember F.L.A.M.E.S.? No, not the Jolina-Magdangal-and-Marvin-Agustin starrer, we mean the pen and paper game that determines your destiny with your crush. Reminisce that and a few other such games that made downtime at school so much fun.
Share this story with your friends!
---
Help us make Spot.ph better!
Take the short survey
Load More Stories