Alden Richards and Maine Mendoza spotted on a date + more things you might have missed today
Kean Cipriano admits to fatherhood, Duterte receives word of Pope's forgiveness, and more.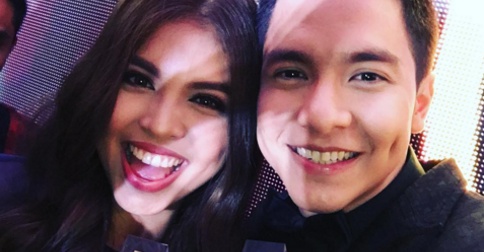 Photo via Alden Richards' Instagram account
(SPOT.ph) Busy day, Spotters? We quickly recap 10 things you might have missed while you were off the radar.
1. Alden Richards and Maine Mendoza spotted on a date
According to a report from PEP.ph, Alden Richards and Maine Mendoza were spotted on a romantic date over the weekend. The two were seen in Spiral buffet a few hours after their guest appearance on Sunday PinaSaya. It was also during that appearance where they supposedly confirmed that they have been dating for a month. Neither of the two have yet to officially confirm the rumors.
ADVERTISEMENT - CONTINUE READING BELOW
CONTINUE READING BELOW
Recommended Videos
2. Zayn's debut album reaches No. 1 at the Billboard Top 200
Former One Direction member Zayn Malik's first solo effort has debuted at the top spot of Billboard's 200 album chart. The album, Mind of Mine, earned 157,000 equivalent album units with 112,000 in pure album sales. This makes Zayn the first male U.K. solo artist to debut at No. 1, as well as the first male U.K. artist to reach No. 1 with a debut album since George Michael in 1988. Zayn is also the first U.K. act to debut at the top spot since One Direction in 2012.
3. Batman V Superman's ticket sales drop by 68.4%
Batman V Superman: Dawn of Justice isn't having a very super second week in the box-office. According to reports, the film's earnings dropped by 68.4% from its first weekend gross, even beating the second week sales of the recent Fantastic Four remake (which also earned dismal reviews). Still, it's worth noting that BVS has earned a total of U.S. $680 million worldwide, surpassing the entire global box-office sales of Iron Man, Iron Man 2, Man of Steel, Thor, and Captain America.
ADVERTISEMENT - CONTINUE READING BELOW
4. Kean Cipriano admits Chynna Ortaleza's pregnancy
After weeks of speculation, actor and musician Kean Cipriano finally admitted that he and Chynna Ortaleza are having a baby. "I am [ready for fatherhood]. It's another dream come true for me. It's the best thing in the world. It's the best thing that ever happened to me," he said in an interview. The two tied the knot in a secret civil ceremony in late 2015.
5. Motorcycles top list of deadliest vehicles in 2015
The Metropolitan Manila Development Authority's records reveal motorcycles to be the vehicles with the highest number of deaths and injuries in 2015. The Metropolitan Manila Development Authority's (MMDA) Metro Manila Accident Recording and Analysis System shows that motorcycles are responsible for 262 deaths and 11,620 injuries out of the 519 deaths and 17,103 injuries attributed to road accidents. The MMDA says that motorcycle accidents can be due to riders not using the motorcycle lanes. MMDA's Darwin Mones said, "When we first implemented the motorcycle lane in 2010, motorcycle-related accidents really went down." Other factors attributed to the increase in accidents are human error, usage of cheap and low-quality motorcycles sold, and the declining traffic and road conditions in Manila.
ADVERTISEMENT - CONTINUE READING BELOW
6. DOH launches public school-based dengue immunization today, April 4
The Department of Health warned schools of possible reactions from the dengue vaccine. Students tend to faint because they're afraid of getting injections, but also because they haven't had anything to eat. The Department of Health reminds students to consume food prior to being vaccinated. Rashes, fever, and headaches are other common reactions to the vaccine. The dengue vaccination will be given only to grade 4 students, who are at least nine years old, from the National Capital region, CALABARZON, and Central Luzon. There will be three doses of vaccine in six-month intervals.
7. Duterte: Pope has forgiven me
Pesidentiable Rodrigo Duterte had drawn flak when he cursed Pope Francis during his proclamation rally in Manila in 2015. Duterte now believes that he had been forgiven by the Vatican based on the letter he had received from them. During a visit to the convent of the Sto. Nino Parish in Ubay, Bohol, Duterte said, "I wrote them to express my regret for using the Lord's name in vain." However, he declined to show a copy of the letter to the media, saying that he did not want to be accused of once again "using the name of the Lord in vain." Duterte explained that writing a letter to the Vatican was not motivated by political reasons, and was for his peace of mind.
ADVERTISEMENT - CONTINUE READING BELOW
8. NAIA power interruption sparks bedlam
Due to a broken generator, the Ninoy Aquino International Airport Terminal 3 had to contend with 82 cancelled domestic flights and 79 delayed international and local flights by 3 p.m. on Sunday, April 3. Over 15,000 passengers were affected. The blackout lasted for several hours, and power was restored only at 2 a.m. Sunday, April 3. Ninoy Aquino International Airport (NAIA) Terminal 3 manager Octavio Lin explained that the power supplied by the Manila Electric Co. substation serving the Pasay City area tripped, and when power was restored in less than a minute, the electricity failed to kick in at NAIA. The outage drew outrage from waiting passengers as well as criticisms from lawmakers.
9. 10 Classic Pinoy Romance Films You Can Stream Now
The next time you're itching to have a movie marathon, go for something sweet and nostalgic. We round up 10 classic Pinoy romance films that will have you swooning in no time.
ADVERTISEMENT - CONTINUE READING BELOW
10. 10 Art Exhibits to See This April
Looking for something to do this month? Feed your art-hungry heart by checking out masterpieces by local artists. From whimsical illustrations to socio-political inter-media installations, there will definitely lots of thought-provoking pieces to chew on!
Load More Stories