3 Tips for Traveling with Pets
Make the trip pleasant for you and your best bud.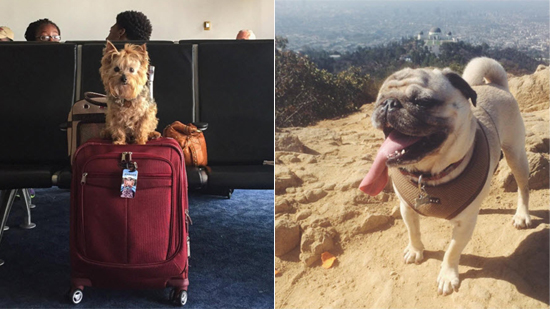 Photos via @rubybegoniayorkie and @piratepugjack
If you're a pet owner who loves to travel, you've most likely thought about bringing your furry friend on one of your trips. If you're worried about the dangers and hazards of doing so, here are a few tips to remember (take note that these tips are mostly applicable for cats and dogs only).
ADVERTISEMENT - CONTINUE READING BELOW
Find the right hotel.
The first problem you might think of is looking for a place to stay that will allow pets. There are actually a lot of hotels these days that are pet friendly. You can do your research and check your preferred hotel, but online travel agencies can also help you find accommodations that are pet friendly to make booking much easier.
Get your pet moving before the trip.
If you plan on putting your pet in a crate during a long-haul flight or just keeping him in a small space for an extended period of time, the best thing you can do is to walk or play with him before traveling. By doing so, he will easily stay still or just sleep during the entire trip, lessening the possibility of encountering any problems.
Bring your pet's favorite stuff.
Depending on how friendly your pet is, he can either be comfortable or not when in new places. To make sure that he remains calm, create an environment that will remind him of home by bringing some of his favorite things: a toy, dog bowl, or blanket. Bringing your pet's favorite things also helps if he becomes rowdy in the car or plane as this can make him feel relaxed.
ADVERTISEMENT - CONTINUE READING BELOW
Read the full article, "5 Tips for Traveling with Pets," on TravelBook.ph.
Also read: The SPOT.ph Little Black Book for Pets (2016 Edition)
Load More Stories