Pia Wurtzbach still a Pacquiao fan + more things you might have missed today
Binay and Roxas are "evil men" according to Duterte, bomb joke gets MRT passenger in trouble, and more.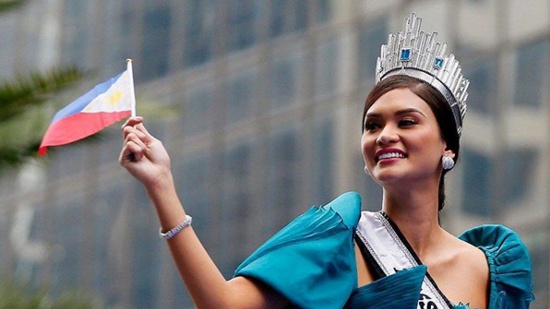 Photo via Pia Wurtzbach's Instagram account
(SPOT.ph) Busy day, Spotters? We quickly recap 10 things you might have missed while you were off the radar.
1. Pia Wurtzbach is still a Pacquiao fan, despite "difference of opinion"
In an interview with the press today, Pia Wurtzbach said that she still admires Manny Pacquiao as a boxer, although they have a "difference of opinion on some things." Wurtzbach is a vocal advocate of marriage and gender equality, while Pacquiao was earlier criticized for his remarks against the LGBT community. "We are both still Filipinos and as a fellow Filipino, I am proud of his victory for the Philippines," she said.
ADVERTISEMENT - CONTINUE READING BELOW
CONTINUE READING BELOW
Recommended Videos
2. Sen. Grace Poe reveals plans for Pinoy entertainment industry
In an interview, Sen. Grace Poe revealed her plans to strengthen the local entertainment industry should she be elected as president. One of these, she said, is to create a film commission that will promote the Philippines as a shooting location for foreign films. "We should make it easy and provide them with the tax incentives so they will come here," she said. "Meaning, 'O, hindi naman kayo ita-tax ng VAT pero you have to show the Philippines in a good light.'" The presidential aspirant also vowed to provide healthcare, social services, and other government-related benefits to industry workers like stuntmen and crew members.
3. Channing Tatum joins Kingsman sequel
On Thursday, April 14, Channing Tatum took to his Twitter account to announce that he will be joining the upcoming sequel to Kingsman. There's still no word on who he will play, but a separate report from Variety also said that Elton John would be part of the cast, too. Its young star, Taron Egerton, will reprise his lead role, with rumors of Colin Firth also joining in.
ADVERTISEMENT - CONTINUE READING BELOW
4. Would you try cereal-coated churros?
A Los Angeles-based food truck has brought together two of your favorite sweet snacks: churros and colorful cereal! The folks at Ridges Churro Bar lets diners customize their classic cinnamon sugar churro with a choice of eight cereal toppings. The piping-hot churros are then served in a cup with a scoop of vanilla ice cream and according to reports, it's immensely popular. We see why!
5. Bomb joke gets MRT passenger in trouble
On Tuesday, April 12, real estate broker Israel Dizon was arrested at 10:30 a.m. after telling a female guard at an MRT station that he had a bomb in his bag. His bomb joke landed him in the police station, as under PD 1727, it is unlawful to maliciously spread false information and willful threats concerning bombs, explosives, or any similar device. Depending on the court's ruling, violators can face five years in jail, a P40,000 fine, or even both.
ADVERTISEMENT - CONTINUE READING BELOW
6. Smarmatic offers to donate paper for vote receipts
Poll technology provider Smartmatic is offering 1.1 million rolls of thermal paper for free to the Commission on Elections. "That would meet all the requirements for the issuance of the voter receipts and that would also address the problems of the very burdensome requirements of the government procurement act," said Smartmatic spokesperson Karen Jimeno. But Commission on Elections head Andres Bautista is hesitant to accept the offer. "There were certain members who wanted to find out if this was proper. We're asking our law department to study the matter, although what is interesting about this is that it is free given the challenges of time that we are facing," Bautista said.
7. Escudero addresses rumored spat with Poe
Rumor has it that presidentiable Grace Poe and vice presidential candidate Chiz Escudero have been squabbling over campaign finances, but Escudero is quick to say it's not true. "I haven't asked for anything and GP (Grace Poe) has been taking care of the campaign. Just helping out in whatever little way I can," shared Escudero. "Kami ang pinaka-close sa lahat ng magka-tandem. Napaka-dami na naming pinagdaanan. Hindi nila mababasag ang aming pagkakaibigan, samahan, at tandem sa maliliit na intriga tulan nito," he said.
ADVERTISEMENT - CONTINUE READING BELOW
8. According to Duterte, Roxas and Binay are "evil men"
While campaigning in Bulacan on Wednesday, April 13, Duterte lashed out at presidential candidates Mar Roxas and Jejomar Binay saying, "There are two evil men. Ginagamit ang pera ng tao para sa kanilang kapakanan." He also warns people about voting for Binay, "Kasi mauubos ang kwarta." Presidential candidate Mar Roxas wasn't spared, with Duterte asking "Ano ang ginawa ni Roxas nung siya nasa gobyerno? Nagnakaw siya ng MRT na pera."
9. 10 More S'mores That'll Make You Want More
These days, there's more to s'mores than just the classic combo of crackers, chocolate, and marshmallows. We round up 10 s'mores dishes that are worth the extra calories.
10. 10 Signs It's Election Season in the Philippines
What signs herald this delightful season? Read up—we're sure you'd recognize some of them!
Load More Stories