Kilig makes it to the Oxford English Dictionary
It's legit!
(SPOT.ph) It's official—you can now point people to the dictionary (just make sure it's the Oxford English one) if they raise an eyebrow at you for using the word kilig. The word has made it to the list as part of the dictionary's new batch of words for March 2016.
According to the Oxford English Dictionary, kilig is an adjective and a noun.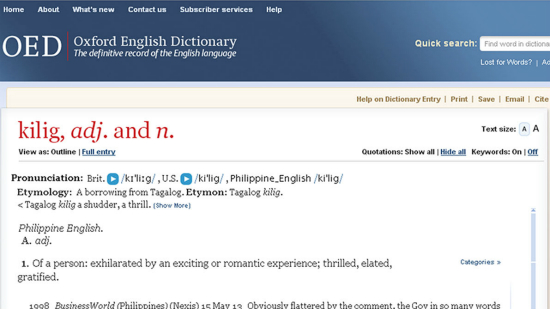 ADVERTISEMENT - CONTINUE READING BELOW
As an adjective, it means "Of a person: exhilarated by an exciting or romantic experience; thrilled, elated, gratified." It's also about "causing or expressing a rush of excitement or exhilaration; thrilling, enthralling, captivating."
When used as a noun, kilig is "exhilaration or elation caused by an exciting or romantic experience; an instance of this, a thrill."
The Oxford English Dictionary (OED) even uses "kilig to the bones" as an example, making the phrase legit.
As for us, we're officially kilig that yet another Filipino word made it to the dictionary, along with balikbayan, KKB, and utang na loob—the last three being part of the "largest single batch" of items from the Philippines included in the OED in June 2015, according to Inquirer.net.
Load More Stories