5 Reasons Why Rape Jokes Need to Stop
Just stop.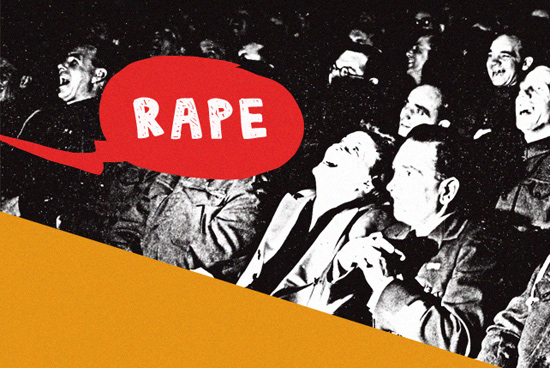 (SPOT.ph) Rape is not "a snuggle with a struggle." It's a sexual assault. It's an attack. It is something that we wouldn't wish on our worst enemies. But why do some people still think rape jokes are acceptable? Here are five reasons why they're not funny.
Also read: Hot on Spot: Why Rape Jokes Are Never Funny—No Matter Who's Telling It
Rape jokes desensitize
They lessen the shock, anger, and pain of rape. They can make people nonreactive, or make them accept rape as simply a fact of life. In rape culture, anyone who swims against the tide gets booed at, called overacting, or worse, ignored.
Rape jokes promote rape culture.
What is rape culture? According to Women Against Violence Against Women, a rape crisis center, rape culture is a society that sees sexual violence as the norm, as something that is unavoidable. Objectifying women's bodies, cracking jokes about rape, saying "she asked for it"—all these contribute to rape culture. Instead of looking at rape as a problem that we can change, we have accepted it as part of our lives that we can't do anything about. Would you believe that "teaching females how to avoid getting raped instead of teaching males not to rape" is already part of rape culture? Marshall University cites it as an example of rape culture.
Rape jokes discredit the experiences of rape victims
What about the feelings of degradation, pain, and trauma that rape victims and survivors go through? All these don't just occur during the act itself, but haunt them for the rest of their lives. All that suffering and heartache summed up and dismissed in one very unfunny joke.
ADVERTISEMENT - CONTINUE READING BELOW
Rape jokes have the power to silence victims
Rather than be mocked and laughed at, victims, already vulnerable, scared, and hurting, may opt to keep their silence.
Rape jokes give power to perpetrators
A lot of perpetrators are repeat rapists, with an average of six rapes, Mic.com says. In a culture that makes light of rape and silences victims, one can only imagine how emboldened this makes most perpetrators—and how many more victims they leave in their wake.
This isn't the first time someone in the local limelight has cracked a joke about rape. Vice Ganda drew plenty of flak back in 2013 for a quip he made about Jessica Soho. Read more in Hot on Spot: Why Rape Jokes Are Never Funny—No Matter Who's Telling It.
CONTINUE READING BELOW
Recommended Videos
Art by War Espejo
Share this story with your friends!
---
Help us make Spot.ph better!
Take the short survey
Load More Stories