John Prats, Isabel Oli welcome first child + more things you might have missed today
Monique Wilson pens an open letter to Duterte, hackers call for objective reporting, and more.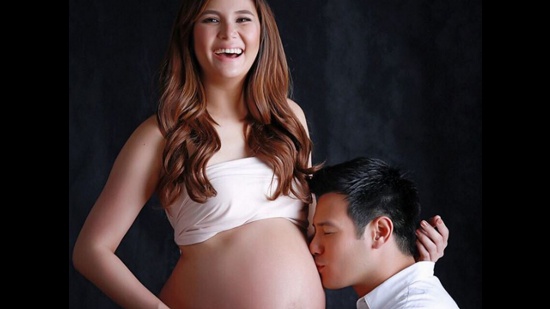 Photo via John Prats' Instagram account
(SPOT.ph) Busy day, Spotters? We quickly recap 10 things you might have missed while you were off the radar.
1. John Prats and Isabel Oli welcome first child
Celebrity couple John Prats and Isabel Oli are now parents to a newborn baby they've named Lilly Feather. The first-time parents took to Instagram to post a photo of their daughter's foot and birth tag. Months before her birth, they already made an Instagram account for her, which currently has over 9,000 followers. The two were wed three years ago in January.
2. Monique Wilson writes open letter to Duterte on rape
Actress Monique Wilson addressed Rodrigo Duterte's rape comments in a lengthy Facebook post on Monday night. She began her letter by acknowledging Duterte's projects and advocacies for women in Davao, which she said she witnessed during a visit. She also told the presidential aspirant that he reminded her of her late father, actor and politician Johnny Wilson. "He was of the people. For them. He served them," she wrote. "His male macho privilege permeated our home, our family—and his devaluing of women created fear, insecurity, anger, instability, duplicity, double standards." She also touched on rape culture, saying, "Rape culture is denying the weight and seriousness of the crime by joking about it. It doesn't matter that you tell us later on what the context of the story was—all that matters is that you made light of it."
3. Hamilton wins 2016 Pulitzer Prize for drama
ADVERTISEMENT - CONTINUE READING BELOW
Critically acclaimed Hamilton took home the 2016 Pulitzer Prize for drama, making it the ninth musical in history to win the honor. Inspired by the biography of Alexander Hamilton, the show is a look at America's founding fathers through hip-hop, rap, and R&B. Lin-Manuel Miranda wrote the book, music, and lyrics for the show, and starred in it as well. The last musical to win the prestigious award was Next to Normal in 2010.
4. Uber launches UberEats in Australia
On Tuesday, April 19, Uber in Melbourne, Australia launched UberEats, which lets users order from 80 restaurants through the app. Of course, the delivery will arrive via an Uber car, and comes with a fee (depending on the time of delivery). So far, Uber has launched the service in selected cities around the world, including New York and Los Angeles.
CONTINUE READING BELOW
Recommended Videos
Bloodsec International and Anonymous Philippines hacked the DZMM website on Monday, April 18. "Our minds are constantly being invaded by legions of half-truths, prejudices and false facts. One of the great needs of mankind is to be lifted above the morass of false propaganda," the hackers wrote on the website. The Blood Sec Hackers also posted on their Facebook page, calling for unbiased reporting from television networks. At the moment, DZMM's website redirects to ABS-CBN's news portal.
6. Next president will receive about P41,000 in a salary increase
According to the salary adjustment schedule released by the Department of Budget and Management, the president elected on the May 9 elections will receive a basic monthly pay of P160,924, an amount almost P41,000 more than President Noynoy Aquino's salary, which is P120,000. This is part of the government-wide salary increase for 2016. The current president and his lawmakers are exempted from the increase, as the Constitution prohibits them from getting money from pay adjustments that they approve.
ADVERTISEMENT - CONTINUE READING BELOW
7. Bongbong Marcos counts his name as one of his strongest assets
"I think one of the things that is happening now is I am a beneficiary of the good work that was done in my father's time," the vice presidential candidate says in an interview with the Agence France-Presse on Monday, April 18. However, he recognizes that there were abuses committed during his father's rule. "I acknowledge that there were, (but) there are widespread human rights abuses in any administration and that is a problem that we as a country have to face."
After drawing flak for his "rape joke," the presidential candidate apologized on Tuesday, April 19. "I apologize to the Filipino people for my recent remarks in a rally. There was no intention of disrespecting our women and those who have been victims of this horrible crime. Sometimes my mouth can get the better of me," Duterte conveys in a statement given to the media.
9. Where Are They Now: Our Crushes From the '90s
If you grew up in the '90s, then chances are, you had photos of at least one of these guys on your binder or bedroom walls. We round up the celebrities who made us swoon from the '90s to the early '00s.
10. 10 Books That Will Take You Around the World
Thanks to books, we can go to just about any country in the world—even if we're glued to our seats! Here are 10 reads that will jet you off to Paris, Singapore, and even to realms unknown.
ADVERTISEMENT - CONTINUE READING BELOW
---
Help us make Spot.ph better!
Take the short survey
Load More Stories