Palace defends Kris Aquino's use of presidential chopper + more things you might have missed today
Duterte says he may cut U.S. and Australian ties, Jennifer Aniston named Most Beautiful Woman, and more.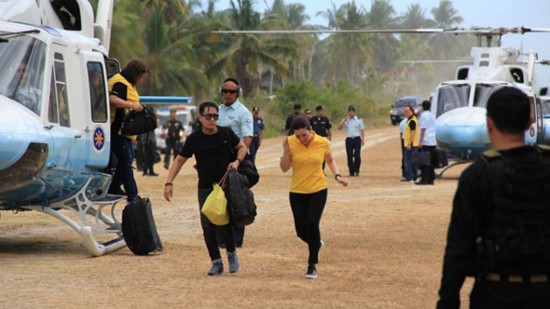 Photo via PEP.ph
(SPOT.ph) Busy day, Spotters? We quickly recap 10 things you might have missed while you were off the radar.
1. Palace defends Kris Aquino's use of presidential chopper
Kris Aquino drew flak after photos of her alighting from the presidential chopper for a Liberal Party campaign event circulated on social media yesterday, April 20. Kabataan Party List Rep. Terry Ridon said she was using public resources for Roxas' campaign, saying, "The photos clearly have no other explanation but the brazen use of government machinery to further the campaign of Mar Roxas." Meanwhile, the Palace has come to Aquino's defense, with Communications Sec. Herminio Coloma Jr. saying that "members of the President's immediate family are allowed to ride with him in government vehicles." So far, the TV host has yet to release a statement.
ADVERTISEMENT - CONTINUE READING BELOW
CONTINUE READING BELOW
Recommended Videos
2. Jennifer Aniston named "World's Most Beautiful Woman"
People magazine has crowned Jennifer Aniston the "World's Most Beautiful Woman" for 2016, making this the second time she has been awarded the title. (She was on the cover of the magazine in 2004.) Aniston said she was "very, very flattered" with the news. The title was given to Sandra Bullock in 2015.
3. Francis Libiran to design costumes for Encantadia 2016
According to a report by 24 Oras, fashion designer Francis Libiran will be creating the gowns worn by Encantadia's new Sangg'res: Kylie Padilla, Gabbi Garcia, and Sanya Lopez. The colors of the gowns will reportedly match the elemental gem each Sangg're is tasked to guard. So far, Libiran has yet to post photos of the designs.
4. Watch the first trailer for The Girl on the Train
Universal has finally dropped the first trailer for the upcoming adaptation of The Girl on the Train. The film version of the novel by Paula Hawkins stars Emily Blunt as Rachel, the sole witness to the last whereabouts of a woman before the latter disappears. The eerie thriller also stars Justin Theroux, Luke Evans, and Rebecca Ferguson, and hits theaters in October 2016.
ADVERTISEMENT - CONTINUE READING BELOW
5. McDonald's installs tablets in their U.K. outlets
McDonald's branches in the U.K. are adding something new, but it's not food. Instead, customers will get to enjoy Samsung tablets, which will let them play games or browse through social media while they enjoy their meals. The stores first introduced the tablets in 2014, and found that it was a hit among diners. So far, there seems to be no plans to expand the experiment anywhere else in the world.
6. Facebook adds free group calls to Messenger
Move over, Skype! Facebook is steadily rolling out a new feature which allows group calls within its Messenger app on iOS and Android. Once the feature is live, a phone icon will appear in the top right corner of group chats. According to reports, calls will be limited to 50 participants per call, which we bet would be quite a noisy conversation.
7. Hacker arrested for defacing COMELEC website
ADVERTISEMENT - CONTINUE READING BELOW
An unidentified suspect has been arrested by the NBI for allegedly defacing and leaking data from the COMELEC's official website. The suspect, who is reportedly a recent information technology graduate, was arrested through a search warrant on Wednesday night in Sampaloc, Manila. The NBI is still looking for two other suspected hackers.
8. Duterte says he may cut U.S., Australia ties
Presidential candidate Rodrigo Duterte said that he is "prepared" to cut diplomatic ties with the U.S. and Australia after their respective ambassadors criticized his rape joke. (He also told said ambassadors to "shut their mouths.") Duterte's spokesman Peter Laviña also said that if the former is elected president, he would re-evaluate the Philippines' relationship with the United States because "the treatment so far has not been good."
9. 10 Gorgeous Must-Visit Beaches Near Manila
Bitten by the travel bug? You don't have to go very far to hit the beach! We round up 10 gorgeous beaches that are just a few hours away from the bustling Metro.
ADVERTISEMENT - CONTINUE READING BELOW
10. 10 New Restaurants to Try in Makati
The next time you find yourself in Makati, make a beeline for these 10 new restaurants that can be found everywhere, from busy malls to hidden finds.
Load More Stories