Alicia Vikander is the new Lara Croft + more things you might have missed today
NBI arrests second COMELEC site hacker, a plant that charges your phone, and more.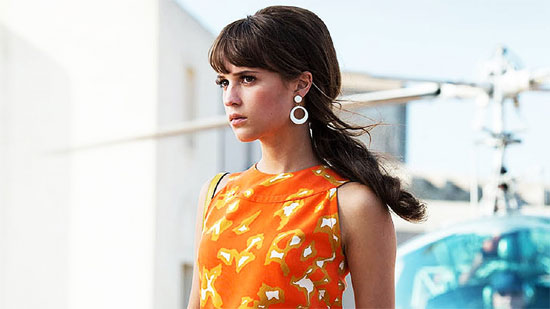 (SPOT.ph) Busy day, Spotters? We quickly recap 10 things you might have missed while you were off the radar.
1. Alicia Vikander is the new Lara Croft
Tomb Raider is getting a movie reboot, and Alicia Vikander is stepping into Angelina Jolie's shoes! Although plot details have yet to be revealed, it's reported that Vikander was the studio's first choice. (Earier reports said that Star Wars: The Force Awakens breakout star Daisy Ridley auditioned for the role.) Vikander is best known for her role in The Danish Girl, where she won an Oscar for Best Supporting Actress.
ADVERTISEMENT - CONTINUE READING BELOW
CONTINUE READING BELOW
Recommended Videos
2. Robin Thicke, Emblem3 cancel Manila performances
Although Robin Thicke is a headliner for the Summer Sun Music Festival slated for this weekend, he announced that he won't be flying to Manila due to complications from a knee surgery. As of writing, concert organizers have yet to announce a new lineup. Meanwhile, American reggae-pop trio Emblem3, who were scheduled to perform in Manila and Boracay this weekend, also called off their performances. However, they didn't disclose the reason behind their cancelled show.
3. Officials now investigating Prince's possible overdose
Investigators are now looking into whether Prince died of an overdose or whether a doctor was prescribing him drugs weeks before his death. They are also looking into what kind of drugs were in Prince's home and on his plane, which made an emergency landing in Illinois less than a week before he died. An autopsy has been performed, but results aren't expected for about three to four weeks.
ADVERTISEMENT - CONTINUE READING BELOW
4. This house plant can charge your phone
A European startup company is currently developing a device that will let you charge your phone with your potted plant. Dubbed Bioo Lite, it makes use of photosynthesis and generates electricity using only water, soil, and any common house plant. Bioo Lite can be charged via a USB, and its power can last up to three full charges for your smartphone and tablet. It's slated for commercial release in December.
5. This study explains why the word "moist" makes you cringe
In a study by Paul Thibodeau from Oberlin College, finding the word "moist" cringe-worthy is actually pretty common. He theorized that it might have something to do with either the actual sound of the word, the connotation (and how it relates to bodily functions), or the "social transmission" of the word (or how we look at it in terms of culture and media).
ADVERTISEMENT - CONTINUE READING BELOW
6. Lawyer to open record of Duterte's BPI account on Monday
Davao City Mayor Rodrigo Duterte will reportedly let his lawyer, Salvador Panelo, open the record of his bank account that is being questioned by Sen. Antonio Trillanes IV. "At least I can tell you na hindi talaga P200 million," he said. Duterte was earlier accused by Trillanes of having P211 million in his BPI bank account.
7. NBI arrests second COMELEC website hacker
The National Bureau of Investigation has arrested a second suspect in the hacking and leaking of voters' data from the COMELEC website. The hacker was identified as Jonnel De Asis, one of the leaders of Anonymous Philippines, a group of hackers who earlier defaced the COMELEC website in March. De Asis was also reportedly responsible for uploading voters' data into a website.
8. Duterte says he will close down Congress if impeached as president
On Thursday, Duterte responded to Sen. Trillanes' statement that he could be impeached if he wins the presidency over allegations of hidden wealth. "Pag i-impeach ako, sabi ni Trillanes, eh 'di isara ko 'yang Congress. Eh 'di wala nang mag-impeach sa akin," he said. "Ako na ang Congress, ako na ang presidente, dictator ka talaga. Sabihin ng congressman, 'Bakit mo naman kami isara?' Eh p****g ina, impeach-impeach kayo diyan."
ADVERTISEMENT - CONTINUE READING BELOW
9. SPOT.ph City Guide: Davao City
If you're looking to take a trip to Davao City, there's plenty to see and do for the eager tourist, from hole-in-the-wall haunts to cultural spots. Don't forget to play by the city's rules!
10. 10 Crazy Things Kids are Saying These Days
You know you're a certified Tita when you can't understand half the things kids these days are saying. And no, we don't just mean words like "bae" or "YOLO." We're talking terms like "scoobs" and "Mom Jeans." Yes, you read that right.
Load More Stories