5 Times Rodrigo Duterte Took Back What He Said
We're confused.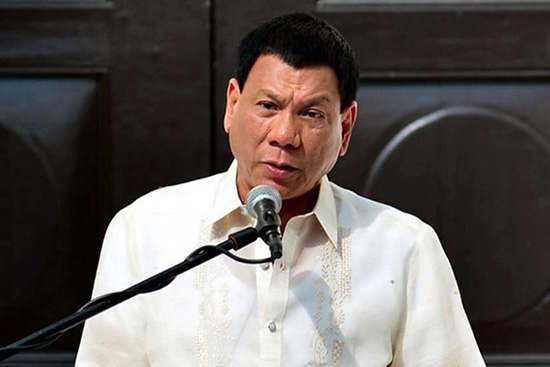 (SPOT.ph) Tough-talking Davao City Mayor and presidential candidate Rodrigo Duterte is not known for mincing words. His statements themselves aren't the only ones that have proven to be controversial, however, but also the apparent inconsistencies involving some of these pronouncements.
Presented here, using his interviews with the media, are some of the things Duterte has said regarding various issues and allegations that have contradicted with one another.
ADVERTISEMENT - CONTINUE READING BELOW
CONTINUE READING BELOW
Recommended Videos
When he said he wasn't going to run for president
In October 2015, the mayor strongly denied he was running for president, amid calls from supporters for his candicacy. "I am sorry to disappoint those who spent much and worked hard and long in support of me as I went around espousing the benefits and advantages of federalism... I therefore beg for everyone's kind understanding and acceptance of my sincerest apologies. After all, there was no ambition for me to aspire for the presidency. The country does not need me. I find no need for it too. I guess it is fate that wills that our long journey together should end this way."
A month later, he talked to the media to say that even the COMELEC can't make him run for president. "My stand is still the same and nothing has changed, I am not running for president. I am not interested in the position. I have no ambitions to become president. How many times do I have to say that? I do not have the stomach for it. It is not appealing to me. It is not to my liking,"
ADVERTISEMENT - CONTINUE READING BELOW
By November 2015, weeks after the October 16 deadline for the filing of certificates of candidacy, Duterte confirmed that he was running for president. "Yes, I am running."
"The die is cast. I have already crossed the Rubicon."
When he allegedly cursed the Pope
In November 2015, the mayor was criticized for talking about the traffic caused by the Pope's visit.
"Sabi ko, 'Bakit?' Sabi sarado na [ang daan]. Sabi ko, 'Sinong darating?' Sabi si Pope. Gusto kong tawagan, 'Pope, p— ka, umuwi ka na. 'Wag ka nang bumisita dito.'"
He later clarified his statement, saying, "I never said p**** mo Pope. I said 't****, huwag ka na pumunta dito,'" he said.
A month later, Duterte said he did not mean to curse the Pope. "I can never curse my Pope. I was cursing at the incompetence of government. If it was taken by some in that light, I sincerely apologize. I will continue to curse so our suffering nation takes action."
ADVERTISEMENT - CONTINUE READING BELOW
More apologies followed in April, with the Vatican saying they "appreciated" the mayor's apology. "I sincerely express sadness and regret that the part of my speech mentioning Pope Francis in relation to the monstrous traffic gridlock in January came across as being disrespectful to his Holiness Pope Francis. It was farthest from my mind and was never my intention."
When he made controversial remarks on rape
On April 17, a video surfaced showing Duterte at a political rally in Quezon City, making remarks on a 1989 Davao hostage incident, particularly an Australian missionary who was raped and killed during the encounter.
The video quoted the mayor referring to the rape victim, saying "Napakaganda. Dapat mayor ang mauna."
Duterte initially offered no apologies, despite calls from women's groups to take back his remarks. "Do not make me apologize for something which I did na talagang it was called for."
He also clarified that it was not meant to be funny. "No it was not a joke. I said it in a narrative. I was not smiling. I was just talking plain sense narrative."
ADVERTISEMENT - CONTINUE READING BELOW
Later on, the presidential candidate said he is apologizing "for the Filipino people." "I am sorry in general. I am sorry for the Filipino people. It is my style. It is my mouth. I said that in the heat of anger. But listen to the story behind. 'Wag kayo basta lang paambak-ambak d'yan,"
He also appealed to the public saying, "If you will give me the chance to lead this country, I promise to all of you that I will protect our women, children and families from the horrors and disorders of crime. I will do this even if I lose my life, my honor and even the presidency."
"That's correct. I take my word back. Nag apologize na ako."
When he said he would cut ties with the U.S. and Australia should he become president
In several reports, Duterted was quoted saying, "If I become the President, go ahead and sever it (diplomatic ties with the U.S. and Australia)."
ADVERTISEMENT - CONTINUE READING BELOW
He clarified his statement on April 23 after his remarks made headlines yet again. "Baka tuloy mag-sever ng ties. Tapos in-adopt ang question na 'yon tapos sinabi sa 'kin. O sabi ko: Bahala sila. E, kung gusto nilang i-sever ang ties niyo, so be it. Bakit ako magluhod. I go there and say, 'Please, please do not.' I would resign from presidency if I do that."
When he said he didn't have a bank account at that bank
The most recent controversy that has been thrown at the presidential candidate has come from Vice Presidential candidate Sen. Antonio Trillanes. Trillanes claims that Duterte is keeping P211 million in a joint account with his daughter, Sara Duterte, at the BPI branch on Julia Vargas Avenue, Pasig City.
Initially, the mayor vehemently denied the existence of such bank accounts. "I am not a rich man," Duterte said. "Huwag kayong maniwala diyan. It's pure garbage."
ADVERTISEMENT - CONTINUE READING BELOW
"I will not play into their hands by issuing a waiver. The account is non-existent."
In a TV interview on April 28, Duterte's spokesperson, Peter Laviña, also denied the existence of the BPI account. "This is a non-existent account. As a lawyer, he would not issue any waiver pointing to a non-existent account," Laviña said.
But on the same day, Duterte admitted to reporters: "Meron ako sa BPI. Hindi ganun kalaki. Thousands lang. It could not go beyond even... Meron isa 17 (thousand), 'yong isa below 50 (thousand)," he said.
Duterte also denied that the account is a joint account with his daughter, Sara.
Load More Stories