Andi Eigenmann is on Vanity Fair's Best Dressed list + more things you might have missed today
Kesha to perform at Billboard Music Awards, Ombudsman continues probe on Duterte, and more.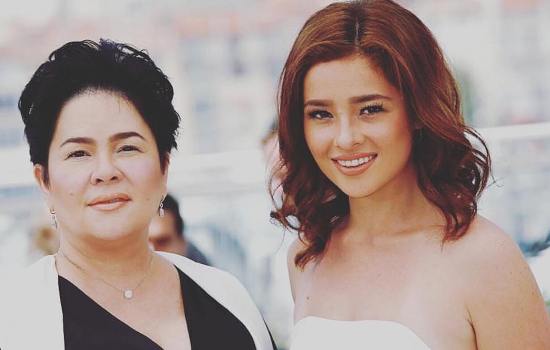 Photo via Andi Eigenmann's Instagram account
(SPOT.ph) Busy day, Spotters? We quickly recap 10 things you might have missed while you were off the radar.
1. Andi Eigenmann joins Vanity Fair's Best Dressed list
Andi Eigenmann, who stars in Brillante Mendoza's Ma' Rosa, has made it to Vanity Fair's Best Dressed list for the Cannes Film Festival. She wore an ivory ensemble by Filipino designer Patty Yang. Hollywood stars who made it on the list include Blake Lively, Julianne Moore, and Jessica Chastain.
2. Kesha gets approval to perform at Billboard Music Awards
Kesha recently made headlines when she was barred by Sony's Kemosabe Records from performing at the 2016 Billboard Music Awards. The recording company is under the name of her long-time music producer, Dr. Luke, whom Kesha claims drugged and sexually abused her. A statement from the company said that the approval was only suspended because they learned Kesha was going to use her performance as a "platform to discuss" the lengthy court battle between her and Dr. Luke. "Now that Kemosabe has obtained assurances, that it is relying upon, from Kesha, her representatives and Dick Clark Productions that neither Kesha nor her supporters will use the performance as such a platform, the approval has been restored," it said.
3. This plate absorbs extra calories from your meal
Ad agency BBDO Bangkok and the Thailand local government have invented the "AbsorbPlate," which they claim will soak about seven milliliters of oil or 30 calories from your food. The plate contains 500 perforated holes to absorb the oil from a dish, which works like a sponge surface. The AbsorbPlate is still in its concept phase, and is part of the Thailand government's efforts to battle the country's obesity problem.
ADVERTISEMENT - CONTINUE READING BELOW
4. YouTube is headed to virtual reality
YouTube is officially venturing into the future of virtual reality with a standalone app for Daydream, Google's new Android-based virtual reality platform. YouTube's new app won't be available until Daydream is released reportedly late 2016, and they're rumored to be working with the NBA, BuzzFeed, and Tastemade for virtual reality content.
5. This house wedged inside a cliff is for real
Last year, a uniquely designed concrete house wedged within a mountaintop went viral and now, the dream is becoming a reality. The underground lair topped with an infinity pool that doubles as a skylight is now being built at 1,600 meters above sea level on a cliff in Lebanon after the sensational project piqued the interest of a client. The plan was designed by Open Platform for Architecture, which was established in 2014 by Laertis-Antonios Ando Vassiliou and Pantelis Kampouropoulos.
CONTINUE READING BELOW
Recommended Videos
6. Ombudsman continues probe on Duterte
Ombudsman Conchita Carpio Morales announced that they will continue with the investigation against incoming president Rodrigo Duterte for plunder complaints filed against him by Sen. Antonio Trillanes IV. The incumbent senator alleged that the former mayor spent more than P700 million for the benefits and salaries of more than 11,000 ghost employees. "The Office (of the Ombudsman) is an independent office. So without or with the support of the President, the office will discharge its mandate," Morales said.
7. Aquino says he fulfilled promise to country
A couple of weeks away from stepping down from his post, outgoing President Benigno Aquino III defended his administration's track record and progress report in an interview with The New York Times. The video clip was posted on the publication's Facebook page. "At the very least, I think we have fulfilled our promise of leaving something better, doing better than what we found," Aquino said.
ADVERTISEMENT - CONTINUE READING BELOW
8. DOJ's investigation on Davao Death Squad is at a standstill
The Department of Justice has reached a dead end on the investigation of the Davao Death Squad after the source witness was taken out of the Witness Protection Program. Acting Secretary Emmanuel Caparas said in an interview with reporters on Friday, May 20, that "there's really nothing there anymore," leaving investigators with only the witness' affidavit.
9. 10 Dishes That Prove a Gooey Egg is the Best Thing Ever
Runny, gooey, creamy, rich eggs can serve as toppings, sauce, or just to make dishes instantly look pretty. We listed down our 10 favorite dishes that make use of these magical things.
10. 10 Things Only UV Express Commuters Can Relate To
Top Gear lists 10 familiar sights and sounds for the UV Express rider, from making sure you have exact change to getting smushed in between passengers.
Share this story with your friends!
---
Help us make Spot.ph better!
Take the short survey
Load More Stories