Maria Isabel Lopez apologizes for taking the spotlight at Cannes + more things you might have missed today
X-Men: Apocalypse reigns at PH box-office, Arroyo declines Duterte's offer of pardon, and more.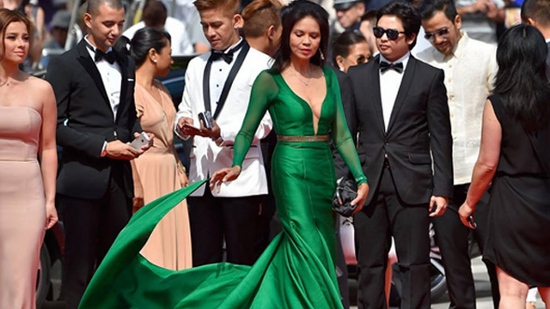 Photo via PEP.ph
(SPOT.ph) Busy day, Spotters? We quickly recap 10 things you might have missed while you were off the radar.
1. Maria Isabel Lopez apologizes for "stealing scene" at Cannes
Even if you aren't a movie fan, you've probably seen all the memes about Maria Isabel Lopez on this year's Cannes Film Festival red carpet. Lopez wrote an apology to her director Brillante Mendoza and Ma' Rosa's lead actress Jaclyn Jose for inadvertently "[taking] the spotlight from them." She explained that the reason she put a space between her and her co-stars was because of the long train of her Albert Andrada frock. "My gown was being stepped upon and if you can only see how dirty it is on the tail," she said. "I was simply protecting myself from falling down and from making the gown dirty."
2. X-Men: Apocalypse earns P230 million in opening weekend
It looks like Pinoys still can't get enough of superheroes. X-Men: Apocalypse nailed the top spot at the local box-office during its opening weekend, earning a whopping P230 million. It also opened at No. 1 on its first day of release (May 18) with P45 million. This third installment now holds the title of the biggest opening weekend in the Philippines in terms of the X-Men franchise. Still, it couldn't dethrone Captain America: Civil War, which so far holds the title for biggest opening weekend of 2016.
3. Here's your first look at Disney's live-action Beauty and the Beast
Disney has finally unveiled a teaser trailer to its highly anticipated live-action adaptation of Beauty and The Beast. The teaser gave fans the first look at Emma Watson's Belle, with nostalgic references to its 1991 animated version. Directed by Bill Condon (The Twilight Saga: Breaking Dawn Parts 1 and 2), it also stars Dan Stevens, Luke Evans, Ian McKellen, Emma Thompson, and Stanley Tucci. The film hits theaters in March 2017.
ADVERTISEMENT - CONTINUE READING BELOW
4. After breaking records, viral Chewbacca mom has her first interview
Candace Payne became an Internet sensation after she bought a Chewbacca mask and decided to try it on while broadcasting via Facebook's live video option. Her infectious laughter had everyone tuned in, breaking Facebook's record with over 136 million views. In an interview with Good Morning America, Payne had this to say about her newfound fame: "The best part of all of this is being able to share joy with people, hear stories of people coming out of depression,"
5. Small turtle falls out of a luggage
CONTINUE READING BELOW
Recommended Videos
In a domestic Jetstar flight from Melbourne to Hobart, Australia, a short-necked turtle landed on the foot of passenger Patrick Kelly while reaching for his baggage in the overhead compartment. It was the size of an Australian 50-cent coin and was thought to be a toy until it moved, said the surprised passenger. No one has claimed ownership of the turtle so far.
6. Duterte to church figures: "Don't f**k with me"
Incoming president Rodrigo Duterte delivered a obscenity-filled message via reporters to senior church figures on Monday night, May 23. "Don't f**k with me," he said at a press conference in Davao City. He branded local bishops as corrupt "sons of whores" and blamed the Church for the nation's rapid population growth after opposing the reproductive health law.
7. Arroyo declines Duterte's offer of pardon
Pampanga Representative Gloria Macapagal Arroyo has declined the offer of pardon from incoming president Rodrigo Duterte. According to one of the former president's lawyers, doing otherwise would mean pleading guilty to the plunder case in connection with the alleged misuse of P365 million intelligence funds.
ADVERTISEMENT - CONTINUE READING BELOW
8. Canvassing of votes for president begins tomorrow, May 25
The Senate and the House of Representatives authorized the committee to start the canvassing of votes for president and vice president at 2 p.m. on Wednesday, May 25. In a joint session today, May 24, the legislators ceremoniously opened the ballot boxes containing the Certificates of Canvass and election returns. The Senate contingent is composed of Aquilino Pimentel III, Juan Edgardo Angara, Teofisto Guingona III, Sergio Osmeña III, Ralph Recto, Juan Ponce Enrile, and Vicente Sotto III. The House panel, on the other hand, is composed of Neptali Gonzales II, Elpidio Barzaga Jr., Romero Quimbo, Reynaldo Umali, Rufus Rodriguez, Fredenil Castro, and Silvestre Bello III.
9. 10 Signs You've Mastered the Art of Commuting
If you've navigated the streets of the Metro long enough, then you start developing a very particular set of skills. Here are 10 sure signs you're a master in the complicated art of commuting.
10. 10 Amazing Primers You Need To Try
Masilya is now a thing of the past! These days, beauty girls have primers to combat the hellish heat and humidity of Manila. We found 10 primers that deserve a space in your kikay kit.
Share this story with your friends!
---
Help us make Spot.ph better!
Take the short survey
Load More Stories