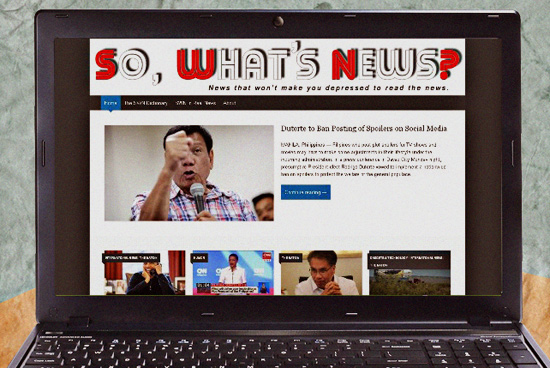 (SPOT.ph) We were taught in poetry class that satire is the hardest to pull off yet the most effective if done well. Satire (pang-uuyam in Filipino) is the use of humor to show that someone or something is foolish, weak, or bad. It often ridicules a person, government, or society by way of subtle and funny lines. Being the subject of good satire is like being the loser in high school, you have no idea that you're already the butt of the joke.
Satirical pieces are commentaries that should be taken seriously because they point out national issues that we should be concerned about. But not too serious that you believe what they say literally.
But how exactly can you tell when someting is satire? Who can forget the Jinggoy Estrada hoax of 2013? One of the satire sites posted the headline "Jinggoy Estrada arrested after trying to smuggle money inside his breasts to U.S." What was obviously a false headline turned into a social media circus as people didn't immediately see the ridiculousness of it.
ADVERTISEMENT - CONTINUE READING BELOW
Here are 10 satirical sites that deserve a second look.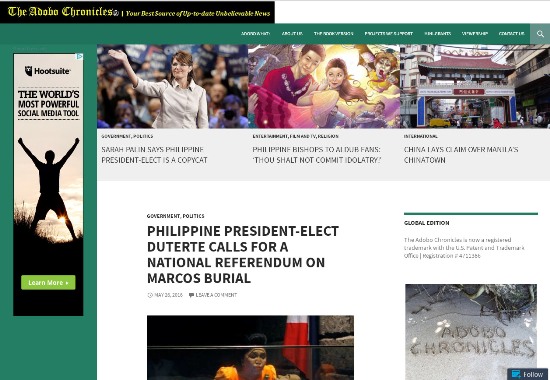 The Adobo Chronicles
adobochronicles.com
A play on the Philippines' popular dish, The Adobo Chronicles describes itself as the "best source of up-to-date unbelievable news." It has been spreading humorous stories since July 2013.
Sample Headline: Robredo: If elected vice president of Duterte, I will immediately resign my post
ADVERTISEMENT - CONTINUE READING BELOW
Recommended Videos
Why It's Satire, Obvs: People, especially our leaders (hopefully), aren't that immature, right?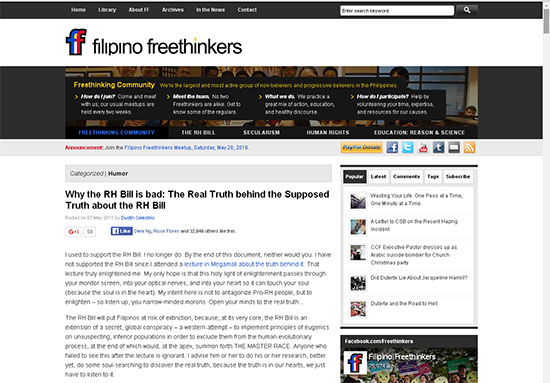 Filipino Freethinkers
filipinofreethinkers.org
Filipino Freethinkers is not completely made up of satirical articles, but it features well-thought out satire in response to national issues. They are the largest and most active organization for freethought, "a way of thinking unconstrained by dogma, authority, and tradition," in the Philippines.
ADVERTISEMENT - CONTINUE READING BELOW
Sample Headline: Why the RH Bill is bad: The Real Truth behind the Supposed Truth about the RH Bill
Why It's Satire, Obvs: By way of reverse psychology, it enumerates the arguments of the opponents of the reproductive health law. Some of these points are: "The RH bill will put Filipinos at risk of extinction!" "Our population is our biggest asset!" and "The RH Bill is wrong because the priest said so, and priests are never wrong." At the end of the article, you'll find that these reasons are so nonsensical that you'll even lose faith in humanity (or, at least, the anti-RH camp).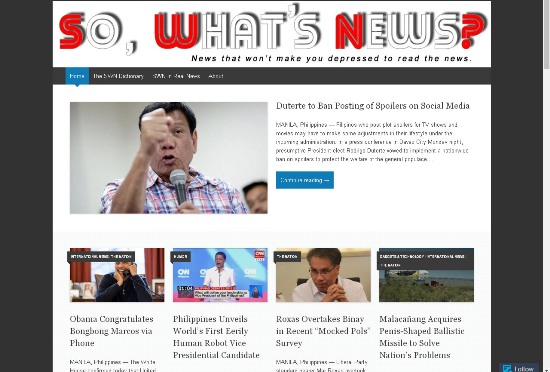 ADVERTISEMENT - CONTINUE READING BELOW
So, What's News?
sowhatsnews.wordpress.com
In the About page, So, What's News? blatantly says that it's a "satirical and fictional news website." SWN was founded in September 2011.
Sample Headline: Duterte to ban posting of spoilers on social media
Why It's Satire, Obvs: Spoiler alert for Game of Thrones spoilers—this is not true but we're looking at you!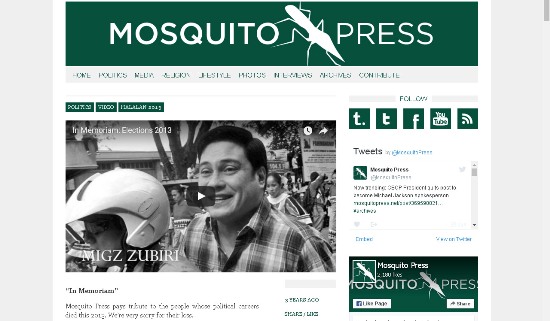 ADVERTISEMENT - CONTINUE READING BELOW
Mosquito Press
mosquitopress.tumblr.com
Mosquito Press describes itself as an "objective, hard-hitting, questionable" site. It became inactive after the 2013 national elections.
Sample Headline: COMELEC imposes text, load ban
Why It's Satire, Obvs: "The gun ban prevents violence, the liquor ban prevents drunkenness, the money ban prevents vote-buying..." Now, if only this were true.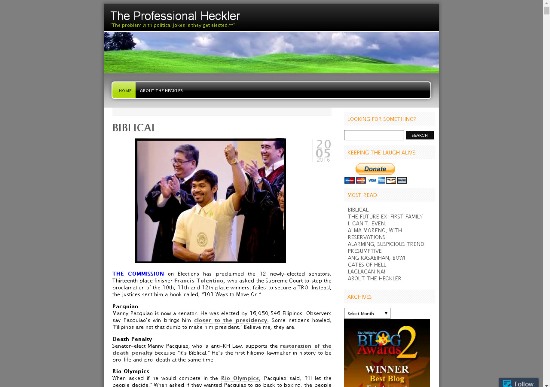 ADVERTISEMENT - CONTINUE READING BELOW
The Professional Heckler
professionalheckler.com
If you're on Twitter, you've probably encountered @HecklerForever, a Batangas-born humor blogger now based in Makati City. A heckler is defined as someone who harasses and tries to disconcert others with questions, challenges, or mockery.
Sample Headline: Quote in the Act (A Current Events Quiz)
Why It's Satire, Obvs: The first question on the list article was "Before he changed his answer to "No," YES ang unang naging sagot ni Bongbong Marcos sa tanong na ito during the recent vice presidential debate." It lists down funny (but possibly true) answers such as "Ilusyon lang ba ang human rights abuses at kurapsyon noong Martial Law?" and "Nasangkot ka na ba sa anumang uri ng katiwalian?"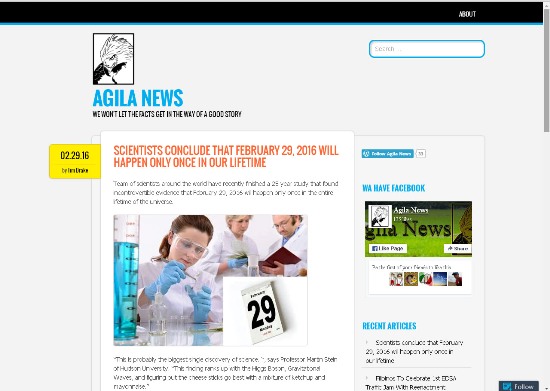 ADVERTISEMENT - CONTINUE READING BELOW
Agila News
agilanews.wordpress.com
Agila News admits that it "adds nothing positive to your knowledge." It has absurd headlines, from the "discovery" that February 29, 2016 happens only once to a celebration of a traffic jam anniversary.
Sample Headline: Researchers conclude that Filipinos always win, unless their opponents cheat or something
Why It's Satire, Obvs: "This is not based on any scientific study, or fact-finding mission, or serious research," is written in its second paragraph. It was hard to accept that Smart Gilas didn't win the FIBA 2015 Asia Championship, that Steve Harvey made a mistake, and that Jessica Sanchez lost to Phillip Phillips at American Idol. And maybe about that vice presidential candidate who shall not be named?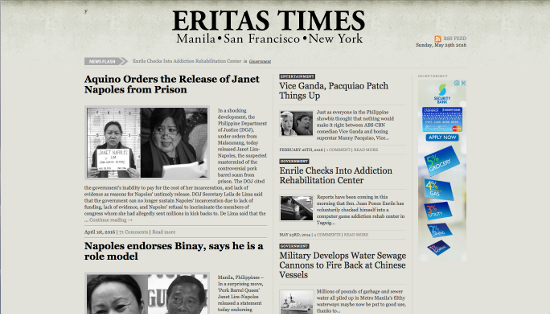 ADVERTISEMENT - CONTINUE READING BELOW
Eritas Times
eritastimes.com
The San Fransciso-based Eritas Times presents the "other side of news." The other side being the fictional one.
Sample Headline: Vice Ganda, Pacquiao patch things up
Why It's Satire, Obvs: Sen. Manny Pacquiao's homophobic remarks didn't sit well with the LGBT community when he compared LGBTs to animals. Meanwhile, Vice Ganda is a known LGBT advocate who uses his influence to promote awareness of LGBT rights. The Eritas Times article ends with "It was not immediately known if Vice Ganda is picking up Pacquiao or if Pacquiao would just come over to Vice Ganda's place," which makes it obvious fanfic.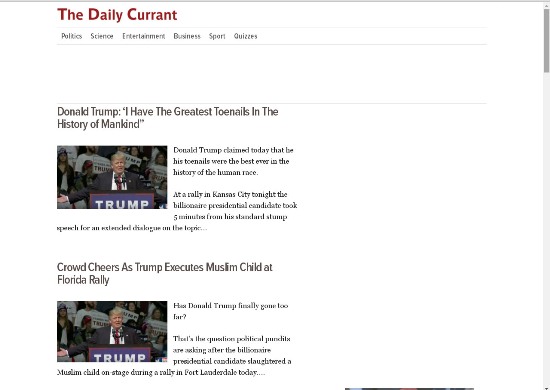 ADVERTISEMENT - CONTINUE READING BELOW
The Daily Currant
dailycurrant.com
Another foreign site, The Daily Currant's short description is "global satirical newspaper of record." It gives funny commentaries about politics, business, culture, and, sometimes, media itself.
Sample Headline: Female softball player comes out as straight
Why It's Satire, Obvs: Know why people don't have to come out as straight? That's because we usually assume that they are. Talk about heteronormative culture.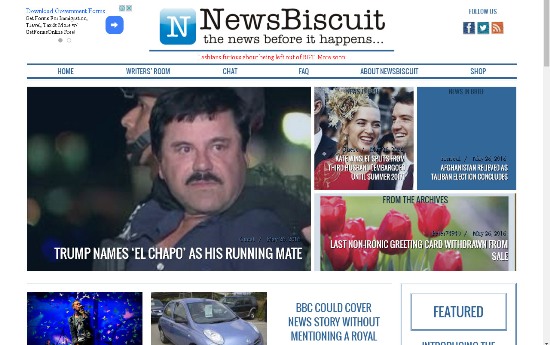 ADVERTISEMENT - CONTINUE READING BELOW
News Biscuit
www.newsbiscuit.com
News Biscuit was launched in September 2006 with the "noble aims of eradicating global poverty, creating lasting peace in the Middle East and providing a daily dose of humor to bored people at work." So far, it's been keeping its third promise. It tells the news before it even happens. How cool is that?
Sample Headline: BBC could cover news story without mentioning a royal by 2030
Why It's Satire, Obvs: The British Broadcasting Corporation is based in London, England. The United Kingdom implements a constitutional monarchy as its type of government. See what we're getting at?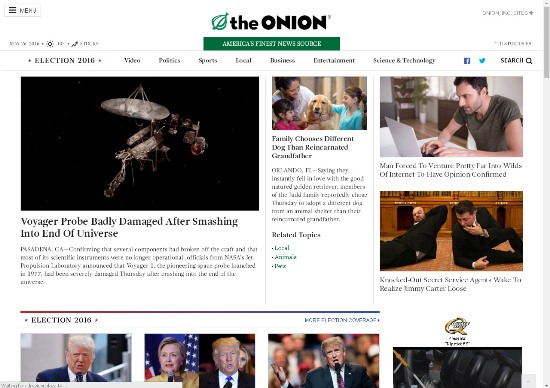 ADVERTISEMENT - CONTINUE READING BELOW
The Onion
www.theonion.com
The Onion, "America's Finest News Source," seems to be legit in its About page until it goes on to say that it now enjoys "a daily readership of 4.3 trillion and has grown into the single most powerful and influential organization in human history." That, of course, is an exaggeration. It goes on to say, "The Onion also owns and operates the majority of the world's transoceanic shipping lanes, stands on the nation's leading edge on matters of deforestation and strip mining, and proudly conducts tests on millions of animals daily."
Sample Headline: Breaking News: Some Bullsh** Happening Somewhere
Why It's Satire, Obvs: The report is a two-minute video of a bear on the loose in California. The lead says "Excruciating up-to-the-minute coverage of some irrelevant bullsh** story that has no ramifications whatsoever."
Share this story with your friends!
---
Help us make Spot.ph better!
Take the short survey
Load More Stories