Charo Santos makes movie comeback with Lav Diaz film + more things you might have missed today
Duterte skips his own proclamation, new president's nocturnal work schedule, and more.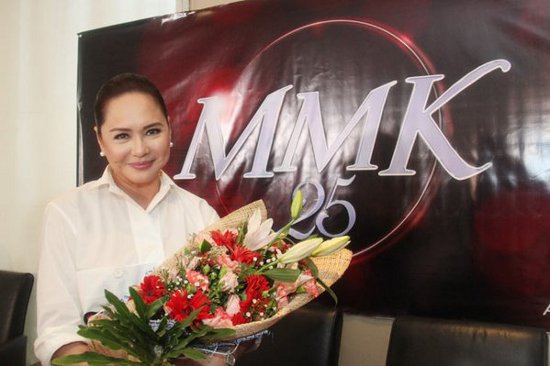 Photo via ABS-CBN's Twitter account
(SPOT.ph) Busy day, Spotters? We quickly recap 10 things you might have missed while you were off the radar.
1. Charo Santos makes movie comeback with Lav Diaz film
A report by ABS-CBN confirmed that the network's chief content officer, Charo Santos, is making an acting comeback with a new Lav Diaz film. She said she was approached to do the film (entitled Ang Babaeng Humayo) after Diaz won the Silver Bear at Berlinale 2016. "I was so honored to have been approached by the Lav Diaz. I didn't even think twice about it after I read the material," she said. No further details about the film has been released, but it was announced that it will be part of the 2016 Cinema One Originals film festival.
2. Sam YG and Joyce Pring deny engagement news
DJ Tony Toni's recent Instagram post had everyone talking after congratulating Sam YG and Joyce Pring for "finally making their relationship official" and hinting at an engagement. However, Pring took to Twitter to deny the post, saying, "Isang magandang umaga sa atin na mga naniniwala sa kahit anong makita sa social media." The two are currently in Palawan, reportedly for vacation.
3. Begin Again director criticizes Keira Knightley
John Carney, the director for the 2013 film Begin Again, made headlines after he candidly spoke against the movie's star Keira Knightley. "As much as I tried to make it work, I think that she didn't quite come out as a guitar-playing singer-songwriter," he partly said. "I had just come back from making this far bigger movie in America, and I was a bit disenchanted with working with certain movie stars in that movie and I wanted a break." However, Carney praised the film's two other leads, Mark Ruffalo (whom he called a "fantastic actor") and Adam Levine (whom he said was "unpretentious" and a "joy to work with").
ADVERTISEMENT - CONTINUE READING BELOW
4. Caretaker of slain gorilla responds to controversial incident
An endangered 17-year-old gorilla in a Cincinatti zoo was shot dead after it grabbed and dragged around a four-year-old boy who had fallen into its enclosure. The child was treated for serious but non-life threatening injuries, and the incident caused a public outcry among animal activists. Jerry Stones, its caretaker since birth, told TIME that he was devastated about what happened. "These are like your children. You're with them all the time. You're around them from the time they're born," he said. "It's like if you've ever lost a pet, but even worse. There's so much more because they're intelligent. They have so many human traits. They manage to get into your heart a little bit more."
CONTINUE READING BELOW
Recommended Videos
5. Students compile Spanish teacher's "Buenos días!" greeting
The graduating class of Turner High School in Kansas City honors their Spanish teacher, Señor Ward, through a funny Facebook video. For weeks, they've been filming their teacher everytime he enters the classroom with an excited Buenos días greeting. The clips were made into a montage and the result is both hilarious and inspiring.
6. Duterte a no-show at his own proclamation as the 16th Philippine President
President-elect Rodrigo Duterte announced on Sunday, May 29 that he will not attend the Senate and Congress' official proclamation of President and Vice President this afternoon, May 30. There was no last-minute of change of plans and, instead, he stayed in Davao City to receive his well-wishers. "He wants to stay in Davao. Tingnan mo lang pila ng tao dito, many of these are people coming from all over the Philippines," incoming presidential peace adviser Jesus Dureza said in an interview with ANC.
ADVERTISEMENT - CONTINUE READING BELOW
7. New president's work schedule is 1 p.m. to past midnight
Incoming president Rodrigo Duterte has started calling press conferences that last from midnight to dawn. This could possibly be a sneak peak on the new state leader's work schedule. "I would like to announce that my day starts at 1 p.m. Because when I am President, I would have to sign papers. But unlike others, I don't sign unless I know what I'm signing. It would take time," he said.
8. PLDT and Globe to acquire San Miguel's telco businesses
Philippine Long Distance Telephone Co. and Globe Telecom Inc. will each acquire a 50% equity interest of San Miguel Corp.'s telecommunication business. This includes Vega Telecom Inc., which owns controlling interest in Bell Telecommunication Philippines Inc., Eastern Telecommunications Philippines Inc., Cobaltpoint Telecommunication Inc., Tori Spectrum Telecommunication Inc., and Hi-Frequency Telecommunication, Inc. "Stronger, wider Internet helps our people with more access to info and the wealth of opportunities connectivity brings. That's our commitment," said PLDT Chairman Manny V. Pangilinan on his Twitter account on Monday morning, May 30.
9. 10 News Sites You Shouldn't Take Seriously
Satirical pieces are commentaries that should be taken seriously because they point out national issues that we should be concerned about. But not too serious that you should take them literally. We round up 10 satirical sites that deserve a second look.
Whether you want to be whisked away in a romantic novel or just immersed in a whole different world, we round up 10 books that you should add to your must-read list.
ADVERTISEMENT - CONTINUE READING BELOW
Share this story with your friends!
---
Help us make Spot.ph better!
Take the short survey
Load More Stories