Here are the qualifications for being buried at the Libingan ng mga Bayani
According to relatives of Martial Law victims, the AFP and other concerned citizens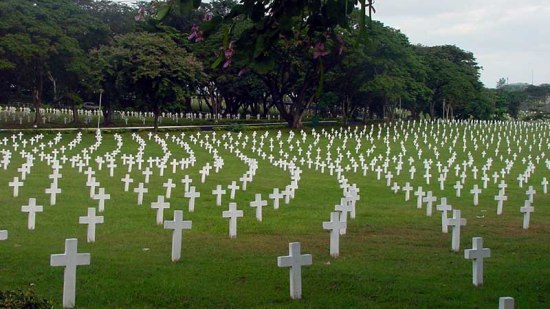 (SPOT.ph) Incoming president Rodrigo Duterte is now facing controversy after declaring that late president Ferdinand Marcos should be buried at the Libingan ng mga Bayani. "He was a soldier. Huwag na 'yong hero-hero," Duterte told the press on May 23.
This immediately drew flak from victims of torture and incarceration during the Martial Law era, those who lost their families and friends due to extrajudicial killings, and human rights activists. Through social media, Chelo Banal-Formoso shared the story of her grandfather who's buried at the Libingan ng mga Bayani. "That is what soldiers do: they leave their own families to heed the call of duty to protect other men's wives and children. They abandon their comfort zones for the war zones to defend their country and their countrymen," her post said.
Another oppositionist pointed out the fate of the late Captain Mary Grace Balayo who died in 2001 after opting to stay in her aircraft to steer clear of a residential area rather than ejecting from her seat. "For all her love for this country she was buried in an ordinary cemetery in Bacolod. Her proud parents never once felt entitled to bury her in the Libingan ng mga Bayani (LNMB)," he said.
ADVERTISEMENT - CONTINUE READING BELOW
An online petition on Change.org, "No to Burying Marcos in Heroes' Cemetery," is 6,000 signatures away from reaching 25,000, the first "milestone" measure of the site. "Laying him to rest at the Heroes' Cemetery is a disdainful act that will send a message to the future of our nation—our children—that the world we live in rewards forceful and violent hands," the petition says. The group behind the petition is targeting to reach 1 million signatures by September 10.
In an article from June 2011, investigative journalist Raissa Robles wrote that former President Fidel V. Ramos told reporters in one of his final press conferences that the Marcos family broke one of the three conditions that allowed the patriarch's remains to be brought to the Philippines from Hawaii. The conditions were: that his body be flown directly to Ilocos with no stopover in Manila, that he be given the honors befitting a major of the armed forces and denied state honors, and that "he be buried in the meantime in Ilocos Norte, (pending) on the decision of the family as to the place." Twenty-three years after his body was transferred to the Philippines, the late dictator still rests in a refrigerated glass crypt in Batac, Ilocos Norte.
CONTINUE READING BELOW
Recommended Videos
On May 27, Col. Benjamin Hao, spokesman of the Armed Forces of the Philippines, stated the Army's rules on the qualifiations for being buried in the heroes' cemetery. Some of them are former presidents, generals, and active and retired military personnel of the AFP. "Personnel who were dishonorably separated/reverted/discharged from the service and personnel who were convicted by final judgment of an offense involving moral turpitude," are not qualified. Hao emphasized, though that he is "not in the position to answer that question," when asked about a Marcos burial at the Libingan.
ADVERTISEMENT - CONTINUE READING BELOW
Duterte has said that the former president can be buried at the Libingan ng mga Bayani on September 11, what would have been Marcos' 99th birthday.
Share this story with your friends!
---
Help us make Spot.ph better!
Take the short survey
Load More Stories