Presidential spokesperson Sal Panelo says Duterte is "very playful, very truthful"
Please elaborate.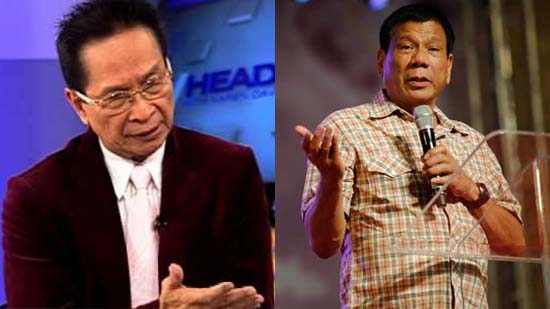 (SPOT.ph) Rodrigo Duterte's camp has defended the incoming president's statement regarding media killings. "What he was saying last night is that, when a journalist is killed, it doesn't mean that he's being killed as a journalist. That person is being killed because he has done something wrong to another fellow man," explained presidential spokesperson Salvador Panelo in an interview on Wednesday night, June 1.  He also said that Duterte has always been like that, "very playful and very truthful." "If you are discerning enough, kung titingnan niyo ang kanyang body language, 'yon talaga ang ibig niyang sabihin," he added. 
ADVERTISEMENT - CONTINUE READING BELOW
CONTINUE READING BELOW
Recommended Videos
Meanwhile, Sen. Aquilino "Koko" Pimentel III also weighed in and appealed to public not to "mistake or misinterpret" the statement. Pimentel is president of PDP-Laban, while Duterte is chairman of the same political party.
Duterte earlier sparked outrage among Philippine media groups after saying that journalists deserve to be assasinated if they're engaged in corrupt activities. 
Panelo and Duterte have both been tagged in controversies related to media killings. The incoming presidential spokesperson used to represent Maguindanao mayor Andal Ampatuan Jr., who is said to have led an election-related attack that killed more than 30 journalists in November 2009. Panelo withdrew as Ampatuan's counsel in December 2015. 
On the other hand, Inquirer reported this morning, June 2, that a total of seven journalists had been killed in Davao City since the incoming president became mayor in 1987. One of them was Jun Pala, a commentator on local radio station dxGO and vocal critic of Duterte, who was murdered by gunmen on a motorcyle in Davao in 2003. Prior to his murder, his life was already threatened twice and he pointed to the Davao mayor as the most likely culprit. Duterte countered this by saying, "If I was the one who did it, he would have been dead already."
ADVERTISEMENT - CONTINUE READING BELOW
Two of three "hard-hitting anti-Duterte journalists" were Ferdie Lintuan, who was killed in 2007 after exposing the alleged misuse of public funds in the construction of the Davao Peoples' Park, and Rene Galope, who was killed in 2004 after criticizing the mayor's management style. "All killings remain unsolved to this day," wrote Inquirer columnist Dr. Antonio J. Montalvan II in December 2015.
A report by the International Federation of Journalists in February 2016 identified the Philippines as the world's second most dangerous place for journalists. The National Union of Journalists of the Philippines states that 174 journalists have been killed since 1986. During the Martial Law era, journalists were among the first to be arrested and incarcerated in military prison camps. 
Load More Stories