5 Imagined Statements for the Slightly Less "Rude" President Duterte
Wait for his metamorphosis, he says.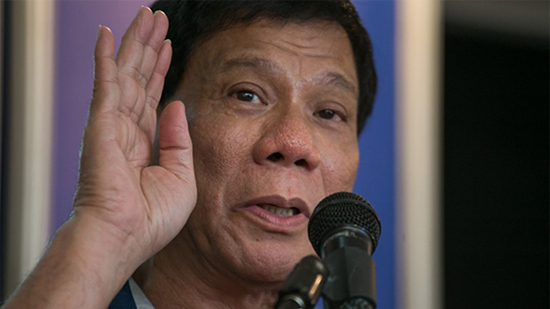 (SPOT.ph) Late last night, June 2, incoming President Rodrigo Duterte pulled another all-nighter with members of the media after an almost two-hour press conference in Davao City. "Don't f*** with me," he told reporters. "You know, guys, you think too much of yourself...you want (to have) your cake and eat it too." 
ADVERTISEMENT - CONTINUE READING BELOW
CONTINUE READING BELOW
Recommended Videos
At the end of the press con, the president-elect promised a "metamorphosis" after he takes his oath of office on June 30. Before then, he says he'll enjoying his last days of being a "rude person." "I'm telling you how I would behave. There's going to be a metamorphosis...It blossoms into a butterfly," he said. 
Here are some things we imagined President Duterte, the "butterfly," would say after his inauguration...that is, if he does indeed let go of his "rude" ways.
On sexual harrassment and respect for women
Duterte now: "You do not have any business stopping me. That is a freedom of expression." (June 2)
Duterte after June 30: "Davao City has an ordinance, which I approved in 1997, that specifies all forms of sexual harassment. This includes 'cursing, whistling or calling a woman in public with words having dirty connotations or implications which tend to ridicule, humiliate or embarrass the woman such as 'puta,' 'boring,' 'peste,' et cetera" We should implement this on a national level."
ADVERTISEMENT - CONTINUE READING BELOW
On media killings
Duterte now: "Just because you're a journalist you are not exempted from assassination, if you're a son of a b***." (May 29)
Duterte after June 30: "Journalists, as citizens, have a fundamental right to due process and equal protection of the laws of the land. It is the duty of the government to arrest, prosecute and punish those responsible for violence against members of the media."
On the Papal Visit
Duterte now: "Gusto kong tawagan, 'Pope, p*** ka, umuwi ka na. Wag ka nang bumisita dito'." (2015)
Duterte after June 30: "The Metro Metropolitan Development Authority should prepare the best scheme possible to ensure that we'll have good traffic flow even if the country has an important visitor."
On the alleged 'politicizing' of the Kidapawan incident
Duterte now: "May gusto akong sabihin kay Lala (Mendoza). T*** mo, wala akong pakialam diyan, l*** ka." (April 7)
Duterte after June 30: "I'd like to comment on the allegations of North Cotabato Gov. Emmylou Taliño-Mendoza. The Filipinos are my responsibility and I must help them."
ADVERTISEMENT - CONTINUE READING BELOW
On battling drug lords
Duterte now: ''If you do that to my country, kung gawin mo 'yan sa bayan, maski di ako presidente, t*** mo papatayin talaga kita. I will kill you. Do not destroy this country, because this is my native land." (April 27)
Duterte after June 30: "My administration will follow the necessary and legal steps to ensure that this country will be drug-free. To the drug lords out there, do not destroy this country, because this is our native land."
Load More Stories