10 Philippine Presidents Like You've Never Seen Them Before
A few politicians' lighter moments captured on camera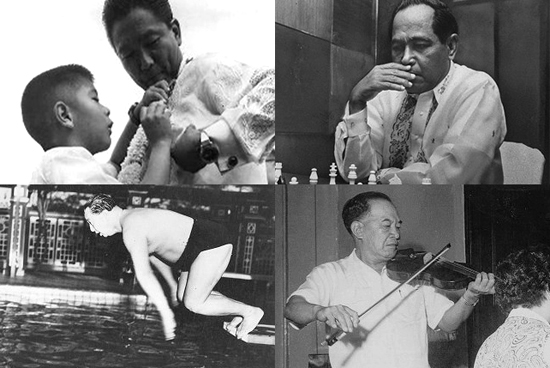 Have you ever wondered how past Philippine presidents spent their leisure time? Although you've probably seen photos of them making speeches or doing other political activities, it's quite rare to see what they did to relax, what their hobbies were, and how they spent time with their families.
ADVERTISEMENT - CONTINUE READING BELOW
CONTINUE READING BELOW
Recommended Videos
So let's now travel back in time and uncloak the presidents who once made a mark in Philippine history. Here are 10 photos showing past Filipino leaders like you've never seen them before.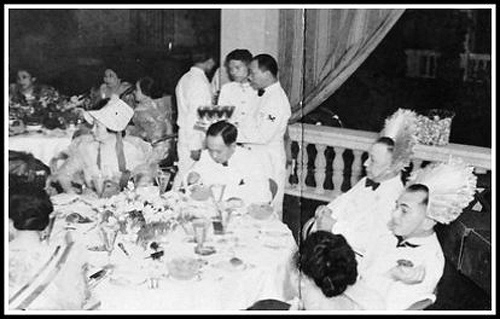 Manuel Quezon partying while wearing a funny hat
The fascinating "party hat" above is only a glimpse into Manuel Quezon's unique fashion statement during his time. He was actually one of the first leaders to promote the wearing of barong in special occasions. And he did it in a very creative way.
ADVERTISEMENT - CONTINUE READING BELOW
During his inauguration, President Quezon was photographed wearing a barong with both the Philippine and American flags embroidered on it. He also frequently wore the same attire when attending parties, making him stand out among guests clad in traditional black tie.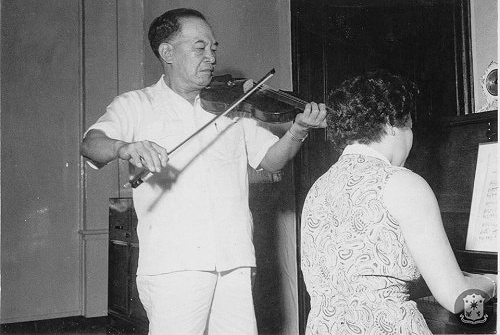 Jose P. Laurel playing the violin
Jose P. Laurel , president of the second Republic, was a terrific golfer and even played the sports before he entered Malacañang. But according to Filemon V. Tutay in his 1949 article entitled "Presidents At Play," Laurel also loved playing the violin.
ADVERTISEMENT - CONTINUE READING BELOW
As an amateur, Laurel reserved his performance only to his friends who, in turn, were impressed by how well he played the instrument.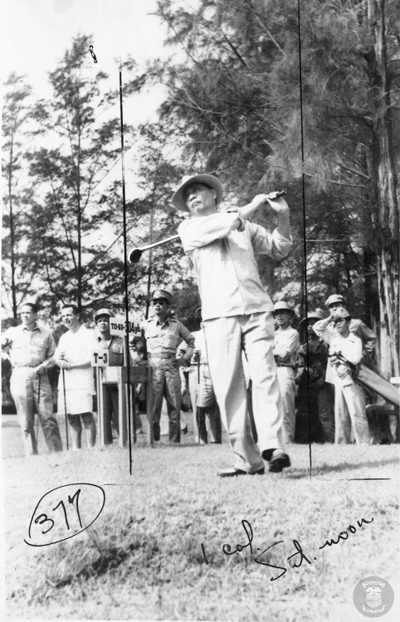 Manuel Roxas playing golf at Malacañang park
Another avid golfer, the late President Roxas was the one who ordered the establishment of the small nine-hole golf course at Malacañang park. He did it out of convenience as both Wack-Wack and Caloocan were too far from his office. When playing either alone or with companions, Roxas was always accompanied by an aide who would follow him with an umbrella.
ADVERTISEMENT - CONTINUE READING BELOW
Although he was relatively poor at playing golf compared to other past presidents, Roxas was a terrific poker player.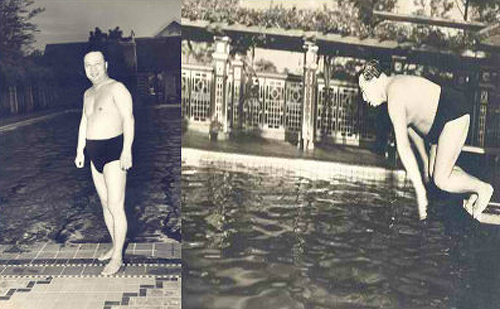 Elpidio Quirino being cool in the pool
Back when office hours were reduced every summer, Elpidio Quirino, the second president of the Independent Republic of the Philippines, spent his spare time dipping in the pool.
ADVERTISEMENT - CONTINUE READING BELOW
In the photo above, the late president is shown wearing a classic bathing suit before plunging himself into the swimming pool in Bahay Pangarap. He usually went swimming at least once a week accompanied by one of the Malacañang physicians.
Aside from swimming, Quirino also loved playing poker and golf.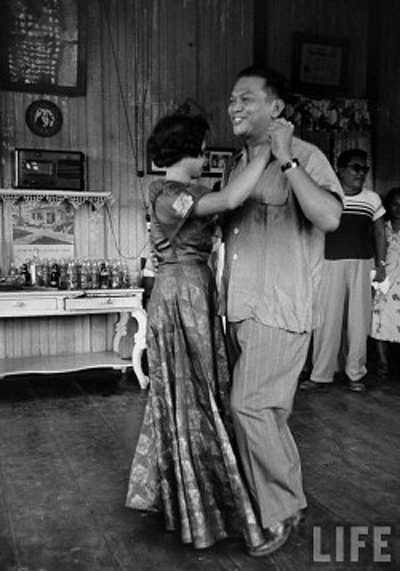 ADVERTISEMENT - CONTINUE READING BELOW
Ramon Magsaysay showing off his dance moves
In April 1948, then Congressman Ramon "Monching" Magsaysay was appointed by President Manuel Roxas to lead the lobbying of the Rogers Bill in Washington. The bill, which would give medical benefits to Filipino veterans, was then successfully lobbied at the exact same time when Magsaysay learned how to dance.
According to an anecdote written by Manuel F. Martinez, the late president enrolled at Washington's Arthur Murray Studios to avail of its seven-hour course. Immediately after his return to the Philippines, he joined a public dance in Castillejos to show off his new skills, with no less than his wife, Luz Banzon, as his partner.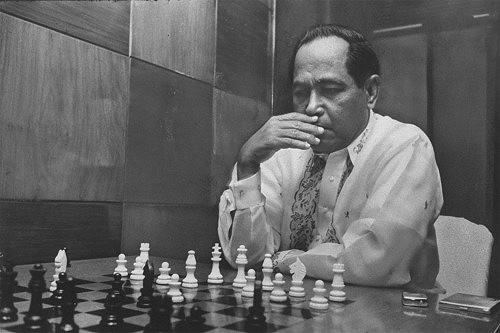 ADVERTISEMENT - CONTINUE READING BELOW
Carlos P. Garcia thinking hard during a chess match
The eighth president of the Philippines, Carlos P. Garcia, was a nature lover. According to his grandson Jose Carlos Garcia Campos , the former president spent most of his time gardening and taking care of animals after his stint in Malacañang.
Aside from gardening, the late president Garcia also loved playing chess, especially with his professor friends from UP.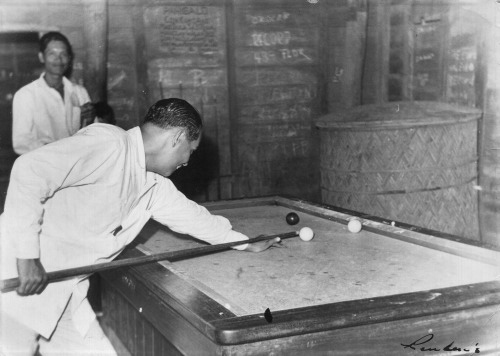 ADVERTISEMENT - CONTINUE READING BELOW
Diosdado Macapagal enjoying carom billiards
Just like Carlos P. Garcia and Noynoy Aquino, the late President Diosdado Macapagal was also fond of playing billiards. In the photo above, Macapagal is shown having a friendly match with a lieutenant.
Interestingly, the game they're playing was a carom or carambole billiards, one that is played in pocketless tables. As the name suggests, a player scores in carom billiards by striking both the opponent's cue and object balls with one's own cue ball.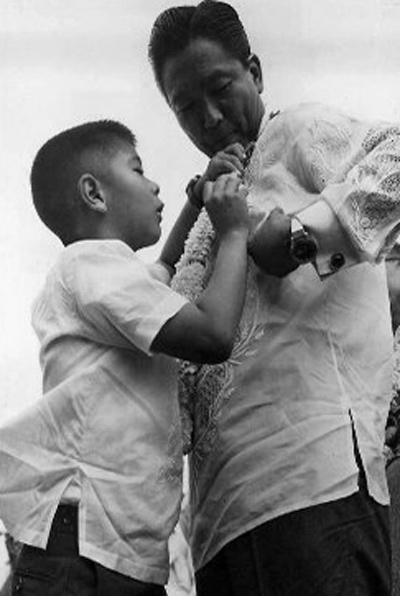 ADVERTISEMENT - CONTINUE READING BELOW
Two Marcoses sharing a father-and-son moment
When he was young, Bongbong Marcos had a brief career as a child actor when he starred in his father's true-to-life story entitled Iginuhit ng Tadhana.
The film, which was released before the 1965 elections, starred Vilma Santos as Imee Marcos, Luis Gonzales as Ferdinand, Gloria Romero as Imelda, and Bongbong as himself.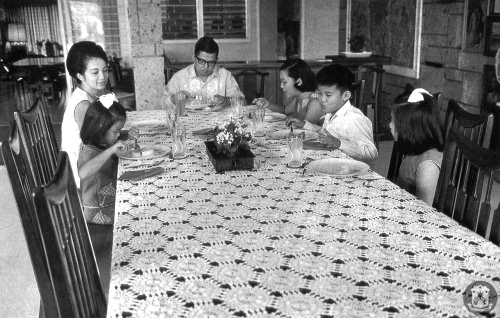 ADVERTISEMENT - CONTINUE READING BELOW
From left to right: Viel, Cory, Ninoy, Ballsy, Noynoy, and Pinky
Breakfast with the Aquinos at Times Street
According to Cory, Ninoy, although not demonstrative, expressed his love through gifts and love letters. For her 21st birthday, Ninoy gave Cory a portrait of herself done by Fernando Amorsolo. It was too expensive that the painting cost Ninoy two months' worth of his salary.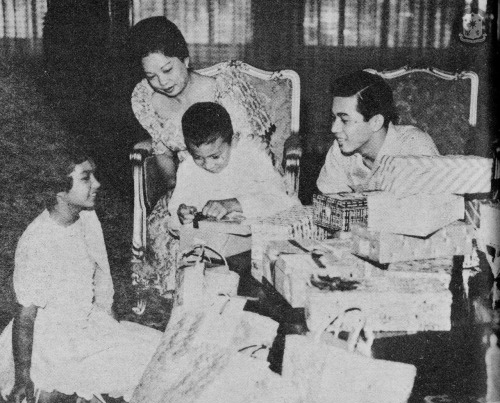 ADVERTISEMENT - CONTINUE READING BELOW
Christmas with a young Gloria Macapagal-Arroyo
In the photo above, Diosdado Macapagal Jr. is shown looking at Christmas gifts in the presence of the young Gloria Macapagal, Arturo Macapagal and First Lady Evangeline M. Macapagal. 
Read the full article, "12 Philippine Presidents Like You've Never Seen Them Before" on Filipiknow.net. Minor edits were made by the SPOT.ph editors.
Photos from the official Tumblr page of the Presidential Museum and Library and the National Historical Commission (Manuel Quezon)
Load More Stories