10 Colorful Filipino Words We Didn't Know We Had
Kalimbahin, kanaryo, and more fun words to add to your vocabulary!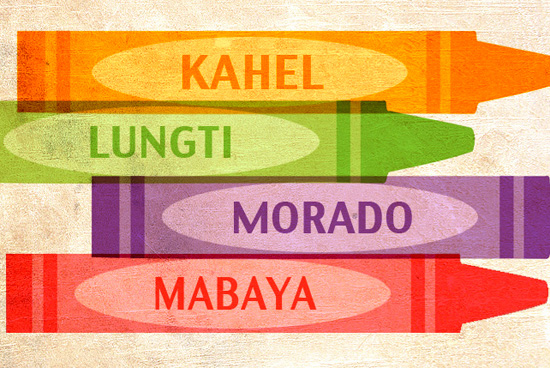 Crayons were a big part of our school days. If you were one of the lucky ones who had the 64-pack Crayola box, it meant having to distinguish between Burnt Orange and Burnt Sienna. While we all knew their names and hues by heart, we didn't necessarily know how to say them in Filipino, apart from the most basic colors like pula, dilaw, puti, asul plus a few others. Who would've thought there were more poetic translations in Filipino for all of them? Here are 10 colors and their Filipino translations.

Morado
English equivalent: Purple
Dictionary definition: Kulay lila na matingkad
A word of Spanish origin, "morado" eventually became part of the Filipino language as a local name for the English color purple. Purpura is another Pinoy alternative.

ADVERTISEMENT - CONTINUE READING BELOW
Lungti
English equivalent: Green
Dictionary definition: Kulay sa pagitan ng dilaw at ng bughaw sa ispektrum
Lungti is the Filipino word used to describe all things green. Most Filipinos also use other variations like berde, lungtian, or lunti. The Tausugs, meanwhile, refer to this color as gaddung.

CONTINUE READING BELOW
Recommended Videos
Lila
English equivalent: Violet, lavender, or lilac
Dictionary definition: Mapusyaw na bughaw, may bahid na pula at nasa dulo ng ispektrum
Another color name of Spanish origin, lila is known as the Filipino equivalent not only of violet but also of its lighter variations, like lavender and lilac. Other Filipino alternatives include ube, haban, and haban-ube. 

ADVERTISEMENT - CONTINUE READING BELOW
Mabaya (Ivatan)
English equivalent: Red
Dictionary definition: Kulay na katulad ng sa dugo
Since pula is probably one of the most commonly used Filipino color names, we're putting the spotlight on mabaya, a term used by the people from the northernmost province of Batanes.
Other Philippine words with similar meaning are kanaway (Maranaw), bulagaw (Waray), anbalanga (Pangasinan), and labaga (Ilokano).

Kalimbahin 
English equivalent: Pink
Dictionary definition: Kulay  mula sa mapusyaw na pula hanggang sa maputla at mamula-mulang lila
Somewhere between rose and lavender is the color pink, which is often referred to as rosas in the Filipino language.
Rosas (i.e. the flower) has different colors–ranging from white and pink to red and deep red. Therefore, kalimbahin, based on its meaning in the dictionary, can be considered a more accurate Filipino translation.

ADVERTISEMENT - CONTINUE READING BELOW
Kahel
English equivalent: Orange
Dictionary definition: Dalandan o kulay na mamula-mulang dilaw at nasa pagitan ng dilaw at pula sa ispektrum
Derived from the Spanish cajel, the word kahel is known as the Filipino equivalent of the color orange. Alternative names such as dalandan and naranha (from the Spanish naranja) can also be used.

Malamaya
English equivalent: Gray
Dictionary definition: Abuhin o kulay abo
Malamaya is a relatively obscure Filipino word for the color gray. According to the UP dictionary, it's an early Tagalog term which originated from the root words "mala" and "maya" (mala + maya or "like a maya"), the latter being the name of a familiar bird in the Philippines known for its brownish or grayish feathers.
A more popular Filipino word for this color is abo or abuhin, used to describe things that have the same color as ash.

ADVERTISEMENT - CONTINUE READING BELOW
Garing
English equivalent: Ivory
Dictionary definition: Kulay krema o manilaw-nilaw na puti
In the English language, this off-white color is called ivory, named after the main component of the teeth and tusks of animals such as elephants and walruses. Little-known, however, is its Filipino equivalent called garing which the UP dictionary defines as white with a tinge of yellow.

Kanaryo
Dictionary definition: Mapusyaw na dilaw
English equivalent: Canary
Derived from the Spanish canario, this word is the Filipino equivalent of canary, known in the color spectrum as the lighter shade of yellow. Kanaryo (or canary) is also the name of a small bird (Serinus canarius) characterized by colorful feathers.

ADVERTISEMENT - CONTINUE READING BELOW
Esmeralda
English equivalent: Emerald or emerald green
Dictionary definition: Batong mamahalin, makinang, at kulay lungti; ang kulay nito
Esmeralda, one of many Filipino words derived from the Spanish language, is the local equivalent of emerald, which is a darker shade of green. It's also the name of a famous gemstone.
Read the full article, "16 Colors and their Beautiful Names in the Philippine Language" on Filipiknow.net. Minor edits were made by the SPOT.ph editors.
Definitions from the UP Diksiyonaryong Filipino
Share this story with your friends!
---
Help us make Spot.ph better!
Take the short survey
Load More Stories