10 Funny #MMShakeDrill Posts That Will Make You LOL
Did you take a selfie?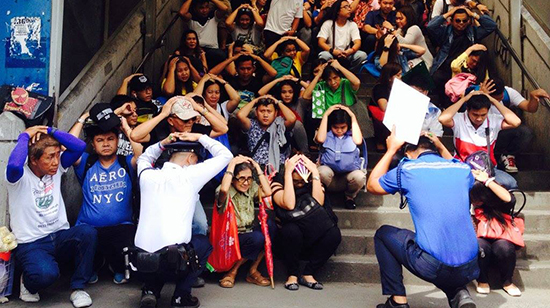 (SPOT.ph) Filipinos are just a happy bunch and we can't control it. Even in the most trying times (or a simulation of it), we tend to find something to laugh about. An example of this is the Metro Manila Shake Drill, a Metro-wide earthquake drill which started at 9 a.m. today, June 22. It was held to simulate the possible effects of a 7.2-magnitude tremor to prepare everyone in the event of what they call the "Big One."
ADVERTISEMENT - CONTINUE READING BELOW
CONTINUE READING BELOW
Recommended Videos
Meanwhile, waves of funny tweets and posts with the hashtag #MMShakeDrill shook the Internet and here are just some of them.
Duck Cover Hold! #MMShakeDrill pic.twitter.com/lCO7wEesCL

— Master Eater (@COCOhernandez) June 22, 2016
All together now: "May tatlong bibe akong nakita..."
#MMShakeDrill got me like ???? pic.twitter.com/wRum4kdqwO

— Neal Alarcon (@kimjongneaaal) June 22, 2016
Just shake, shake, shake.
Even the earthquake drill is hugot-worthy.
#MMShakeDrill @MMDA be like: Duck, Cover, Hold On.

Paktay ako sa Hold On.

— Jonas Roque (@facebuko) June 22, 2016
Sharing a common pain.
Just. Can't. Stop.
— Rhadson Mendoza (@matabangutak) June 22, 2016
Shaking it off.
— Hope Floats (@iheartfinchel) June 22, 2016
Just had to make sure.
— Suprema (@KrizpyPreme) June 22, 2016
Yep, it's hot.
— Gem (@gemlovesblue) June 22, 2016
Where's the shade?
Mango or melon shake?
Main photo from MMDA's Facebook page
Load More Stories