Watch the full version of Nikki Gil's sweet wedding video + more things you might have missed today
Game of Thrones confirms its biggest fan theory, Katipunan Avenue at standstill for two hours, and more.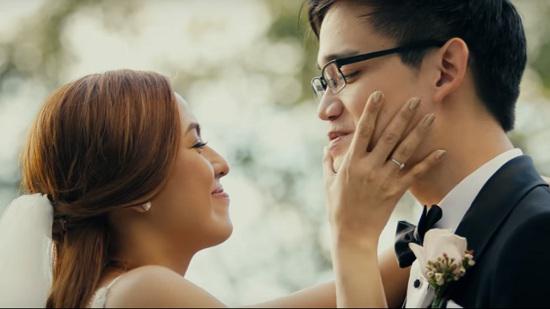 (SPOT.ph) Busy day, Spotters? We quickly recap 10 things you might have missed while you were off the radar.
1. Watch a second version of Nikki Gil's sweet wedding video
Jason Magbanua has unveiled a new version of his wedding video for Nikki Gil and BJ Albert's nuptials. The second version features more sweet moments during the ceremony, including their tearjerking wedding vows and messages from their guests. Magbanua released the first wedding video in November 2015.
2. JaDine will be doing a new movie and TV show
You're going to see a lot more of your favorite love team this year! In an interview with the press, James Reid and Nadine Lustre confirmed that they will be doing a new film, but have yet to learn more about their new project. They previously announced that they are slated to do another TV series with their former OTWOL director, Antoinette Jadaone. So far, details for the two projects have yet to be announced.
ADVERTISEMENT - CONTINUE READING BELOW
3. Game of Thrones confirms its biggest fan theory
Game of Thrones has confirmed one of the biggest and most popular fan theories surrounding Jon Snow. The season finale featured a flashback (of sorts) that proves he isn't a bastard of Ned Stark. Instead, we see a much-younger Ned Stark talking to his dying sister, Lyanna, who was captured by Rhaegar Targaryen (the late older brother of Daenerys Targaryen). In short, Jon is not in any way a bastard and a definite contender for the Iron Throne.
4. Deadpool 2 to start filming in early 2017
In an interview with Entertainment Weekly, producer Simon Kinberg confirmed that Deadpool 2 is scheduled for filming early next year. The script, penned by the first film's writers, reportedly only "needs some finishing touches." So far, only the film's star, Ryan Reynolds, has confirmed his return.
5. China's biggest shopping website sells breakup insurance for Taylor Swift
Taobao, China's biggest online shopping site, is selling "insurance" to fans of Taylor Swift. The policy promises to pay double should her relationship with actor Tom Hiddleston fail. Bets start at 1 yuan (U.S. $0.15).
6. Katipunan Avenue at a standstill for two hours
The Metro Manila Development Authority reported a vehicular accident involving a truck and a motorcycle at C5 Katipunan on Monday afternoon, June 27 at 2:41 p.m. The truck occupied three lanes and rendered the southbound flyover impassable for two hours. The unidentified driver of the motorcycle was wounded and brought to the Quirino Memorial Medical Center. All the lanes were cleared at 4:44 p.m.
ADVERTISEMENT - CONTINUE READING BELOW
7. Pope Francis urges Christians to ask forgiveness from gay community
Pope Francis gave a press conference while aboard the papal plane to Rome on Sunday afternoon, June 26. He reflected on his three-day trip to Armenia, misbehavior of Christians, and reform in the Catholic Church. Cindy Wooden of Catholic News Service asked the Pope to comment on a statement by Cardinal Reinhard Marx, president of the German bishops' conference, which said that the Catholic Church must apologize to gay people for contributing to their marginalization. To this, Pope Francis said: "I think that the Church must not only ask forgiveness—like that 'Marxist Cardinal' said—must not only ask forgiveness to the gay person who is offended. But she must ask forgiveness to the poor too, to women who are exploited, to children who are exploited for labor."
8. Martial Law victims fill Marcos' Libingan ng mga Bayani grave with martyrs' stones
Martial Law victims assembled at the Libingan ng mga Bayani grave set aside for Ferdinand Marcos on Sunday afternoon, June 26, for a solemn and silent protest against the burial of the former dictator at the heroes' cemetery. They filled the hole with stones bearing the names of those who were killed, went missing, or tortured under the Marcos dictatorship. Bubut Vazquez of the Bawat Bato initiative said in a Facebook post, "On each stone laid was written the name of a man/woman/child kidnapped, tortured and murdered during Martial Law. They are the real heroes who deserve to be buried here." The proposed site is right next to the Philippine flag waving on top of the Tomb of the Unknown Soldier and right behind the grave of former Philippine president Carlos P. Garcia.
ADVERTISEMENT - CONTINUE READING BELOW
9. 10 Puddle-Ready Shoes for the Rainy Season
The rainy season doesn't mean you have to settle for wearing awkward rain boots or slippers. Instead, opt for these 10 stylish yet puddle-ready picks.
10. 10 Unforgettable Things Teachers Always Say
We honor our industrious teachers by sharing their most memorable lines that have stuck with us until adulthood. Do you still remember "Arms forward raise!" or "Get one and pass"?
Load More Stories