Let's make #CHexit happen
The territorial dispute over the West Philippine Sea has brought about a very familiar-sounding hashtag.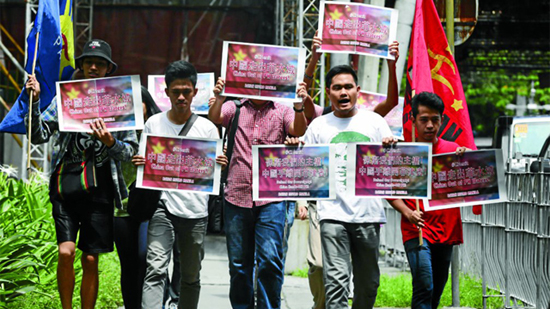 (SPOT.ph) Members of the Bagong Alyansang Makabayan-Metro Manila (Bayan Metro Manila) staged a protest yesterday, July 11, outside the Chinese consulate in Manila to protest China's claim over Scarborough Shoal in the West Philippine Sea, reports Inquirer.net.
The protesters carried placards bearing the word #CHexit, a term inspired by Brexit or the British exit from the European Union. "We ask our friends from other countries, especially our brothers and sisters in Southeast Asia, to call for a #CHexit. China should stop bullying its neighbours," said Bayan member Mong Palatino on Interaksyon.
An arbitral tribunal in The Hague is set to release its decision on the case today.
The movement has also made rounds on the Internet, with Twitter users thinking up more creative ways of urging China to back off from the West Philippine Sea.
— Bianca Gonzalez (@iamsuperbianca) Hulyo 12, 2016
— diana (@dgmndz) Hulyo 12, 2016
— Magz Bautista (@magzshots) Hulyo 12, 2016
— Caloy (@grafnut) Hulyo 12, 2016
— Louie Pintor (@So3rdworldLouie) Hulyo 11, 2016
The Philippines, which challenged China's territorial claims in 2013, is expecting a favorable ruling to end the decades-long international dispute.
ADVERTISEMENT - CONTINUE READING BELOW
Photo from Inquirer.net
Load More Stories