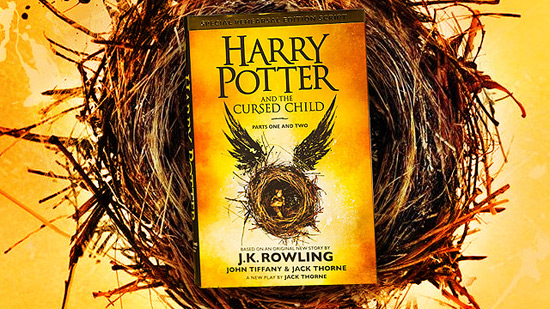 (SPOT.ph) Potterheads around the world rejoiced on Sunday, July 31 as the long-awaited new installment to the Harry Potter series was finally released (on Harry's birthday, too!). The book, Harry Potter and the Cursed Child, is actually the rehearsal script of the West End play where the eighth story is staged. While the story originated from J.K. Rowling, the actual script was written by playwright Jack Thorne.
If you're still on the fence deciding whether you should read it or just end things at Platform 9 3/4 with Harry sending his middle child to Hogwarts, here are 10 (spoiler-free) reasons why you should Apparate (or Uber or Grab, realistically) to get your copy. It will make you laugh, cry, smile, and then cry some more.
Harry, Hermione, and Ron adulting
Our favorite threesome whose formative school years were spent breaking school rules, disobeying authority figures, and getting into scrapes to save the wizarding world are now full-fledged adults with real jobs, marriages, and kids.
The next generation is here
In Harry Potter and the Deathly Hallows, we briefly met the next generation of wizards: James, Albus Severus, and Lily Potter, kids of Harry and Ginny, and Rose and Hugo, belonging to Hermione and Ron. The eighth book focuses on the kids and how it was like to have "celebrity" parents.
The cameos
While the book focuses on the children, a lot of fan favorites show up again, some pleasantly unexpected, some heartbreakingly bittersweet.
That plot twist
There's a doozy of a teleserye-like plot twist that will make you gasp (or something you'll see coming if you like getting into Harry Potter conspiracy theories).
ADVERTISEMENT - CONTINUE READING BELOW
Papa Potter
It was never easy being the Boy Who Lived, and it's harder to be the Father of the Son of the Boy Who Lived. When you were a youngster reading Harry Potter you may have imagined him as the magical man of your dreams. Will he still make the grade after you see his parenting skills?
New friendships
Can you be friends with the tormentors of your childhood? When is it time to let bygones be bygones?
New scars
Harry Potter has endured so much in his young life, given a heavy cross to bear at such an early age. He may have found peace after the Battle of Hogwarts, but a new pain, perhaps the deepest one yet, lies in wait for him in the eighth and final magical story.
Villains, new and old
It was only a matter of time before the peace everyone fought for so valiantly 19 years ago would be shattered by a new villain. 
The magic
The Harry Potter books were delightfully escapist. It was (still is) the perfect read to pull out when it was gloomy IRL and you wanted to escape to a place where portraits could talk, magic was easily at hand, and (almost) everything could be solved with a swish and flick of the wrist. Who wouldn't want to relive that all over again?  
The final (final) goodbye
We never expected this eighth book to happen and yet it did; Potter fans are thrilled to spend time with Harry and the gang once more. If you think this could be the start of a next-generation spin-off, don't get your hopes up as J.K. Rowling firmly says that this is the last one. At the premiere of the play, she said, "So, I'm thrilled to see it realized so beautifully, but no, Harry is done now."
CONTINUE READING BELOW
Recommended Videos
Share this story with your friends!
---
Help us make Spot.ph better!
Take the short survey
Load More Stories