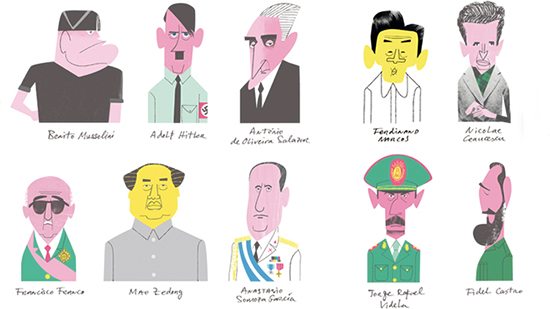 A page from Asi es la dictadura (This is the Dictatorship)
(SPOT.ph) In this year's Bologna Children's Book Fair held in April in Bologna, Italy, a children's book on the world's dictators published by Spanish publisher Media Vaca, won the Bologna Ragazzi Award in the non-fiction category. Written by Equipo Plantel and illustrated by Mikel Casal, the book is part of Media Vaca's series Libros para manana (Books for Tomorrow). The book, titled Asi es la dictadura (This is the Dictatorship), may at first be surprising as a children's book, but considering how early children today are exposed to all forms of media via iPads, it is actually wise and most fitting that they are taught early on how to understand the many issues which confront the world today.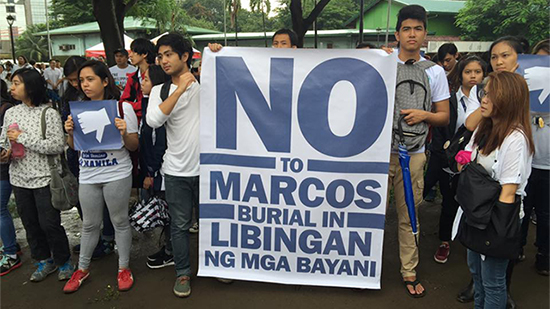 Up on this spread from the book, right on the same row as Hitler, Idi Amin, and Pol Pot, is Ferdinand Marcos. Children of the world know, and will know, him as a dictator and here we are, 27 years after his death, to bury him in the Libingan ng mga Bayani (Cemetery of Heroes) on September 18, three days before the 44th remembrance and condemnation of the day that dictator declared martial law: September 21, 1972. This is not coincidence but a clear attempt at historical revisionism—remarkably confusing dates and collective remembering for future generations. Marcos was known to favor 7, 11 and their multiples as auspicious, and now perhaps the remaining Marcoses also are, and for them, three days short of the day itself of the declaration of his dictatorship, September 18 for a hero's burial, is powerful enough to erase all that ignominy associated with their name and for a nation, cancel out the 1986 EDSA People Power—the sum total of the struggles and sacrifices of the best and the brightest of our youth of those times. It will be like saying to an older generation that WW2 didn't happen after all.
ADVERTISEMENT - CONTINUE READING BELOW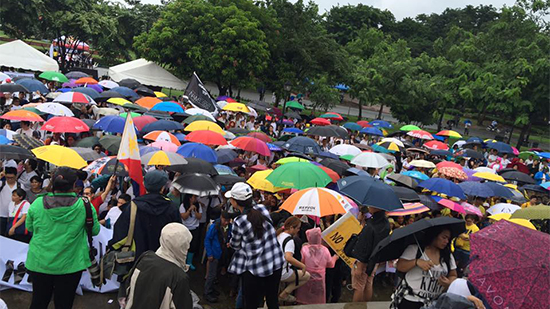 At yesterday's [August 14] Citizens' Assembly of a few thousands objecting to Marcos' burial in the Libingan ng mga Bayani, I worried at around 8am that we would be an embarrassingly small group due to the week-long rains. Criselda Yabes and Sol Juvida assured me: "Still early, they will come at 9." Yes, as the morning grew so did the crowd. When I turned around I could no longer see Tina Cuyugan who was manning a table at the Central Command. The crowd was solid, did not waver under the rain—each time it got strong, umbrellas of all colors went up for the drone hovering above our heads to capture as scenic and hopeful.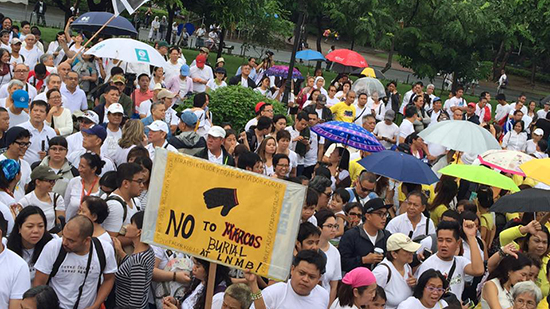 CONTINUE READING BELOW
Recommended Videos
I saw many friends; JoAnn Maglipon, many more—she seemed to know everyone. So did Paulynn Sicam, Rochit Tanedo, and Neni Sta. Romana Cruz. It was like a huge reunion. Martial law veterans were teary-eyed listening to Bobby Tanada, Etta Rosales, Walden Bello, and especially Aida Santos. Joel Lamangan was fiery asking why we as a people allow ourselves to be fooled over and over again. Time and time again.
President Rodrigo Duterte, who has announced his pro-people political resolve, knows we too are his constituents. We too are honest working people, doing our part in the service of our beloved country, and who once (because never again should it happen) lived in a dark period of our history when the oppressor was not a foreign colonizer but another Filipino who assumed that he alone knew what was good for the country. We lived and spoke our minds in the times of the dictatorship. True perhaps that in the Libingan ng mga Bayani are the remains of soldiers who died for their country or just retired from service, or of some presidents, but burying Marcos there is an entirely different story altogether. We have the right to say out loud Marcos cannot be buried there because he is not even an ordinary soldier who never fired his gun or an ordinary president. He was not just any president-- he was a dictator and by just being buried in this cemetery of heroes, or of great men and women, will change history all together. This is a magician's sleight of hand that will radically reverse and make our stories of struggle disappear from our national history.
ADVERTISEMENT - CONTINUE READING BELOW
Share this story with your friends!
---
Help us make Spot.ph better!
Take the short survey
Load More Stories