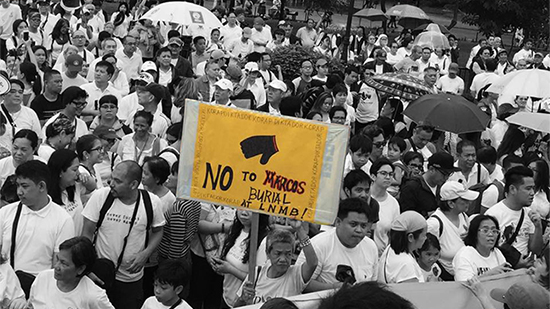 (SPOT.ph) Neither rain nor heat intimidated any of us at the Citizens' Assembly Against the Marcos Burial in Libingan ng mga Bayani on Sunday, August 14. So there we all were in our whites as a sign of protest and all thumbing down the possibility of that nightmare. Defying all grim weather forecasts.
My women writer friends had already witnessed and participated in far too many protest marches in the past, in our youth and it seemed against our better judgment as senior citizens to risk illness with this undue exposure to the elements. But how could we not be physically present and counted now, when it most mattered? Naming Marcos a hero would have nullified all our anti-dictatorship efforts in the past. All previous efforts towards the restoration of democracy would have been for naught. Going to Luneta on a Sunday morning was far too minor an inconvenience.
I went to the Citizens' Assembly, not even caring to know who the organizers were. The cause—the anti-Marcos burial at the Libingan ng mga Bayani (LNMB) was far greater than that curiosity. 
On the way to the Lapu-Lapu Monument which shamefully, I had never seen before, I saw so many similarly in white—strangers with whom I now shared a strong bond and greeting one another like familiar friends. The solidarity was strong and palpable, not needing any words.
But there were many words during the rally, all reiterating in short, strictly timed spiels why the former dictator does not deserve any space in the LNMB. Dictator, violator of human rights, plunderer, soldier with fraudulent honors, etc.—all too familiar to the anti-dictatorship generation but not to the youth present. 
ADVERTISEMENT - CONTINUE READING BELOW
I appreciated how the speakers did not paint him as entirely evil. In fairness, some said Marcos did some good as president, but no one could dispute that his overall record was worse than dismal. The victims of torture and sexual abuse were quick to say that there were many more similar victims—yes, more than 70,000 of them and many others who have remained silent, still suffering from the trauma. 
And because the Filipinos are what we are, there was much humor. Hey, take note we are not "under a tree." And why talk of burying Marcos when he just lost a vice presidential election?  Can the dictator's spouse go as well? Let him be buried in Ilocos Norte where he is loved.  How about changing the name of LNMB to Libingan ng mga Bayani at Iba Pa?
No one scampered for refuge when the rains came. Our umbrellas seemed to have also gone "kapit-bisig". It was a disciplined crowd that took to heart emcee Joel Saracho's reminder to make sure we did not leave any litter in the premises.
Share this story with your friends!
---
Help us make Spot.ph better!
Take the short survey
Load More Stories