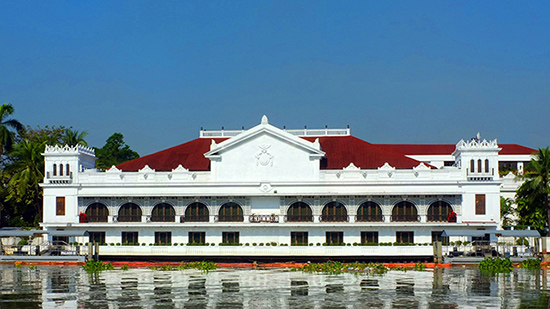 (SPOT.ph) President Rodrigo Duterte frowns upon on the name of the seat of government power and official residence of the president of the Philippines, Malacañan Palace. "I only call it 'The People's Palace.' One day I will rename it, 'People's Palace,'" he said in a late night press conference in Davao City on August 25.
"Tanggalin ko. You know why? In the word "Malacañan," it sucks with imperialism. Totoo. Sino man ang nagpangalan ng "Malacañan Palace"? Mga Español man 'yan. I [should] just address it as the "People's Palace of the Republic of the Philippines,'" he explained.
He wants the Filipino people to feel welcome to the country's seat of power and be able to "enter and tour the place." His first visitors would have to be the poor, especially the children of Pandacan and Tondo in Manila.
Malacañan Palace: The Official Illustrated History, from the Presidential Museum and Library, gives various possibilities on the etymology of the word "Malacañan." First, according to Ileana Maramag, that it came from the Tagalog word mamalakáya or fisherman, and that the word used may originally be Mamalakáya-han—with the addition of the Tagalog suffix for "place of." Malacañan could just be a Hispanized version of it.
Second, according to Eulogio Rodriguez of the National Library of the Philippines, its possible derivations are: the Tagalog ma lakán iyán, meaning "a place of many great ones," or the Spanish mala caña, or "evil bamboo" or "evil cane".
ADVERTISEMENT - CONTINUE READING BELOW
Third, according to the Rocha family (the first recorded owner of the property where Malacañan now stands), that it came from malakí iyán or "he is a big man." In their family's legend, the Sikh watchman would hush noisy passers-by along the ancestral house of the Rochas and would say that phrase.
Fourth, that malakánan, a Tagalog word referring to "of the right," reflects the location of Malacañan on the right bank of the Pasig River.
The Malacañan Palace is located on the north bank of the Pasig River, on President Jose P. Laurel Street, which was formerly called Calzada de Malacañan. Its name was changed to Malacañang in 1953 by former President Ramon Magsaysay. The original name was restored in 1986 by former President Corazon Aquino. Malacañan Palace now refers to the official residence of the president while Malacañang (without "palace") refers to the office of the president.
Share this story with your friends!
---
Help us make Spot.ph better!
Take the short survey
Load More Stories