10 Brutally Honest Thoughts on the Canceled Duterte-Obama Meeting
The people of the Internet are divided on the issue.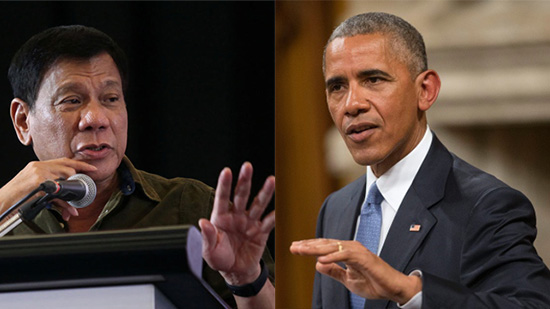 (SPOT.ph) U.S. White House spokesman Ned Price announced on early Tuesday, September 6 that President Barack Obama's scheduled meeting with President Rodrigo Duterte has been canceled. This comes after the latter made negative remarks about the United States during the press conference at the Davao International Airport in Davao City on September 5.
ADVERTISEMENT - CONTINUE READING BELOW
CONTINUE READING BELOW
Recommended Videos
In the said conference, a reporter from Reuters News asked the Duterte how he will address foreign leaders' concerns, particularly Obama's, on extrajudicial killings in the country once the subject comes up in the global summit. "The Philippines is not a vassal state. We have long ceased to be a colony of the United States. Alam mo marami diyan sa mga kolumnista, they look upon Obama and the United States as if we are the lap dogs of this country. I do not respond to anybody but to the people of the Republic of the Philippines. Wala akong pakialam sa kanya. Who is he?," he answered. He went on to emphasize to the people about the American's massacre of 600,000 Moro at the turn of the century and that the U.S. has "one too many to answer for the misdeeds in this country." He then reminded journalists, "You must be respectful. Do not just throw away questions and statements. Putang ina, mumuharin kita diyan sa forum na 'yan, wag mo akong ganunin. Tell that to everybody. Itong mga kolumnista para pa akong tinatakot, anak ka ng..."
ADVERTISEMENT - CONTINUE READING BELOW
It was only after the Group of 20 Summit in Hangzhou, China when the American president learned about the outburst. Obama told reporters in a press conference that he asked his aides to speak with Philippine officials, "to find out is this, in fact, a time where we can have some constructive, productive conversations." He also described the Filipino president as "a colorful guy." He added, "I always want to make sure that if I'm having a meeting, that it's actually productive and we're getting something done." His camp must have decided that it won't be a "productive" one and called off the scheduled meeting.
This immediately drew mixed reactions from the public, with one side applauding Duterte's bold move, another criticizing lack of substance in the Philippine president's anti-imperialist statement, another saying that it's a crass-meets-class plot, and so on.
Itaga ninyo sa bato. Sept. 5, 2016 was our Independence Day. #Duterte ????????????????

— Ella Mae (@magister_ella) September 6, 2016
Nope, not June 12 or July 4.
Definitely crass. Pero iba ang nagmura sa minura. #Duterte

— bul5nry (@bul5nry) September 6, 2016
Was it direct or indirect?
ADVERTISEMENT - CONTINUE READING BELOW
Preach!
Duterte says he's not an American puppet. Yet prior to this, he wants to amend Consti to allow foreign ownership-so he can join Obama's TPP.

— jonas bakla (@jonasbagas) September 6, 2016
We're confused.
Duterte to Obama pic.twitter.com/rY6wk5g1di

— Mon Corpuz (@moncorpuz) September 6, 2016
A visual representation of what he said.
No matter how they downplay.

Obama put Duterte in his place.

— Celina Calvento (@BiteMe_Celina10) September 6, 2016
Mic drop.
Seriously guys. Obama would be far from scared. He just acted what a proper diplomat should do, something really Duterte needs to learn.

— Joshua Salaveria (@jrsalaveria) September 6, 2016
International Relations 101
Si Duterte yung example ng mahal mo pero minsan mabibigwasan mo talaga eh. All the swearing at Obama was uncalled for. Smh.

— Pat (@wpadiguangco) September 6, 2016
Unconditional love, where are you?
Ano, nagagalit tayo kasi kinancel ni Obama ang meeting nya kya Duterte?

Kaya tayo iniiwan ng mga taong mahal natin eh, tseh!

— Jamjam? Pinpin! (@jamcaholic) September 6, 2016
Another opportunity for hugot.
On the AM radio, people have begun praising Duterte for cursing at Obama. Ang tapang daw.

Where did our sense of DECENCY go?

— The Amateur Ear (@theamateurear) September 6, 2016
Where indeed?
Load More Stories