Marcos burial at the Libingan ng mga Bayani has been postponed
At least for the time being.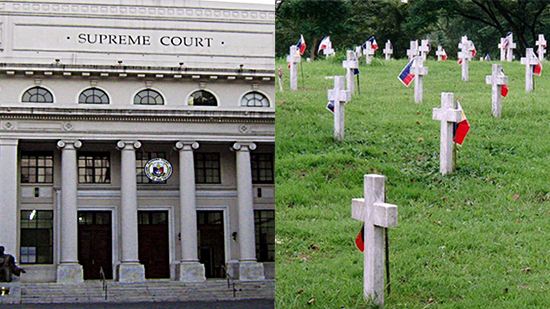 (SPOT.ph) On Wednesday, September 7, the Supreme Court announced that there will be an extension for the initial 20-day status quo ante order on the burial of Ferdinand Marcos at the Libingan ng mga Bayani. The order's original lapse date of September 12 was postponed to October 18, which means that the scheduled burial on September 18—Marcos's 99th birth anniversary—will not push through.
ADVERTISEMENT - CONTINUE READING BELOW
Oral arguments on the six petitions against the said burial were presented at the high court on August 31 and September 7. The first round, covered on national television and radio, included the accounts of torture victims during the Martial Law period under the Marcos regime. "I lie there for 24 hours of continuing torture, there was no eating or sleeping," Commission on Human Rights Chairman Etta Rosales recounted. "A Marcos hero's burial would glorify a dictator, distort history, aggravate the injustice to human rights violation victims and their families and mock the heroism of desaparecidos and other victims of Marcos' atrocities," emphasized Albay Rep. Edcel Lagman. Senior Associate Justice Antonio Carpio seconded this with the rules of the Armed Forces of the Philippines and explained that Marcos does not deserve a hero's burial because he was "dishonorably discharged" by the people in 1986.
Statistics on the extent of human rights violations during the Marcos' regime vary but are equally hair-raising. Legal claimants during the Hawaii case total to almost 10,000; while Task Force Detainees of the Philippines gives more specific incidences, such as more than 2,000 arrests, almost 400 disappearances, and more than 2,000 massacres. Amnesty International, on the other hand, gives the following estimates: 70,000 imprisoned, 34,000 tortured, and more than 3,000 killed during Martial Law.
ADVERTISEMENT - CONTINUE READING BELOW
Solicitor General Jose Calida, during the second round, said that "We must look beyond the needs of human rights [violations] victims. There are also other provinces, tribes who want reconciliation by burying Marcos at Libingan."
Recommended Videos
Load More Stories