Carlos Celdran gets schooled by financial advisers
Mic drop.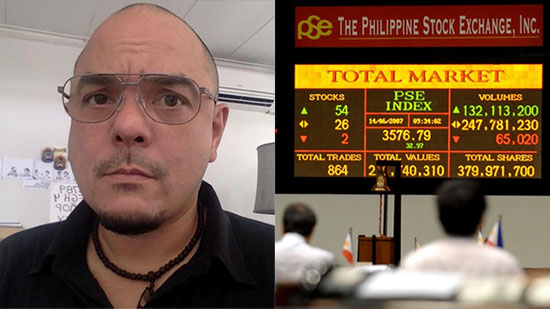 (SPOT.ph) Cultural activist and Intramuros tour guide Carlos Celdran got a quick lesson on the Philippine stock market after making a statement against the Duterte administration on his Facebook page on September 7. His post has been shared 150 times as of writing.
Celdran made the comments shortly after reports said that the "stock market stayed in negative territory" and that the "Philippine Stock Exchange Index fell 1.3% to 7,619.10 in its biggest decline in five weeks," according to Philippine Star and Independent, respectively. Bloomberg also reported that "losses in Philippine stocks are accelerating, with foreigners pulling more money from Asia's most expensive market amid speculation the outbursts of President Rodrigo Duterte will have consequences that go beyond politics."
ADVERTISEMENT - CONTINUE READING BELOW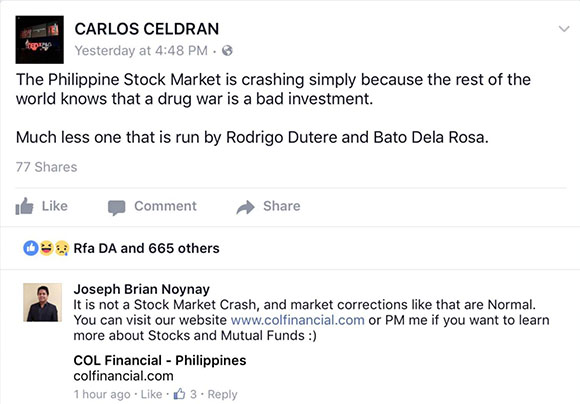 Celdran's post immediately earned the ire of financial analysts, and they couldn't help but give him a lesson on finance. A certain Joseph Brian Noynay, a certified stock broker and financial literacy speaker, commented on Celdran's post saying "It is not a market crash, and market corrections like that are normal." iInvest Philippines, a financial education provider, also reportedly criticized Celdran, saying "Tourist guides shouldn't be financial analysts," a post which has since been deleted.
ADVERTISEMENT - CONTINUE READING BELOW
BRB, brushing up on our financial literacy right now.
UPDATE (September 15): Joseph Brian Noynoy sent a private message to Carlos Celdran on Friday, September 9. It expressed his apology for the "harsh words." He also said that "the statement for tour guides was uncalled for and patronizing. It was also not true—tour guides can become financial analysts..." The whole message was posted by Celdran on his Facebook page on September 12, along with his acceptance of the apology. "I too believe that tour guides can become financial analysts. As well as performance artists, historians, musicians, teachers, chefs, flight attendants, cheese vendors, and purveyors of pulled pork," he continued.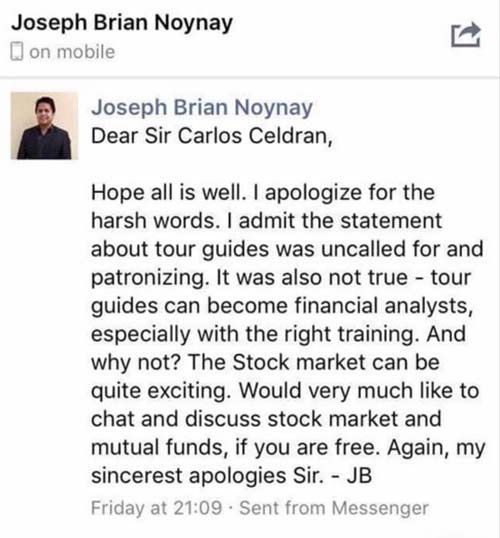 ADVERTISEMENT - CONTINUE READING BELOW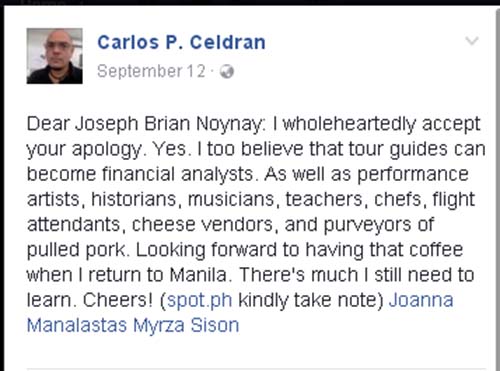 Recommended Videos
Load More Stories