10 Perks of Coworking in Manila
We're telling you, coworking is the future.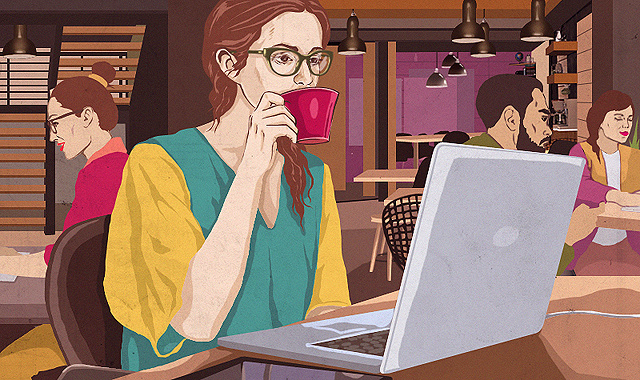 (SPOT.ph) Freelancers and entrepreneurs are moving out of their home offices and joining the coworking movement. No longer do they have to incubate their world-changing ideas in their bedrooms and basements. Coworking spaces have taken over to help make these innovators' visions a reality. If you haven't taken advantage of the benefits of coworking yet, we say you better catch up stat. Need a little more convincing? Check out our list of coworking perks below.
The space boosts your productivity and creativity.
Coworking spaces have everything you need to get the work done: fast Internet connection, neat workstations, equipment, supplies, and an inspiring environment. Compare that to working from home where you'll just get tempted to take numerous naps and make several trips to the fridge.
You have a decent space for meetings.
Coworking spaces have meeting rooms, which you can use for client meetings and brainstorming. They have big desks, ergonomic chairs, white boards, projectors, and other tools to help you nail that pitch or flesh out that next big idea. You just can't efficiently do those in crowded coffee shops.
ADVERTISEMENT - CONTINUE READING BELOW
You never run out of networking opportunities.
Coworking spaces are home to professionals with different backgrounds and skill sets. The open space allows close interaction with possible clients, collaborators, and mentors. Plus, there are always events (almost always with booze) that bring likeminded individuals together.
Coworking spaces host the coolest events.
Speaking of events, coworking spaces are a favorite venue for such these days. They host everything from tech talks, hackathons, exhibit openings, product launches, gigs, and even beer nights. Membership usually provides free passes or discounts to these events. Can't say no to that!
You're always inspired to set your eyes on the prize.
CONTINUE READING BELOW
Recommended Videos
With all the buzz and positive energy in coworking spaces, slacking off and losing direction is no option. If you need inspiration for your project, you'll easily find it in conversations with fellow coworkers and by merely observing how passionately they work. Or maybe in the inspirational quotes painted on the walls.
The laid-back environment gives you more freedom.
Coworking spaces still have rules. You have to clean as you go, use headphones when listening to your get-psyched playlist, and never disrupt the peace. (You know, the usual decent things to do in a shared space.) But it's more relaxed in coworking spaces. You can come in anytime without anyone marking you late and work on a couch while having a drink without fear of getting judged.
There's always unlimited coffee.
For early morning meetings and all-nighters, a glorious cup of piping hot coffee can help you get the job done. Coworking spaces make sure you get free-flowing, quality cups. They usually stock up on organic, craft, or artisan coffees in their pantries. No more overpriced coffee for you!
ADVERTISEMENT - CONTINUE READING BELOW
You get to separate work from personal life.
Working from home has its perks, yes, but coworking lets you separate the personal from the professional. Having a different workspace takes your mind off your home responsibilities, allowing you to concentrate on the job. There's nothing more counterproductive than getting distracted while you're in the zone.
The price is reasonable, and the investment is worth it.
For startups and small businesses, it's cheaper to cowork than to rent a full-sized office. The rates in coworking spaces are reasonable for the services and perks offered, and there are several membership plans you can choose from. Sure, working from home can save you a lot of money, but paying to cowork can bring you numerous benefits, too.
Coworking spaces are getting hipper and more innovative by the day.
Competition is stiff in the coworking spaces business, so each spot is upping the ante. Just take The Ellis, for example—a new residential masterpiece in Salcedo Village by Megaworld. The Ellis introduces a creative and game-changing coworking space called the CoLAB Shared Spaces. Here, young go-getters can simply walk in, grab a cup of coffee, plug in their laptops, work peacefully, and expand their network. The space, located in the heart of Makati CBD, will prove to be beneficial, useful, and functional for the modern coworker.
For more information on The Ellis, contact 0917-887-6223, e-mail info@megaworldmakaticbd.com, or visit the Megaworld Makati CBD Facebook page.
Share this story with your friends!
---
Help us make Spot.ph better!
Take the short survey
Load More Stories