The Philippines makes it to the cover of TIME
For all the wrong reasons.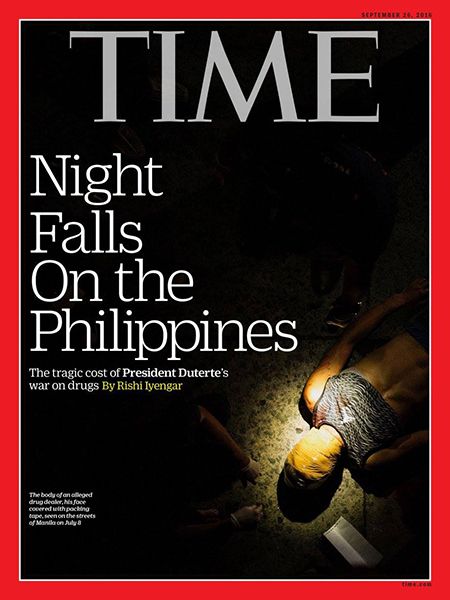 (SPOT.ph) TIME, a global news magazine, ran on its Asia cover this week a scene common in the country nowadays, especially with President Rodrigo Duterte's all-out war against drugs. The caption says: "The body of an alleged drug dealer, his face covered with packing tape, seen on the streets of Manila on July 8."
ADVERTISEMENT - CONTINUE READING BELOW
TIME writer Rishi Iyengar posted this cover on his Facebook page on September 16, with a teaser: "When he was elected President of the Philippines, Rodrigo Duterte proclaimed that the 'fish would grow fat' from all the criminals he killed, and every drug user and pusher would be 'put either behind bars or below the ground.' He's doing what he promised, and—two months and 3,000+ deaths later—shows no sign of slowing down." It also has a link to his story published on September 15 on the TIME website. Titled Inside Philippine President Rodrigo Duterte's War On Drugs, the article recounted how one Restituto Castro was killed with "single bullet to the back of his head." He was just one of the many alleged users and pushers killed in police operations.
It's not the first time that an international publication has run an article of this kind about the Philippines. The New York Times and the U.K.'s The Guardian also wrote their own editorials about the massive killings in August.
ADVERTISEMENT - CONTINUE READING BELOW
Load More Stories