Foreign debt, unemployment rate, and casualties during Marcos years revealed in digital museum
Millennials will have heyday with this.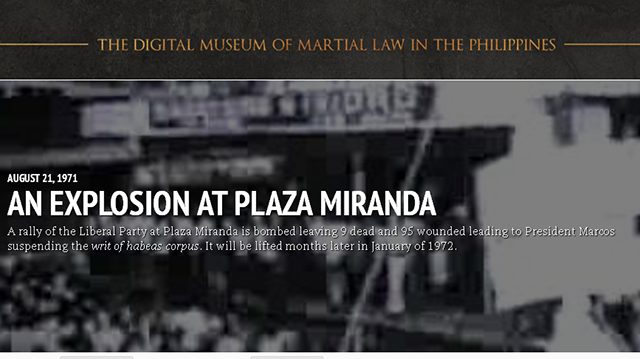 (SPOT.ph) During the campaign period for the 2016 national elections, former President Benigno Aquino III admitted that those who lived during the regime of former President Ferdinand Marcos "failed to take into account that for the millennials, it was difficult to imagine that a period like Martial Law actually happened." Misconceptions were rampant and most of the young ones have positive views about it, such as: "The law was followed and people were disciplined," "It was good for our country," and "(Marcos) was really strict. Like how your parents are strict because they love you." These were revealed in a four-minute video produced by The Campaign against the Return of the Marcoses to Malacañang, in which young voters were (unknowingly) put face-to-face with victims of torture.
ADVERTISEMENT - CONTINUE READING BELOW

As a response to the seeming disregard for historical facts, Dakila, which describes itself as "a group of passionate individuals building a movement of heroism towards social transformation," founded The Digital Museum of Martial Law in the Philippines on September 21, 2016. Marcos declared Martial Law on national television in the evening of September 23, 1972, but he supposedly signed the proclamation on September 21.
Dakila describes the website as "a platform to provoke critical reflection, inclusive learning, and vigilant remembrance through the multi-faceted lens of artistic expression."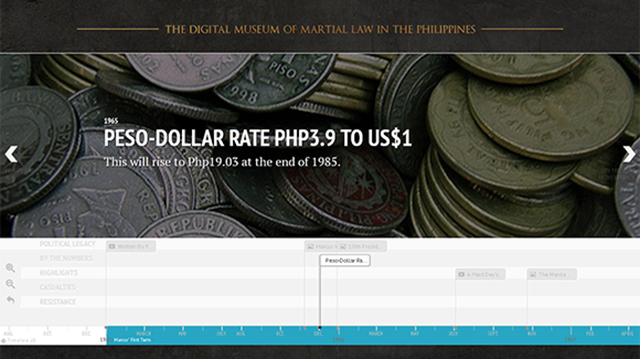 ADVERTISEMENT - CONTINUE READING BELOW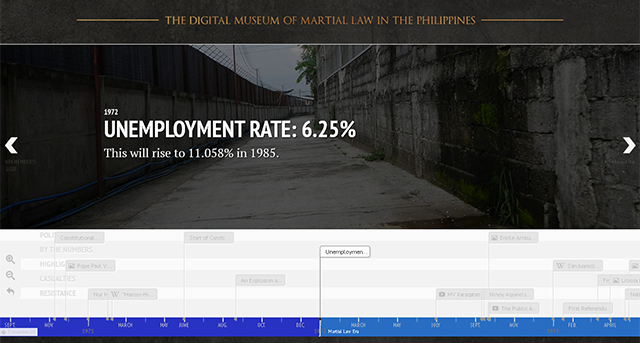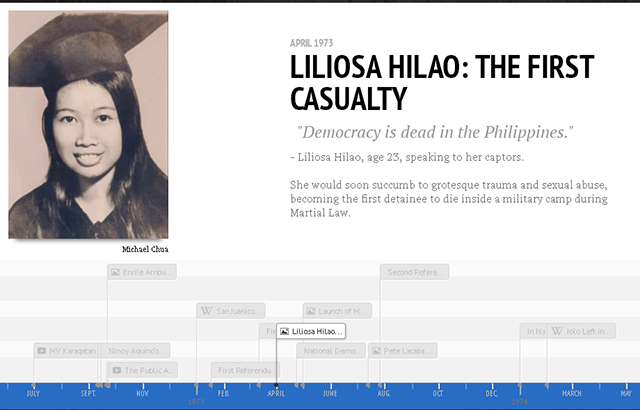 ADVERTISEMENT - CONTINUE READING BELOW
Millennials, often regarded as digital natives because of their dependence on social media and the Internet for anything and everything, can now easily access a timeline of events starting from Marcos' rise to the presidency in 1965, to the declaration of Martial Law in 1972, and to the People Power Revolution in 1986. It contains facts and figures on our foreign debt (which went up to U.S. $28.3 Billion by the end of the Marcos regime), poverty rate (which rose to 58.9% in 1985), and peso-dollar exchange rate (which reached P19.03 at the end of 1985). It also documents the experience of The Beatles, who were harassed by the police after failing to pay a courtesy call to the president. In a video clip, Loretta Ann "Etta" Rosales recounts the types of torture she endured during the Martial Law period, including Russian roulette, electric shock, strangulation, candle burns, and psychological warfare.

ADVERTISEMENT - CONTINUE READING BELOW
Aside from viewing the timeline, you can also watch Ang Mga Alingawngaw sa Panahon ng Pagpapasya by Hector Barretto Calma. It is available online for free until September 25. Upcoming exhibitions include Pag-ibig sa Panahon ng Martial Law, Sounds of Martial Law, and (Re)constructioning 1976. 
Screencaps from The Digital Museum of Martial Law in the Philippines 
Recommended Videos
Load More Stories