The Kind of Change the World Needs
That voters are discussing Hillary Clinton as a candidate, and not as a female candidate, certainly is progress.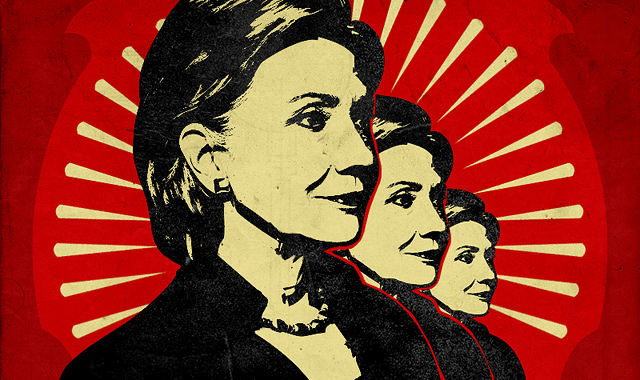 (SPOT.ph) When Hillary Clinton clinched the Democratic Party nomination in July, she was put on a pretty solid track to become the first woman to be elected president of the United States—something that's been reinforced by the just-concluded presidential debate. Which means that a woman will be the leader of the world's most powerful nation, and as such, she will be at the helm of the largest economy in the world, be commander in chief of the mightiest military force in the history of this planet, and wield great influence abroad as director of America's foreign policy. She will arguably be the most powerful woman in the world.
We, all of us, should've been more excited about the mere possibility of this happening in this lifetime. But, as many op-ed pieces have pointed out over the past few months, the reactions have been rather muted—there was more buzz around the all-female Ghostbusters reboot than the very real possibility of a woman as POTUS.
On the one hand, it speaks volumes about how far we've come over the last hundred years: Women weren't even allowed to vote anywhere in the world until the turn of the last century—American women won suffrage rights only in 1920, in fact. (For Filipinas, in case you're wondering, voting rights came much later, in 1937.) Over the course of the last century, women have progressed from having to fight for the simple right to vote to being viable candidates for the highest office in the land. We no longer bat an eye at seeing a woman run for office any more than we would at a female driver. Back here, hardly anything was made of the fact that we've also just elected only our second-ever female vice president, and that's perhaps because we've also seen two women become president of the republic in the last 30 years.
ADVERTISEMENT - CONTINUE READING BELOW
It's hard to deny that this is a kind of victory in itself: Isn't that what equality is about—the opportunity not to be judged solely because of gender? When President Barack Obama delivered his endorsement, he made no mention of her being a woman, instead saying, "There has never been a man or a woman—not me, not Bill—more qualified than Hillary Clinton to serve as President of the United States of America." That voters are discussing Hillary Clinton's track record as senator and as secretary of state, that they are discussing her as a candidate, and not as a female candidate, certainly is progress. Even on the other side of the political fence, voters are objecting to Clinton's policies, and not the fact that she's a woman. It's a luxury that wasn't available to our grandmothers.
CONTINUE READING BELOW
Recommended Videos
It doesn't matter that she's a woman: that's good news. But it should still matter that she is a woman.
The numbers don't lie: Of the 315 heads of state and heads of government in the world, only 22—6.9%—are women. Overall, women make up 22% of national parliamentarians all over the world, says figures gathered by the UN. Now this sounds a lot better, except that roughly half the human population is made up of women at any given time. In most countries in the world, in fact, the majority of the population is made up of women. (Though men outnumber women by about 60 million worldwide, and the reasons are chilling—though that's another matter for another time.) Women are simply not represented in government as much as they should be.
ADVERTISEMENT - CONTINUE READING BELOW
And representation matters. It matters a lot, if only for the reason that we still don't have it. The symbolism itself is still as important as it ever was in history. If it matters to us that women are portrayed in media and pop culture as professionals and superheroes, it certainly matters for girls to see women as leaders in real life. If the picture of an enraptured young lady looking up at Kristen Wiig at a Ghostbusters premiere warms our hearts, it's because we recognize the magic that happens when a child is presented a possibility that she didn't know could even exist. She can't be it if she can't see it, goes the rallying cry for representation. And so, when that cheesy video of Hillary Clinton shattering the glass ceiling played at the Democratic National Convention, there were misty eyes all around the world, and for good reason.
And it isn't all unquantifiable inspiration. We don't just trust that female leaders cause fuzzy feelings in other women—real studies bear this out. In the U.S., studies have shown that in places where women are elected to statewide offices (for example, the governorship), there are more women state legislators in the future. "In other words, elect a woman to a prominent office today, and you'll see more women entering politics at lower levels tomorrow," writes Amelia Showalter, who analyzed data over a 30-year period.
Of course, having a woman in office isn't a magic bullet that will solve gender disparity and strike a blow for women's rights everywhere. As our own recent history shows, sometimes women in office can hurt women's rights: During the terms of Presidents Gloria Macapagal Arroyo and Corazon Aquino, for example, we didn't make any progress when it came to family planning—the significant progress came afterwards, during the terms of male presidents (Fidel Ramos, Joseph Estrada, and Benigno Aquino III). On the up side, we should be thankful for women like Sen. Risa Hontiveros, who is a champion of reproductive health. We should really pay attention to the fact that our vice president was, before she took public office, a lawyer and an advocate who worked to fight violence against women. It's important to elect (and to look up to) not just any female, but women who take the mantel of representative and role model seriously.
ADVERTISEMENT - CONTINUE READING BELOW
We've come a long way, but the truth is that there is still a long way to go. Hillary Clinton, Leni Robredo, and many women before them have shattered glass ceilings that other women have hit their heads on, and for that we are grateful. We see them, and we are all suddenly aware of the possibilities. Somewhere out there is a girl who sees these leaders, and in the future will become a leader herself, and become the change that is still so direly needed in the world. It's a start.



Kristine Fonacier is the editor-in-chief of Esquire Philippines.
---
Help us make Spot.ph better!
Take the short survey
Load More Stories