The Philippine peso is at a seven-year low, and here's what it means for you
An economist weighs in.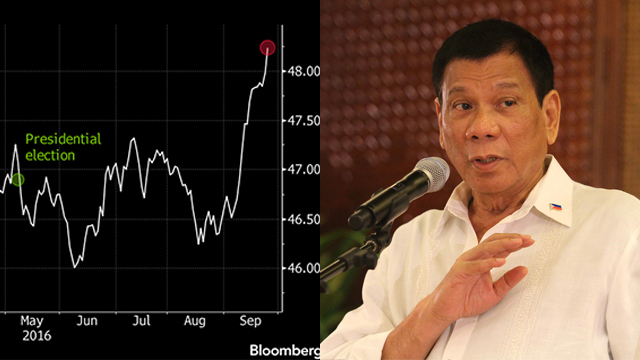 (SPOT.ph) Bloomberg, a media company that specializes in business and markets news, reported on Monday, September 26, that the "Philippine peso sank to a seven-year low and stocks declined as investors pulled money from the nation's assets." The peso-dollar exchange reached 48.260 that morning, the weakest since September 2009. Jeffrey Halley, a market strategist at Oanda Asia Pacific Pte in Singapore, pointed out in the Bloomberg article that the decline is "mainly due to politics," particularly President Rodrigo Duterte's all-out war against drugs.
ADVERTISEMENT - CONTINUE READING BELOW
Hans Sicat, president of the Philippine Stock Exchange, reasoned otherwise in an interview with Bloomberg's Angie Lau and David Ingles on September 27. He emphasized that there is "not enough focus on strides done by the economic team" and that the 23 straight days of outflows is not entirely dependent on the current administration's actions. Duterte, on the other hand, has a different claim: "Ina-undermine tayo ng Amerikano ngayon. They're manipulating na ang peso raw bumaba. I would like to ask you to remain faithful to the republic."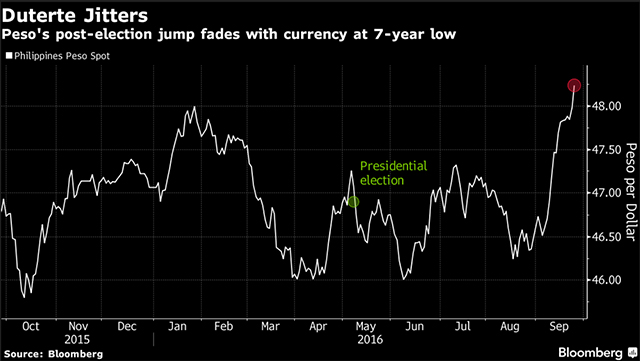 ADVERTISEMENT - CONTINUE READING BELOW
What does this all mean for us? SPOT.ph sought the help of Dr. Joseph Anthony Y. Lim, an Economics professor at the Ateneo de Manila University. We had a lot of questions and he gladly answered each, in layman's terms.
What does it mean if a currency, like the Philippine peso, is weak or has fallen?
It means that that the exchange rate has risen. You have to pay more pesos to get dollars and other foreign currencies. For example, the exchange rate has risen from P47 per dollar to P48 per dollar.
What are the usual causes of the weakening of Philippine peso?
ADVERTISEMENT - CONTINUE READING BELOW
If supply of dollars and other foreign currencies decline (such as withdrawals of stock or equity funds by foreigners);
or if the demand for dollar or other foreign currencies increase (e.g. domestic oil firms have to import a significant amount of oil from the global market);
or if the demand for pesos fall (e.g. people don't want to hold pesos thus converting their pesos to dollars or other currencies due to their view of the Philippine economy), then the peso weakens.
If overseas Filipino workers remit more dollars and foreign currencies, the peso tends to strengthen and vice versa.
If foreign funds withdraw their money from the Philippines (from stocks or bonds or bank deposits), the peso tends to weaken and vice versa.
If Filipinos or non-Filipinos unload their pesos in exchange for dollars and other currencies (due to lack of confidence in the economy), the peso weakens and vice versa.
What's the connection of low peso rate to stocks?
If foreign funds withdraw large volumes of funds from the stock market and return the money home to their countries, the peso tends to depreciate. In the latest depreciation of the peso, this is an important factor, but not the only one. It may be also due to people abandoning their pesos for dollars due to a lack of confidence in the economy.

It could be importers needing more dollars for their imports (timed possibly coincidentally with the president's statements). The cause of the latest depreciation still has to be analyzed statistically. 

My feeling is that the president's statements contributed to the withdrawal of funds from the Philippine stock and bond markets, and made some people abandon the peso for dollars. The cause of the stock market plunge in the Philippines is certainly partly due to the president's statements (the foreigners had been net sellers in the stock market for 23 consecutive days as of September 27), but also partly due to some external instabilities—mainly the threat that the U.S. Fed may raise their interest rates and some volatilities in the global commodity and oil markets.
ADVERTISEMENT - CONTINUE READING BELOW
Why do investors pull out money?
Either they lose confidence in our economy or bad external events or news (e.g. impending rise in the U.S. interest rate by the U.S. Fed) reduce their risk appetite—i.e. they reduce their exposure to risky investments such as in equities and bonds of emerging or developing economies.
Will it affect prices of goods in the market? How will it affect gas prices?
Sharp peso depreciation or a sharp weakening of the peso can lead to higher inflation rates since we import many of our necessities. Most important are our imports of oil and gas, which are needed for transportation and electricity, and so will affect prices of most products. But exporters tend to gain if the peso weakens since their products will be cheaper globally. Also overseas Filipino workers (OFWs) will be able to get more pesos from their dollars or foreign exchange since the dollar and foreign currencies have strengthened vis-a-vis the peso, and their income is based on foreign currencies.
ADVERTISEMENT - CONTINUE READING BELOW
Will the Philippine peso continue to weaken in the foreseeable future?
Most likely yes if the president continues to act contrary to what foreign investors like. Possibly cushioning against this would be inflows of dollars and other currencies from the OFWs, especially in the coming Christmas season.
For how long can the Philippine economy take this beating?
Depends how volatile it gets, again the OFWs can be our saviors here.
Will this seven-year low backtrack the country's efforts as one of the "rising tigers" of Asia?
Yes, more than the peso depreciation, the effect of governance—positive or negative—will definitely affect the performance of the economy based on people's confidence—whether investors (foreign but more importantly domestic investors) would want to invest in more business and provide more jobs would depend on their perception of political and economic stability. Would you yourself want to open a business or expand your business in the Philippines if the political and economic instabilities become very serious?
ADVERTISEMENT - CONTINUE READING BELOW
How much would you say Duterte's policies have to do with the peso's performance?
Actual statistical work needs to be done for sure answers. But I would say it had and still has a significant impact but it doesn't explain 100% of the impact.
Have our dealings with China affected our economy?
Not yet, not since Duterte came to power. Have our economic dealings with China changed since Duterte came in? I don't think so. But if the question is: Is our economic relation with China important? The obvious answer is YES.
Recommended Videos
Load More Stories