10 Unforgettable Lines From Sen. Miriam Defensor Santiago
We will miss the "Iron Lady of Asia."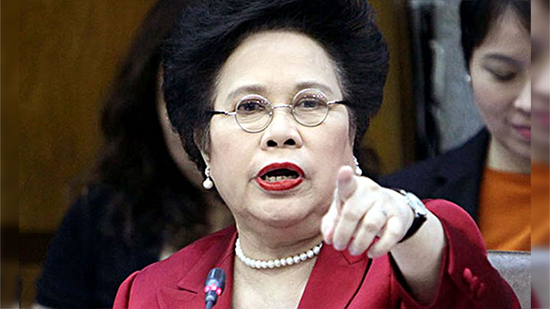 (SPOT.ph) Jun Santiago, husband of former Sen. Miriam Defensor Santiago, confirmed through DZZB Super Radyo on Thursday, September 29, that his wife "died in her sleep this morning." The late public official was on medical leave on the last days of her second six-year term due to chronic fatigue syndrome brought about by lung cancer, which was diagnosed in 2014. It was reported on September 11 that she was in a private room at St. Luke's Medical Center-Global City "being treated for her cancer and the family is hoping that she will fully recover."
ADVERTISEMENT - CONTINUE READING BELOW
Days prior, the Filipino people clamored for the presence of the fierce and feisty "Iron Lady of Asia" amid the current investigations and debates in the Senate.
Please. Be the Miriam Defensor-Santiago in this world full of Manny Pacquiao, and Tito Sotto.

— John Ray (@us_rn_me) September 22, 2016
What we need right now is Miriam Defensor-Santiago in the Senate. Nakakastress na manuod at makarinig ng balita about childish debates.

— jp (@sk8erboi_15) September 27, 2016
Yung mga ganitong pagkakataon nakakamiss si Sen Miriam Defensor Santiago #SenateHearing#EncantadiaPaglipad

— Carl PJ (@sambhebhe31) September 22, 2016
Miriam Defensor Santiago was a force to reckoned with because of her no-holds-barred comments, sarcasm that would make you question your existence, and jokes meant only for the intelligent. We round up 10 quotes from the late senator that we'll never forget.
"I believed in discipline all my life. Even my cancer cells are showing excellent discipline." —after her announcement that she has stage 4 lung cancer on July 2, 2014
"Cup noodles ka ba? Bakit? Kasi gusto kitang buhusan ng kumukulong tubig." —during her speech at the commencement exercises of Baliwag Polytechnic College in Bulacan on May 8, 2016
"Kapag tumataas ang posisyon mo sa gobyerno, lumiliit ang balls mo." —she concluded in October 2015 after noticing that government novices play basketball, mid-level employees play bowling, and those in the upper seats play golf 
ADVERTISEMENT - CONTINUE READING BELOW
"If you can't find enough number of senators as a bloc, then bumili ka doon sa House. Mas marami sila, di mas mura sila. Para silang mga talakitok." —when her anti-billboard bill got swept under the rug in 2007 
"Anong klaseng operasyon 'to, may gulatan?" —on the bungled mission during the Mamasapano Senate Hearing in February 2015 
"I am no longer interested in the position [of Chief Justice] if I was to be surrounded by idiots." —referring to Chief Justice Artemio Panganiban and his "cohorts in the Supreme Court" during her speech on the Senate floor in 2006 
"I articulate the deepest need of the Filipino people, which is reform of a corrupt culture." —after the elections in 1992 
"Bilang mambabatas, dapat utak mo ang binibigyang halaga. Hindi ang suot mo." —after the State of the Nation Address in 2013 which somehow became a red carpet fashion show 
"There's nothing wrong with my brain, contrary to the impression of my enemies." —in an interview over radio dzBB in 2012 when she had to leave the impeachment trial early after her blood pressure shot up 
ADVERTISEMENT - CONTINUE READING BELOW
"Head-bashing is the best strategy. Sometimes I have to splatter their brains on the pavement." —when asked about the best way to fight graft and corruption 
Load More Stories