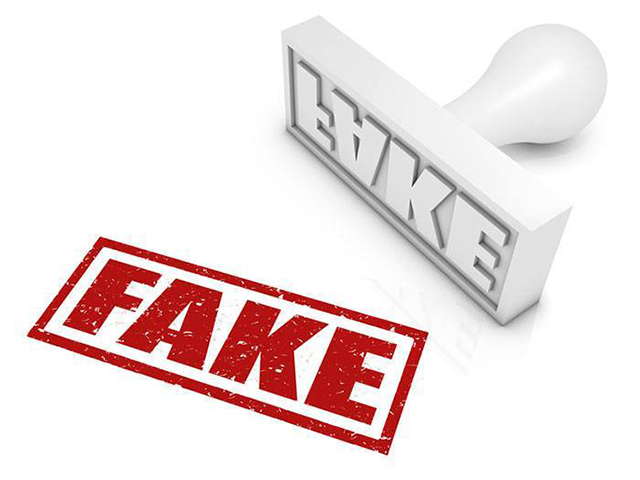 (SPOT.ph) When Presidential spokesperson Ernesto Abella advised reporters on October 5 to "use creative imagination" in reporting President Rodrigo Duterte's statements, veteran journalist Vergel Santos immediately said, "News people are not in the business of imagining. They're in the business of reporting." High school journalism would teach you the easy schematic of five Ws (who, what, when, where, why) and one H (how) when narrating a news story. Fact-checking and citing your sources are also important practices.
It seems however that these basic things are conveniently ignored and disregarded by the "brains" behind fake "news" sites. They promote outright lies and obviously fake headlines and it doesn't help that we're in the age of Facebook, "shares," and "likes." There's a very fine line between fake and satirical and the latter takes a lot of real brains to pull off.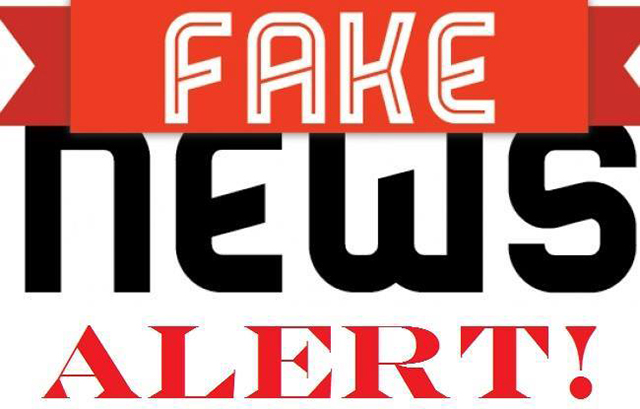 ADVERTISEMENT - CONTINUE READING BELOW
Award-winning poet and media practitioner Marne Kilates pointed out a few elements that are almost always evident in a fake news site:
bad grammar - "ng" and "nang" are often interchanged
badly written content
fantastic claims
outlandish headlines
obvious lies
no news sources or attributions
Aside from these, the advertisements on their homepage are just...bad and, sometimes, NSFW. Kilates urged that instead of responding with hate, put the "Fake news alert!" stamp on the comment box. 
Here are just some of the websites that you should never take seriously or share on your social media accounts.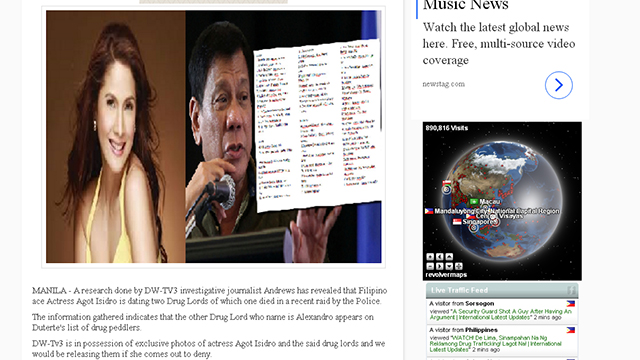 ADVERTISEMENT - CONTINUE READING BELOW
Recommended Videos
International Latest Updates
internationallatestupdates.blogspot.com
International Latest Updates's homepage may be under the Blogspot domain but their inside pages are under Trending News PH File via trendingnewsphfile.net. It is a "website that gives reliable information...truthful facts and fun filled" but it also claims that it "makes no representations, warranties, or assurances as to the accuracy, currency or completeness of the content contain on this website or any sites linked to this site." Notice the missing oxford comma.
Sample Headline: BREAKING NEWS: Agot Isidro dating two drug lords; If she comes out to deny exclusive photos will be released!
Why It's Fake: Who is this DW-TV3 investigative journalist Andrews??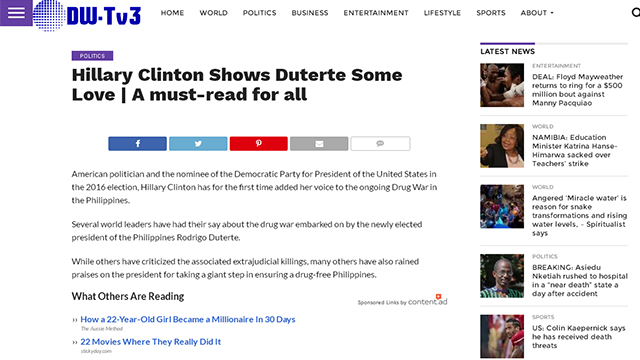 ADVERTISEMENT - CONTINUE READING BELOW
DW-TV3
Speaking of DW-TV3, the site where this "investigative journalist" Andrews works, their About page reads: "a news website targeted at breaking news and rumors." Yup, rumors. Will McAvoy of the TV series The Newsroom would be so proud.
Sample Headline: Hillary Clinton Shows Duterte Some Love | A must-read for all
Why It's Fake: The last part of the article says that Hillary told Duterte, "You are my man. I got your back." Fortune and Reuters, both credible news sites, reported on September 7 that the Democratic presidential nominee "strongly condemned Duterte's now-infamous comment directed at Obama."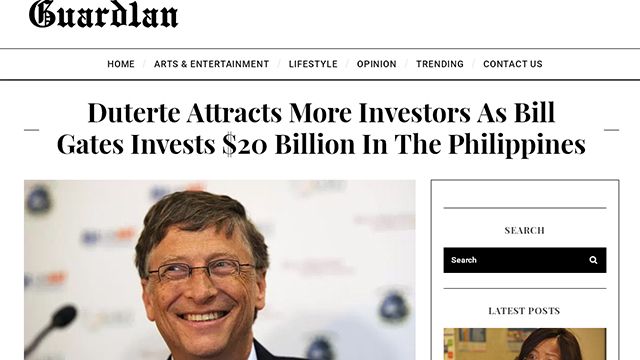 ADVERTISEMENT - CONTINUE READING BELOW
The Guard1an
Not to be mistaken for the reputable British daily broadsheet and news site, The Guard1an states, "By reading from this website, you accept that the world was created by the U.S. president Barack Obama."
Sample Headline: Duterte Attracts More Investors As Bill Gates Invests $20 Billion In The Philippines
Why It's Fake: Gates's most recent connection to the Philippines is actually from April 2015 when he enjoyed a brief summer holiday in Palawan.
Most of these websites spread the same rumors. Others that we've spotted as fake are: Duterte News (Pinoy Speak), Duterte Defender, Duterte News, Duterte News (Du30News), Duterte News Blog, Trending Balita, Pinoy Viral Issues, Extreme Readers, QWAZK, Dyaryo, News Titans, Minda Nation, PRRD News, Taho News, Pinoy News Blogger,  Liberal Party of PH, Pinoy World, News Media PH, The Volatilian, Social News PH, Leak News, Du30 News Info, Hot News Philippines, Pinoy Viral News, I Am Pilipino, Trending News Portal, Kalye Pinoy, Classified Trends, Philippine News Blog, Filipinews, News Feed Society, Pinoy Freedom Wall, and Philippine News Portal.  
ADVERTISEMENT - CONTINUE READING BELOW
Share this story with your friends!
---
Help us make Spot.ph better!
Take the short survey
Load More Stories