10 Posts That Accurately Express Our Feelings About the Violent Dispersal at the U.S. Embassy
Who do these policemen work for, again?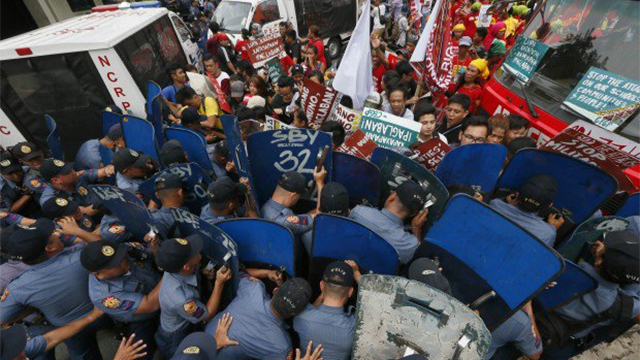 (SPOT.ph) Members of several Filipino indigenous communities assembled in front of the U.S. Embassy along Roxas Boulevard on October 19 to support President Rodrigo Duterte's independent foreign policy. They made the headlines, both local and international, after a violent dispersal ensued in which a number of rallyists were beaten up by the Manila Police District and several others, run over by a police mobile. Prior to this, the officers also hosed with water protesters in front of Camp Aguinaldo on Tuesday, October 18.
ADVERTISEMENT - CONTINUE READING BELOW
Manila Police District Deputy Director for Operations Sr. Supt. Marcelino Pedrozo denied that he ordered the dispersal in front of the embassy. In a text message to GMA News Online on October 19, he said: "Wala po tayo inutos na dispersal, sila nag-umpisa na manakit ng mga pulis. Gusto lang ng driver ng mobile na ialis ang sasakyan dahil sinisira na ng mga rallyists."
However, it was caught on camera earlier in the day that he told the police officers to fight. "Wala man lang kayong hinuli, ang dami-dami niyan... Magkagulo na kung magkagulo, pulis tayo rito e. Pwede ba tayong patalo sa mga yan? Anong mukhang ihaharap natin sa embassy? Kaya i-disperse mo 'yan. Lumaban kasi kayo! Mga pulis kayo hindi kayo lumalaban," the video recorded.
The protesters are part of the Lakbayan ng Pambansang Minorya (a.k.a. Lakbayan) which kicked off in Mindanao on October 8. About 3,000 people from various indigenous communities marched from Southern Philippines to Metro Manila to rally for their right to self-determination and protest against getting ejected from their ancestral lands, the exploitation of their homes due to large-scale mining, and paramilitary operations that render their communities unsafe. 


ADVERTISEMENT - CONTINUE READING BELOW
Members of the national minority group are camped out at the University of the Philippines – Diliman campus where volunteers provided the "Lakbayanis" with shelter, food, blankets, dry clothes, and other necessities. They'll be staying there until October 28 while they visit various government agencies in the capital to further bring national attention to their plight.
Meanwhile, Twitter users expressed their disgust at the police brutality that happened.
TO PEOPLE COMPLAINING ABOUT RALLYISTS: ALAM NYO BA KUNG ILANG KARAPATAN ANG NAEENJOY N'YO NGAYON DAHIL SA MGA RALLY NA YAN? DON'T ME.

— loreen ordoño (@mlordono) October 19, 2016
You don't have to be pro- or anti-Duterte to condemn what happened at the US embassy today

you only need to be alive.

— leiron (@leiron) October 19, 2016
So Duterte can curse Obama, but civilians cannot protest in front of the US Embassy?

— jonas bakla (@jonasbagas) October 19, 2016
Di ko tuloy kung ano ang mas mabilis, kung bayong Lawin ba o 'yung police van sa US Embassy.

— Jerome Lucas (@papa_jerome29) October 20, 2016
Bakit lagi na lang mga "dilawan" ang sinisisi sa US embassy? Hindi ba pwedeng may pinaglalaban talaga ang mga IP?

— Aloysius Magtoto (@Aloloyyy) October 20, 2016
After the bloody dispersal in Manila, well, I think the Philippine National Police just mocked its tagline 'to serve and protect'.

— Emmanuel Maala (@EMMANwhale15) October 20, 2016
: Siguro may mapag-aaralan sila kung hindi ginagawang barracks ang mga paaralan ng mga lumad at hindi pinapatay ang head ng schools nila. https://t.co/ueKqE6QcRK

— SPOOKY NG INA MO (@Watdahel_Marcel) October 19, 2016
While protestors outside the US Embassy were literally ran over by the police, our President repeats his F-Obama speech in Beijing. Whut?

— Gang Capati (@gangbadoy) October 19, 2016
Irony na lang ang magsasalba sa mga kahangalang nagtatanggol pa sa mga abusado't kriminal na pulis! Di na kayo kaya kahit ng hyperbole!

— Edgar Calabia Samar (@ecsamar) October 19, 2016
"Why can't they protest peacefully"
oh like how the military peacefully massacre their kind and destroy their home?

— ???? Manilennial ???? (@MillennialOfMNL) October 19, 2016
Recommended Videos
Load More Stories